RECONNECT
Play, Smile and Connect
This accommodation is full of connecting.
Play just like the old days. Find warmth through young children.
A space where fluttering and relief can be felt.
Feel your hearts connecting.
Characteristics of CHIKATSUYU
The "container house" and the "private garden" which provides you a special experience only in Chikatsuyu, Kumanokodo's accomodation.
Container house and bonfire

Container house and bonfire

We have prepared a container house and a wood deck and a bonfire stand for your family and friends to surround it and enjoy your time together.

A cozy space

A cozy space

A room base on white where you can be relaxed. There are convenient furnitures and a home theatre ready for you.

Private Garden

Private Garden

A space where you can enjoy a BBQ at the wood deck or play with your pet on the grass.

A room where you can stay with your dogs

A room where you can stay with your dogs

We also take care of the room you stay with your dogs. Try taking your dog to the World Heritage and Retreat.
This is a private space where fluttering and relief can be experienced. Find your own enjoy amusement by feeling the nature.
Bonfire and marshmallow
Experience the comfort you cannot find in the crowded city through the bonfire. You can bake a marshmallow or toast with the all inclusive drinks and find your own way to enjoy.
Go for a walk with your pet.
There is a private garden for you to take your pet for a walk. You can also visit the riverside nearby.
Relax in your room
The room base on the color white gives you a cozy mood. Maybe the right place to have a girl's talk?
Exciting theatre
You can enjoy the home theatre in your room or the private garden. Isn't it exciting to enjoy the movie you wanted to see in an unexpected space?
Feel the nature in the view deck
You can enjoy the nature of Kumanokodo from the view deck. Please enjoy the grandeur of the mountain and the murmur of the river.
A walk along the Kumanokodo
If you walk for about 10 minutes, you can walk the Kumanokodo. Enjoy the nature of a World Heritage.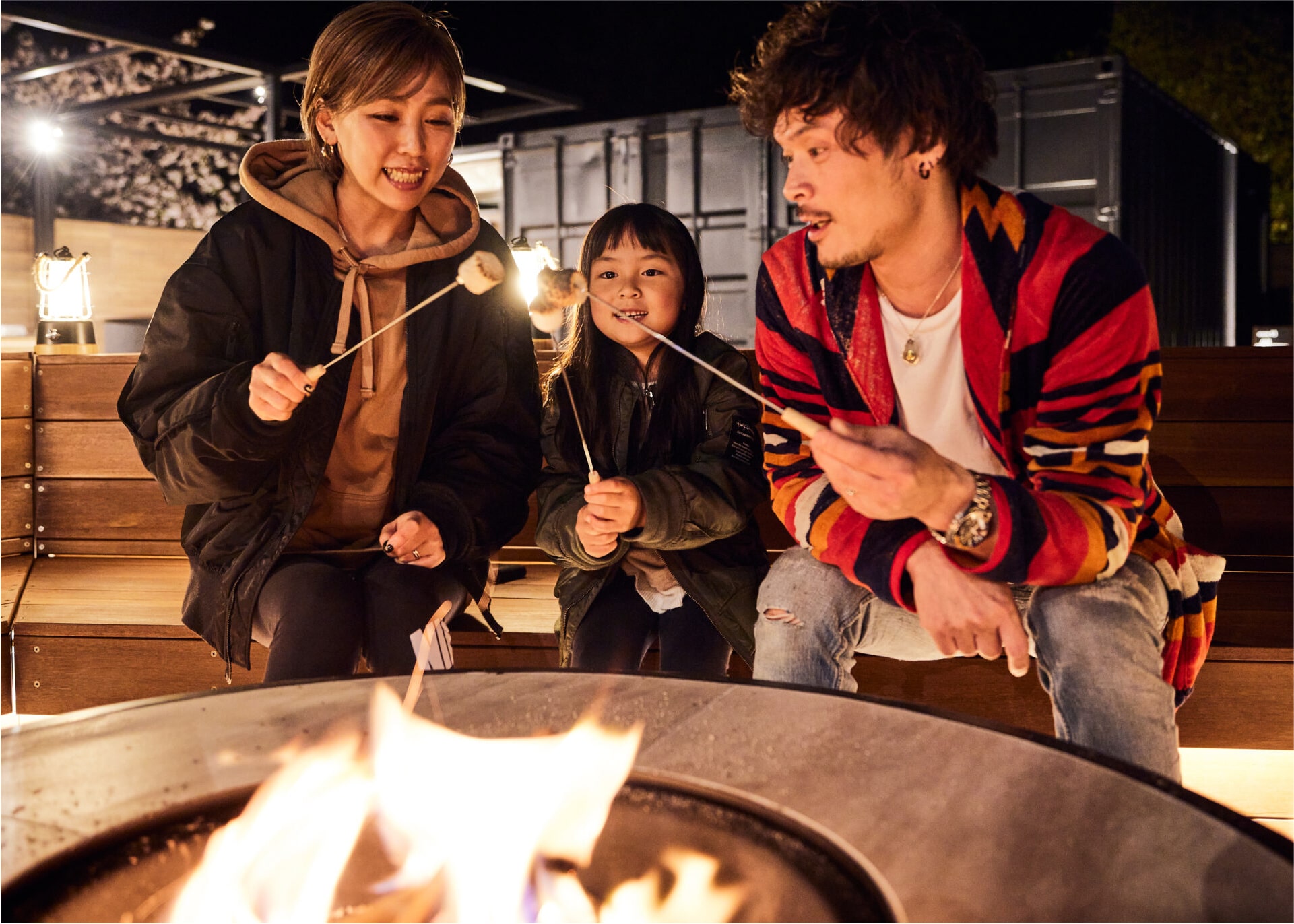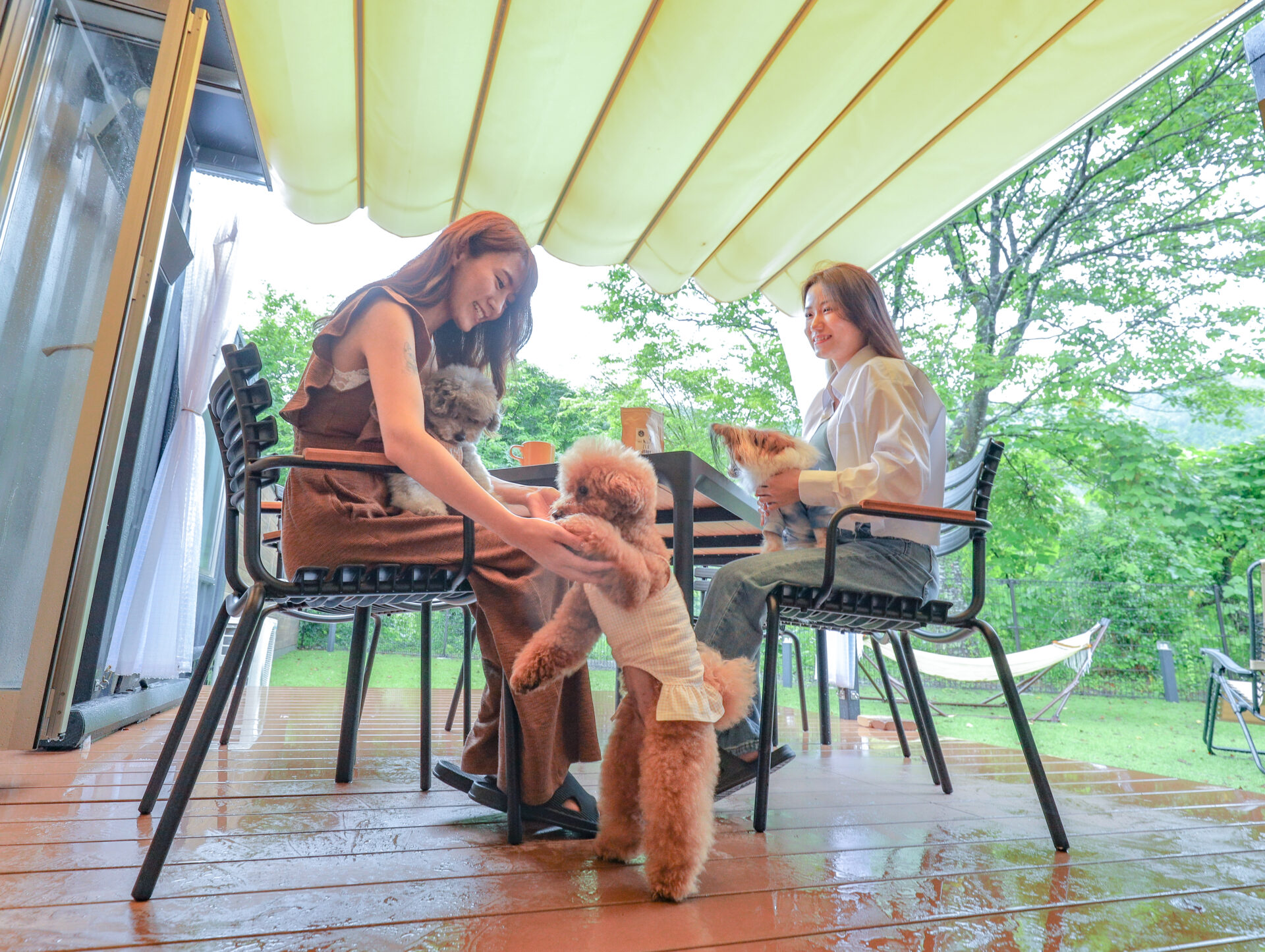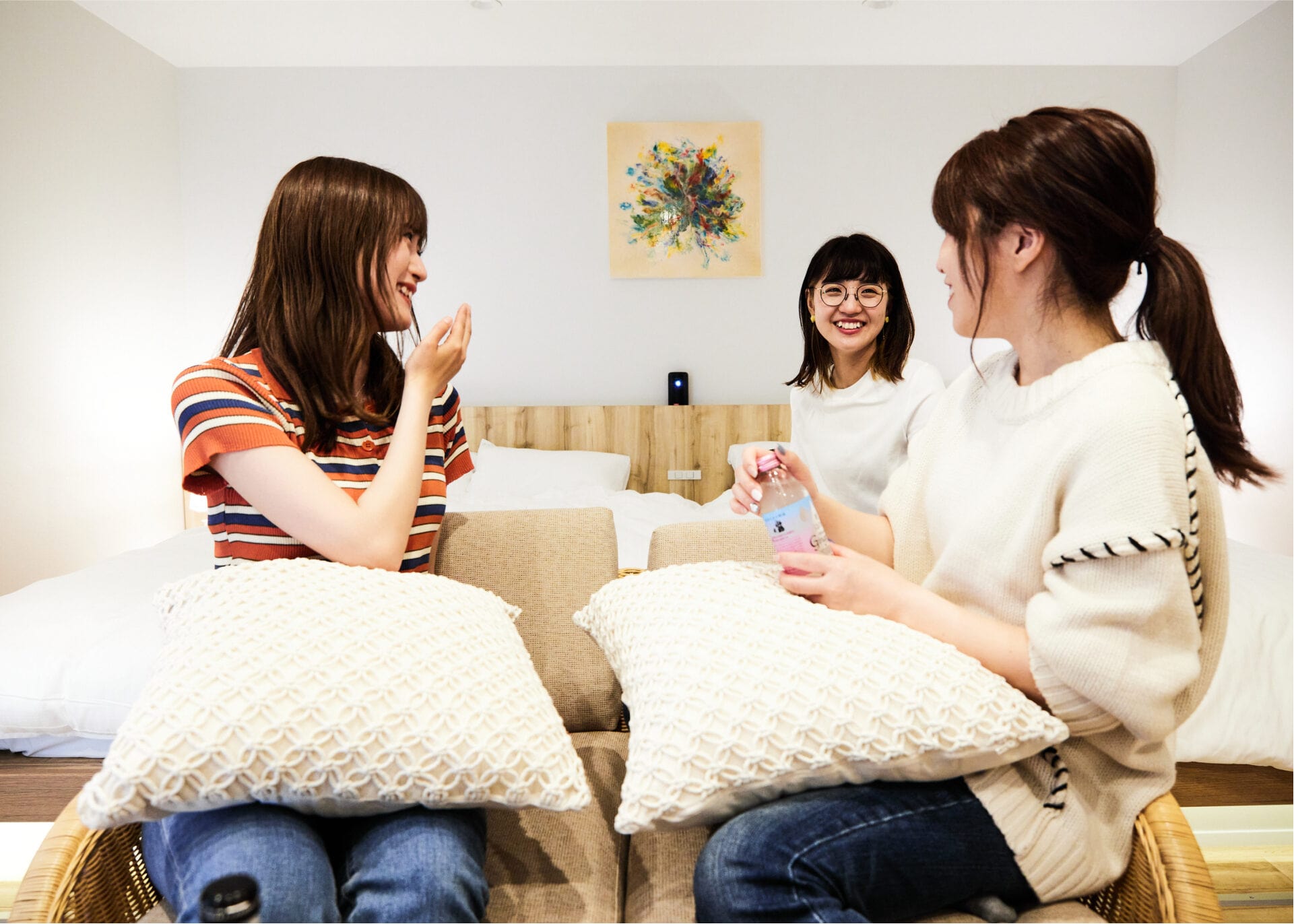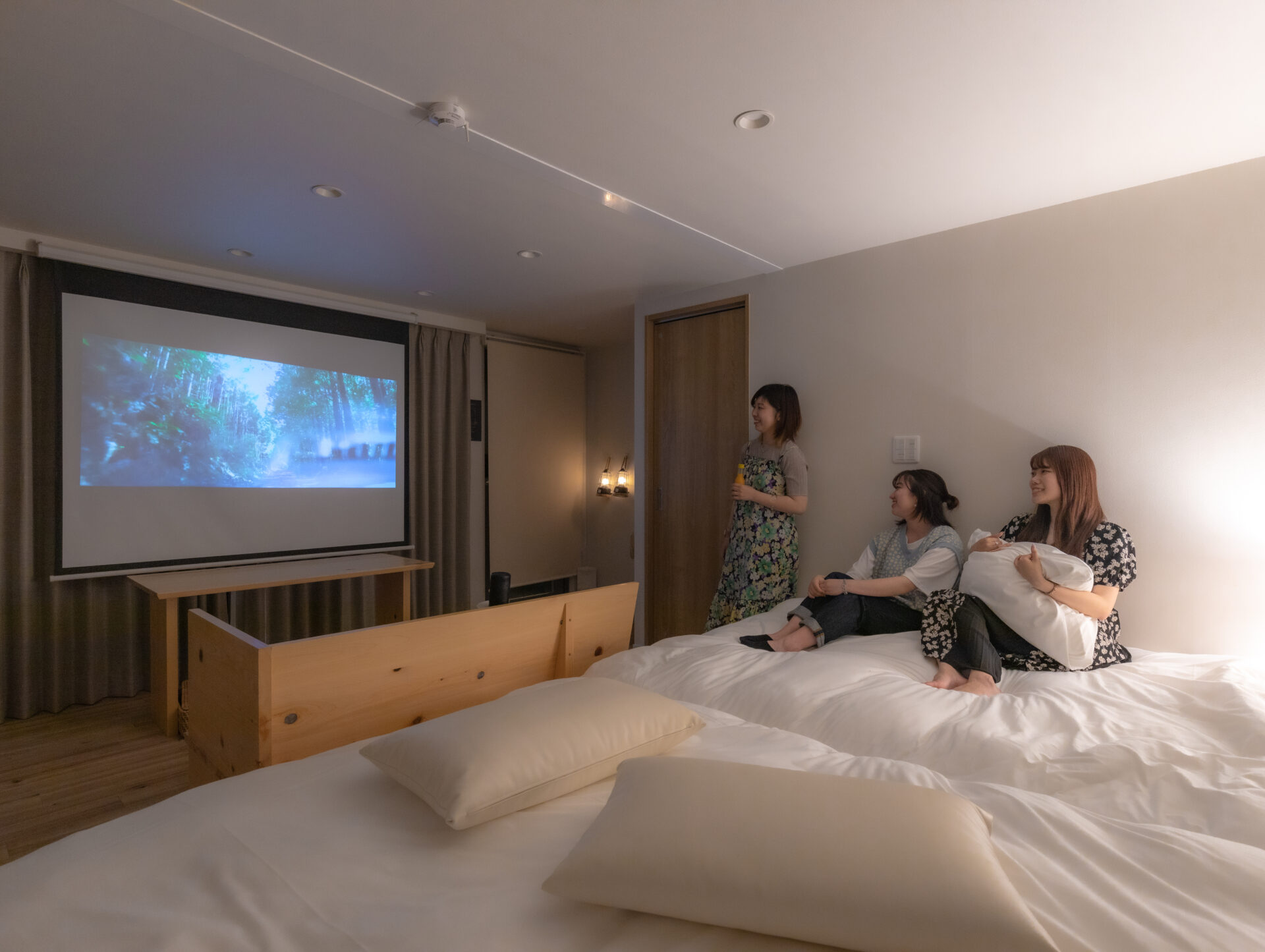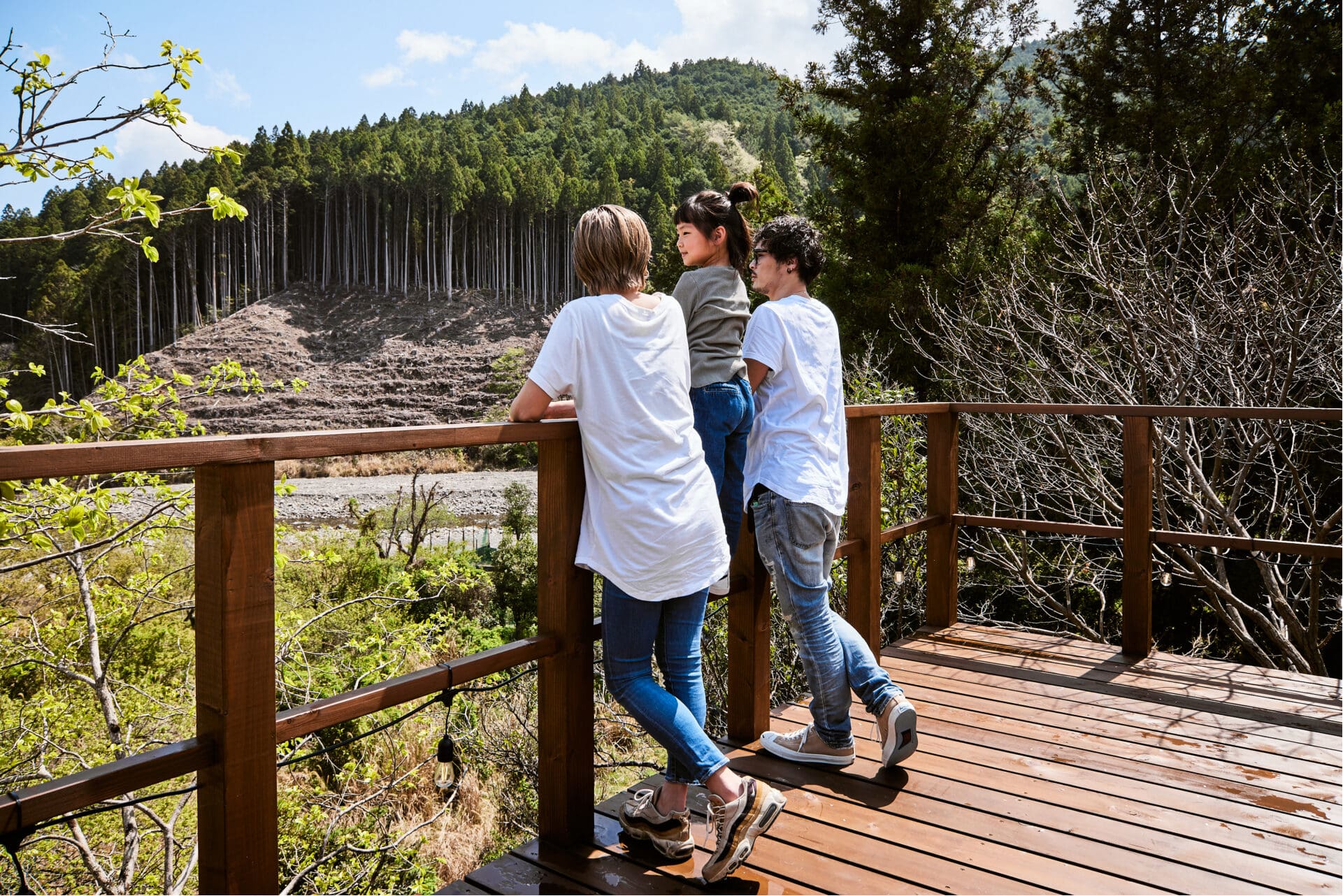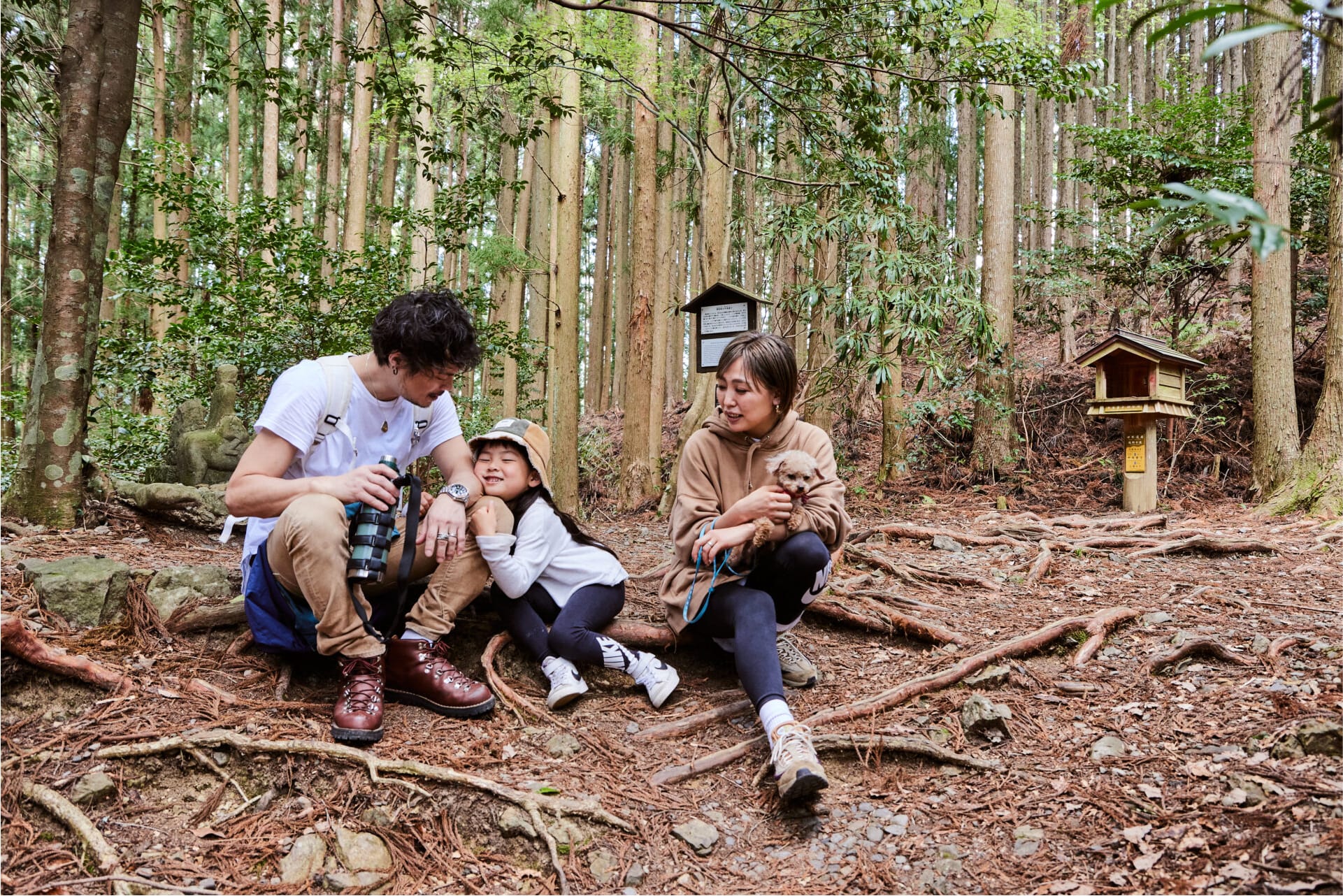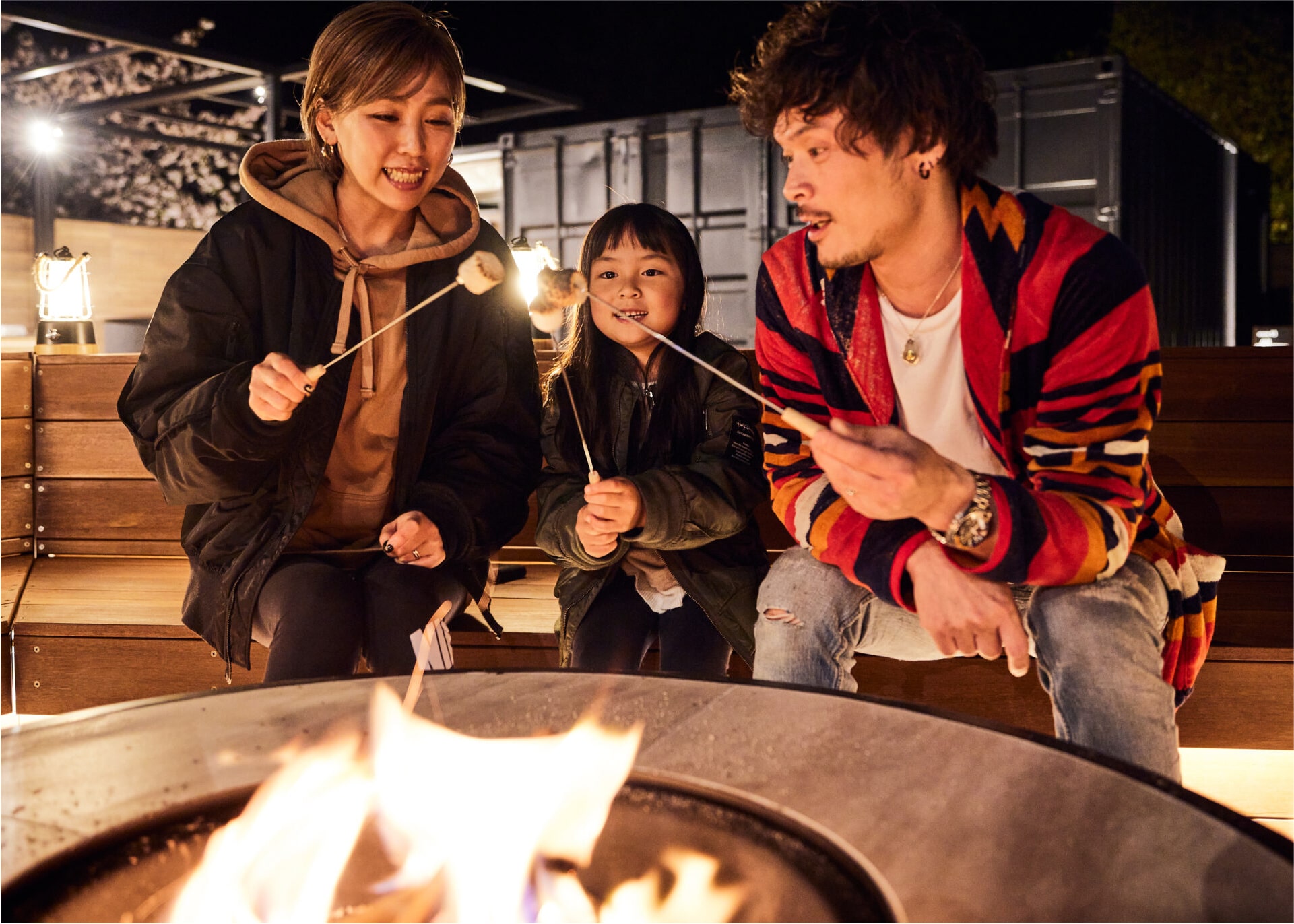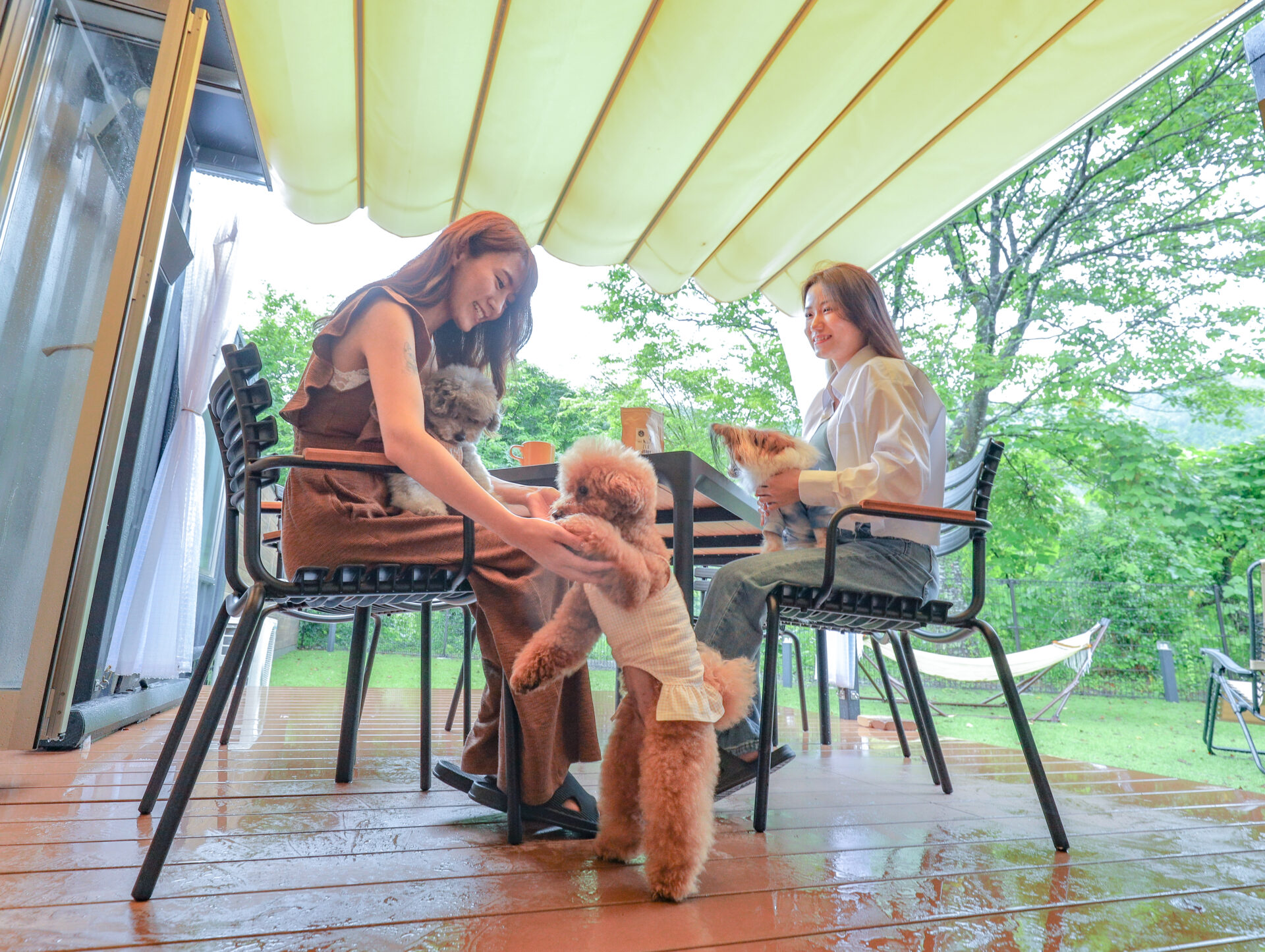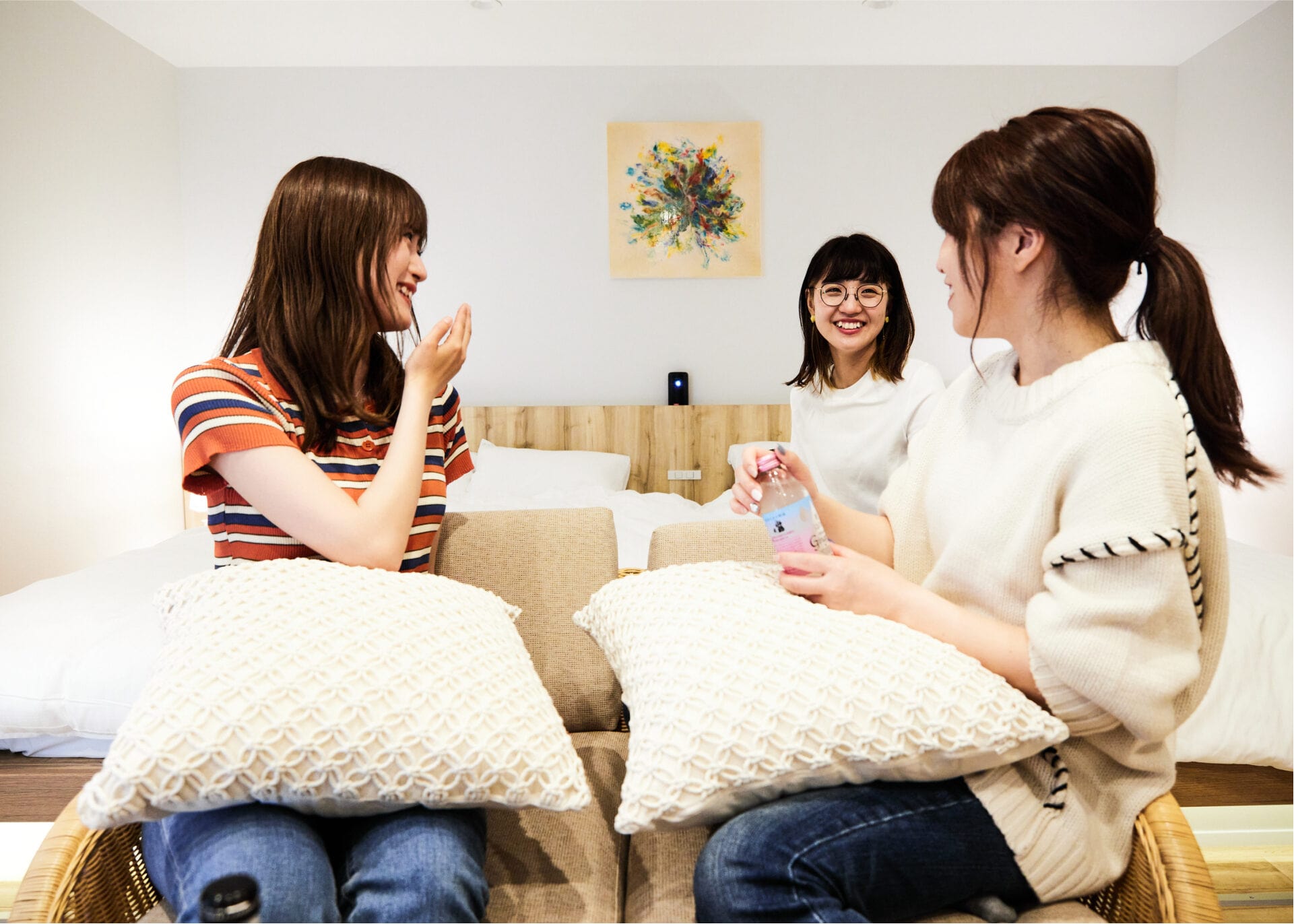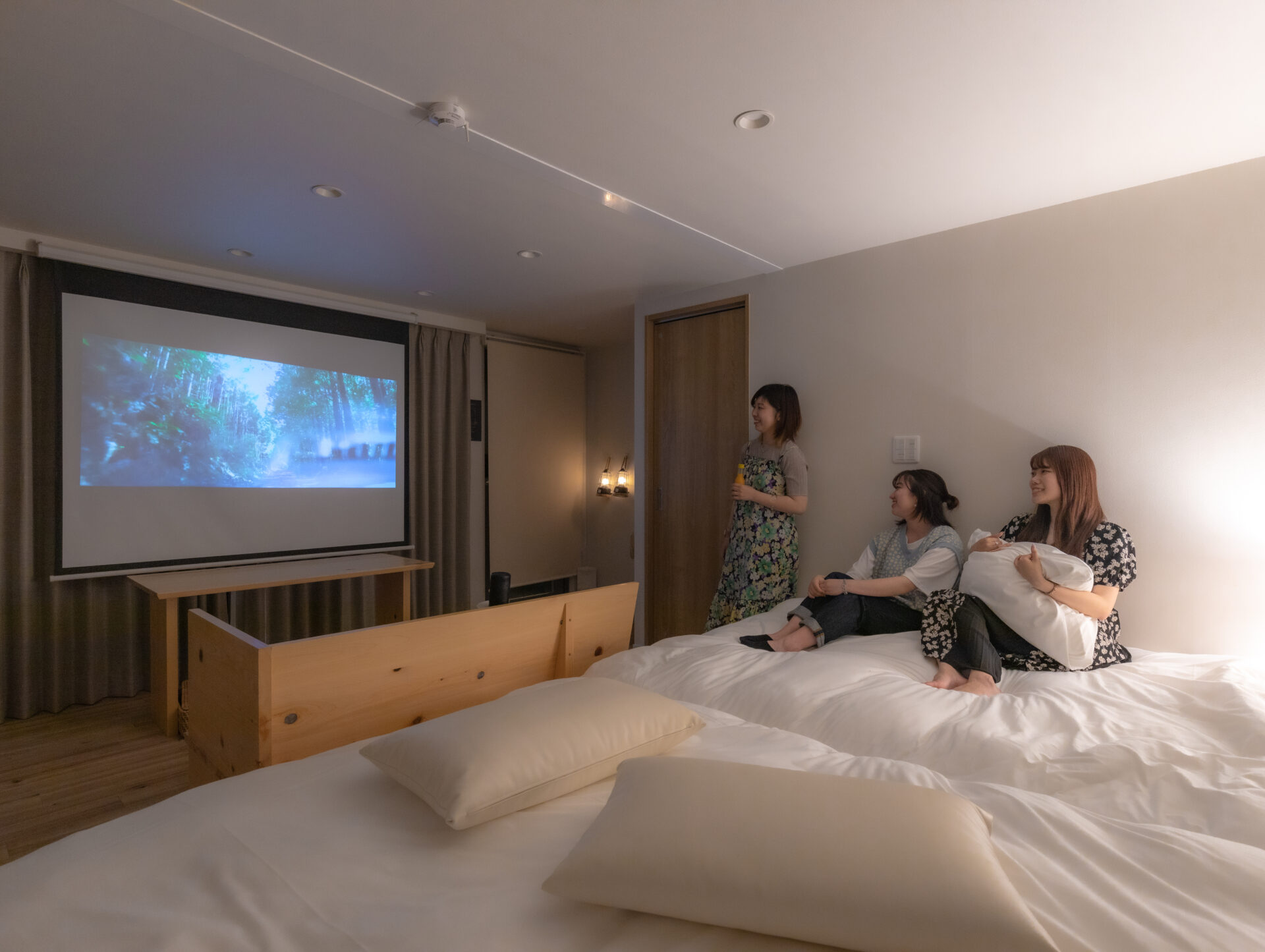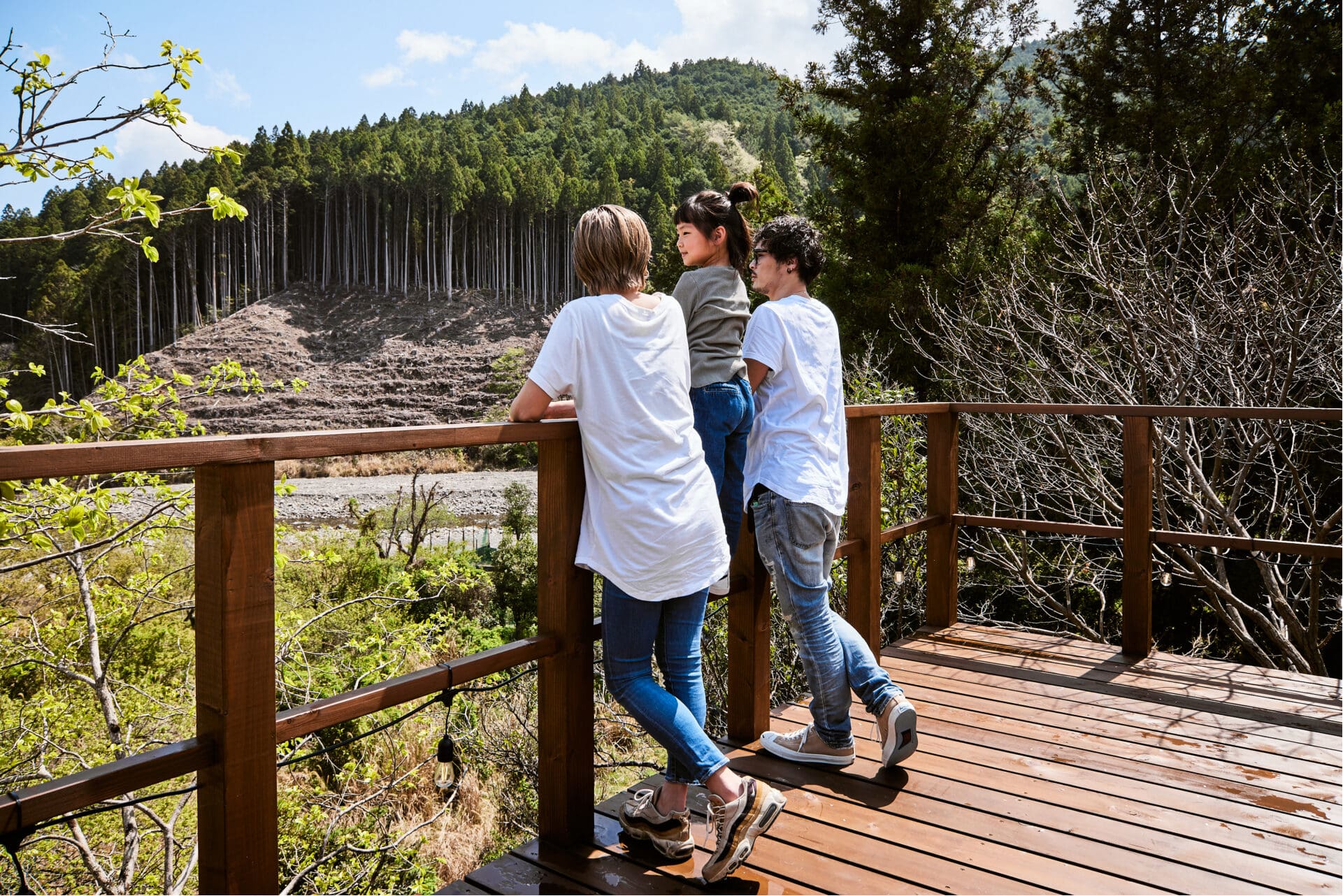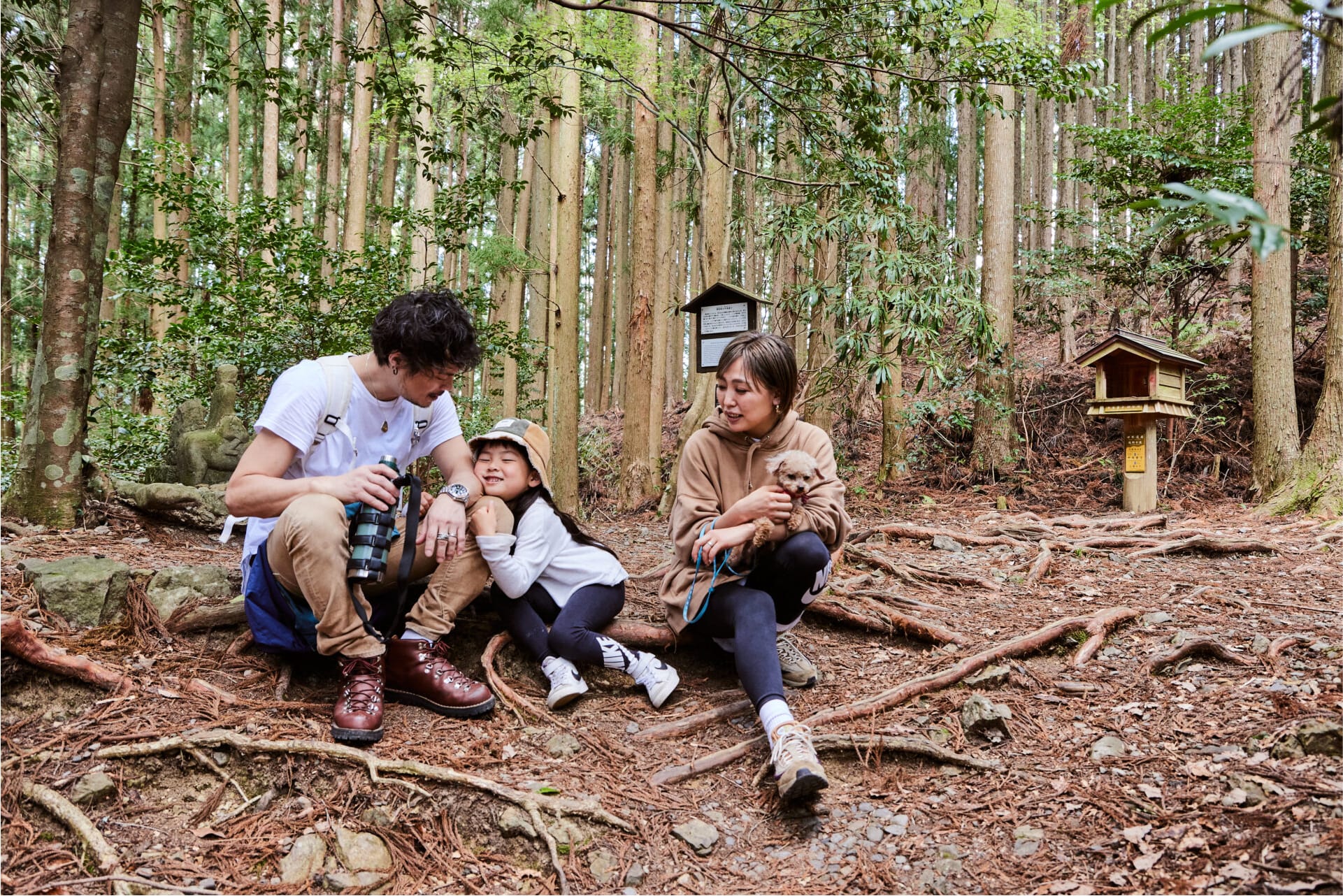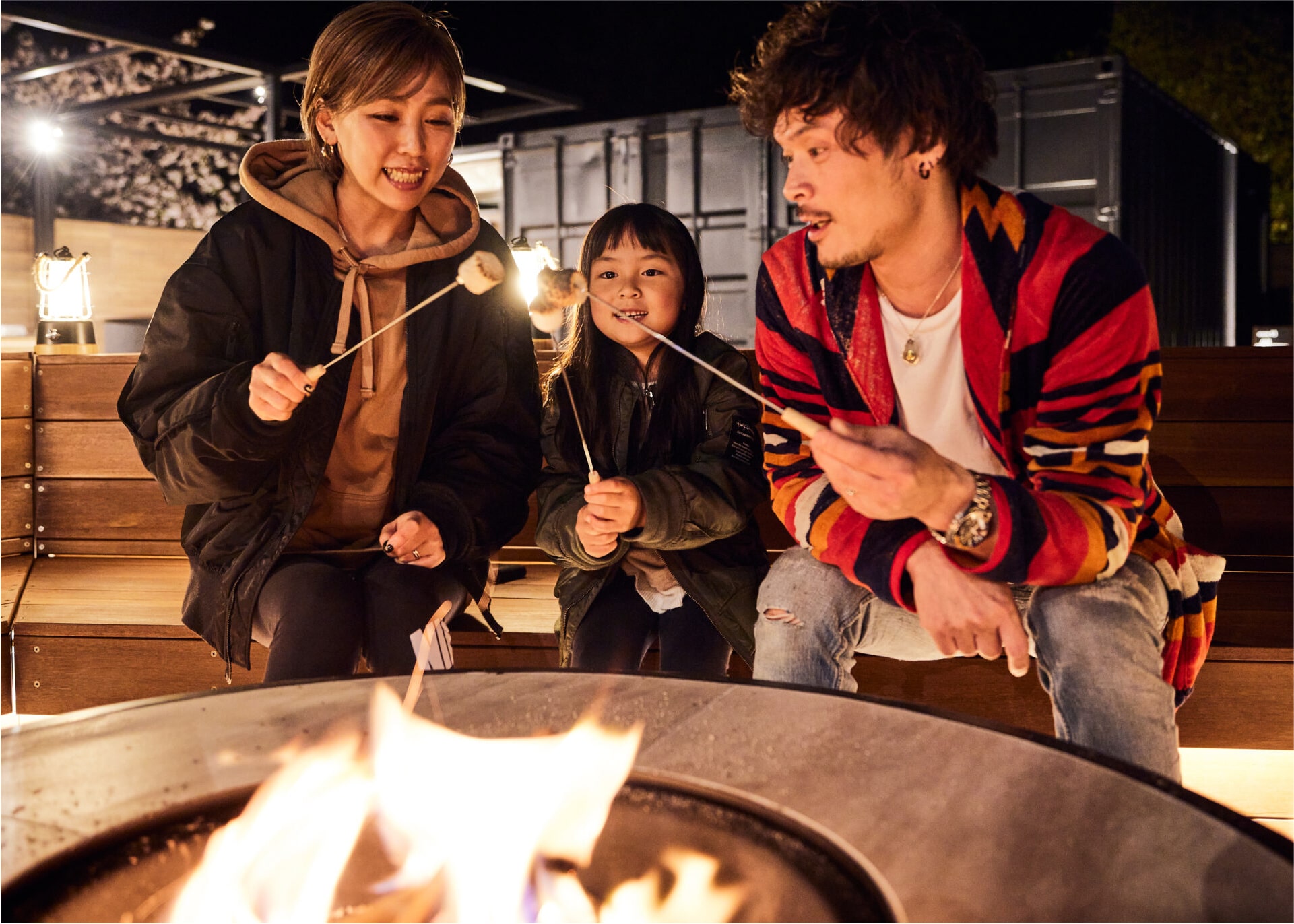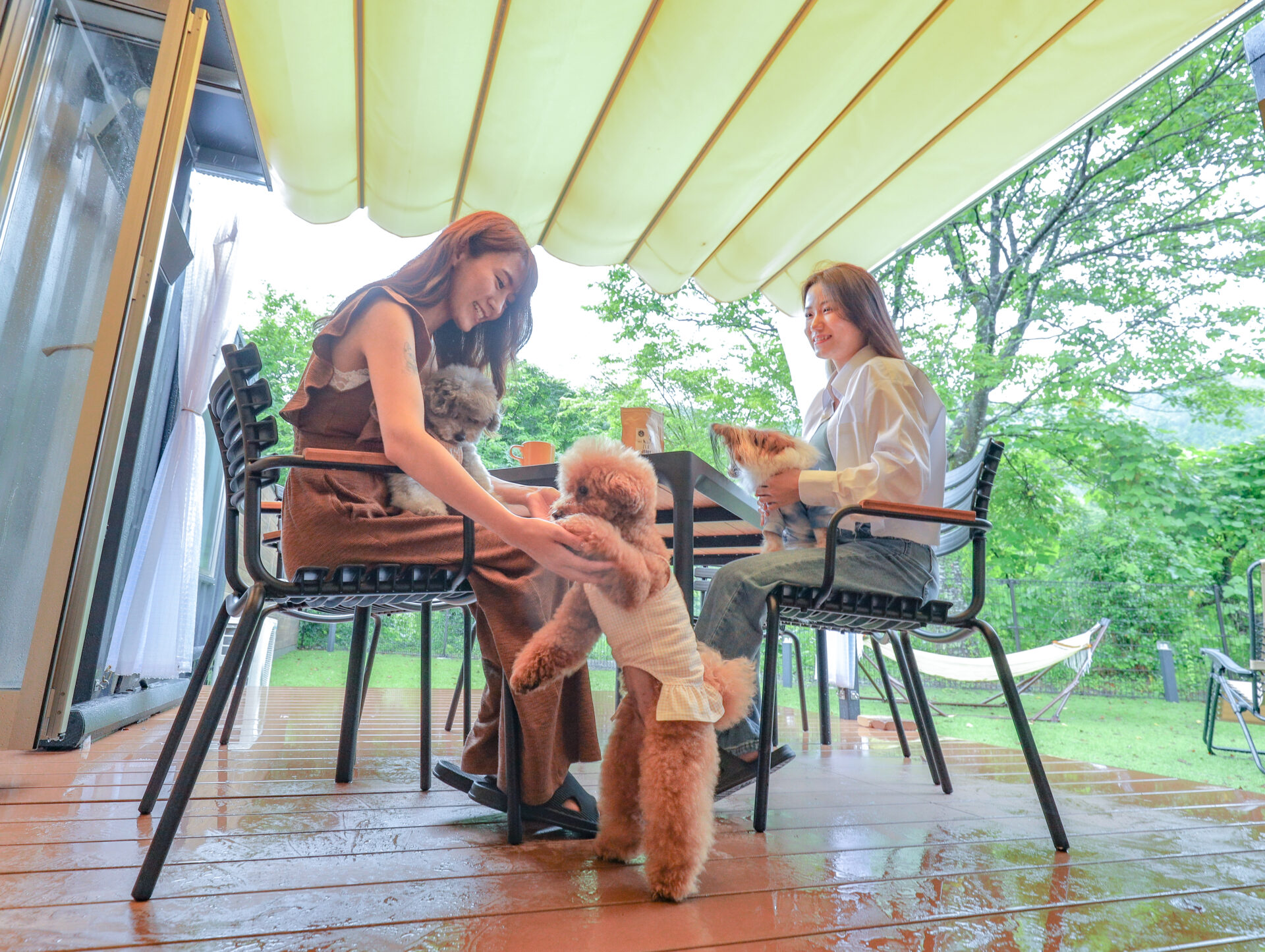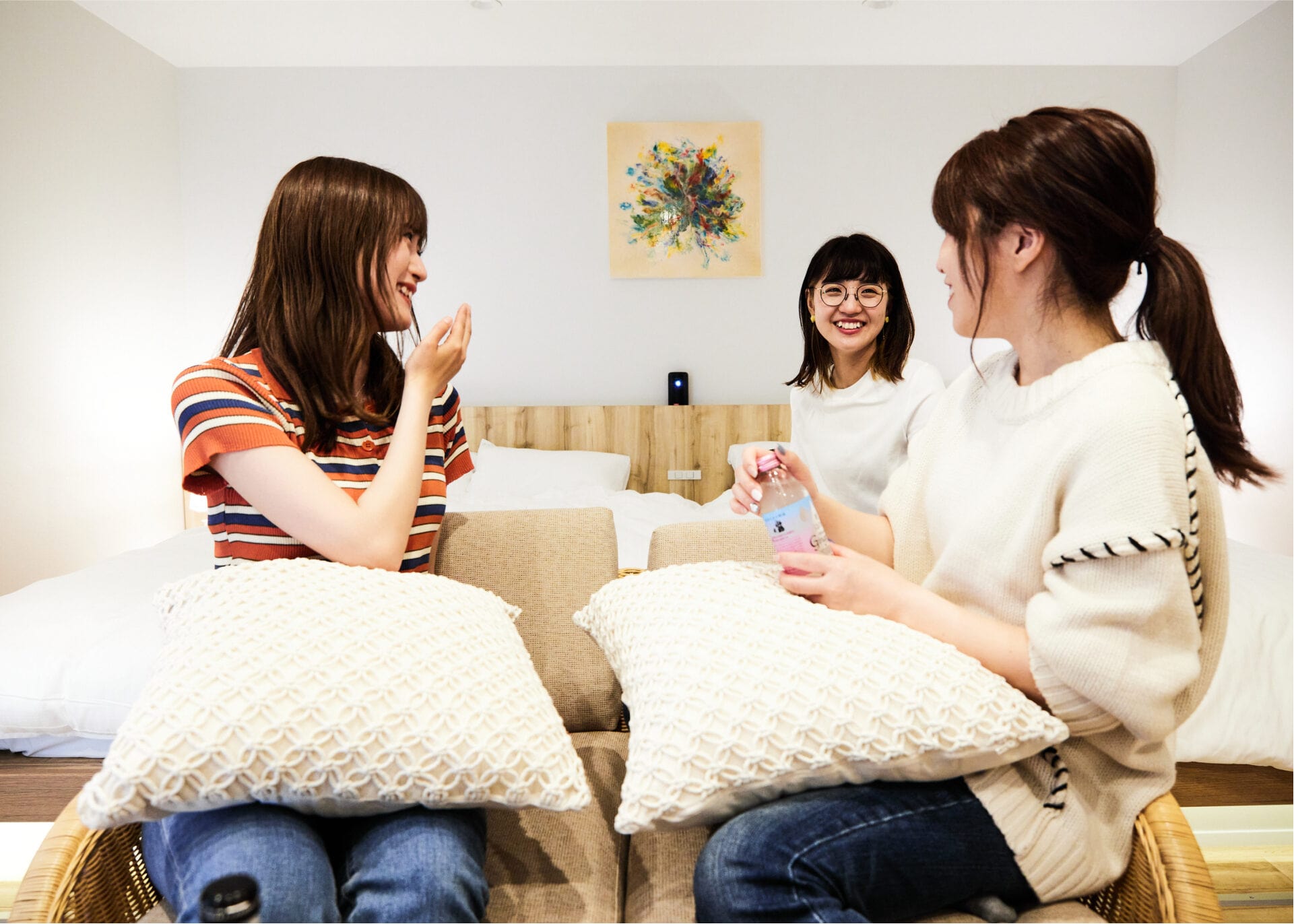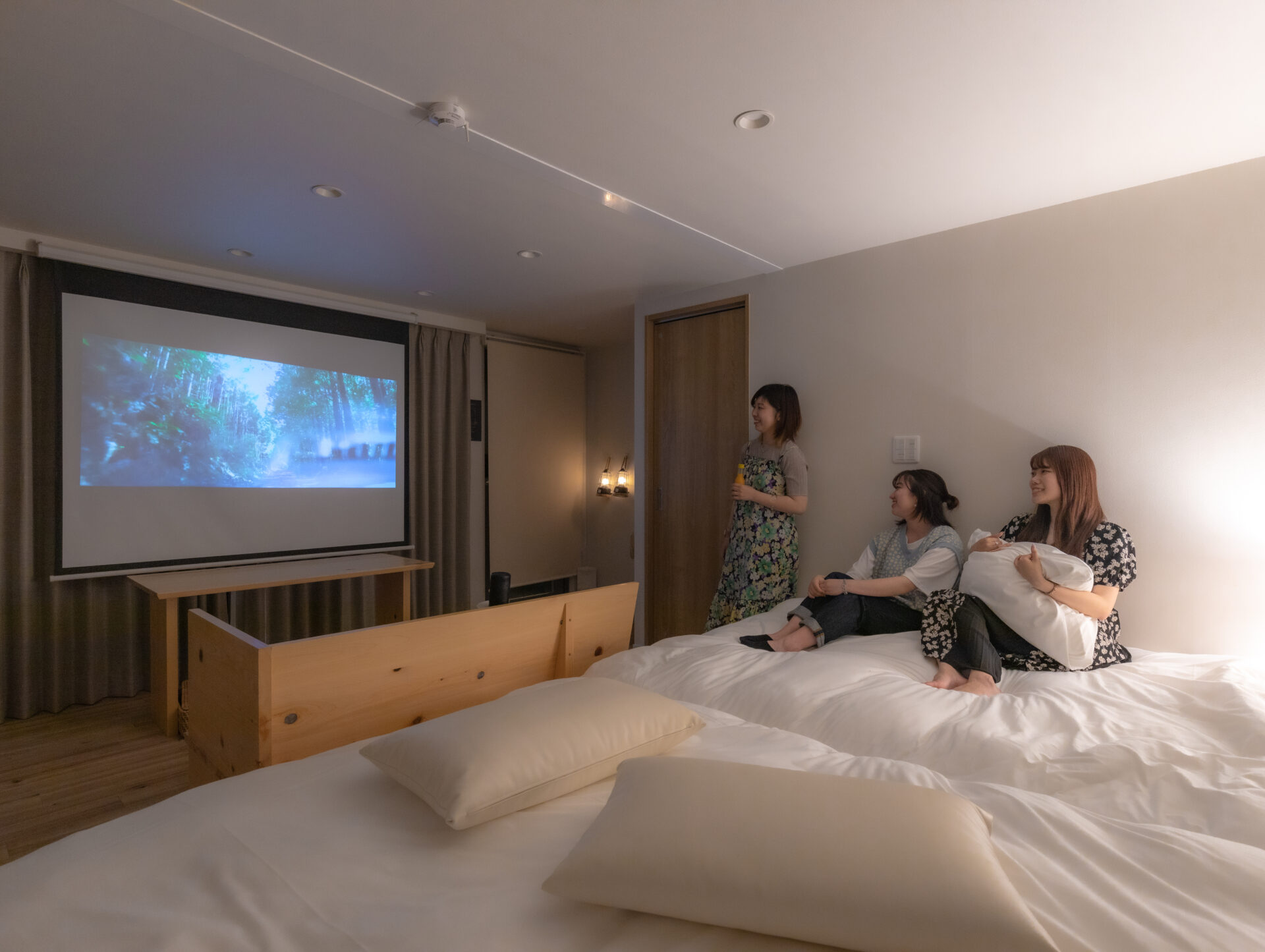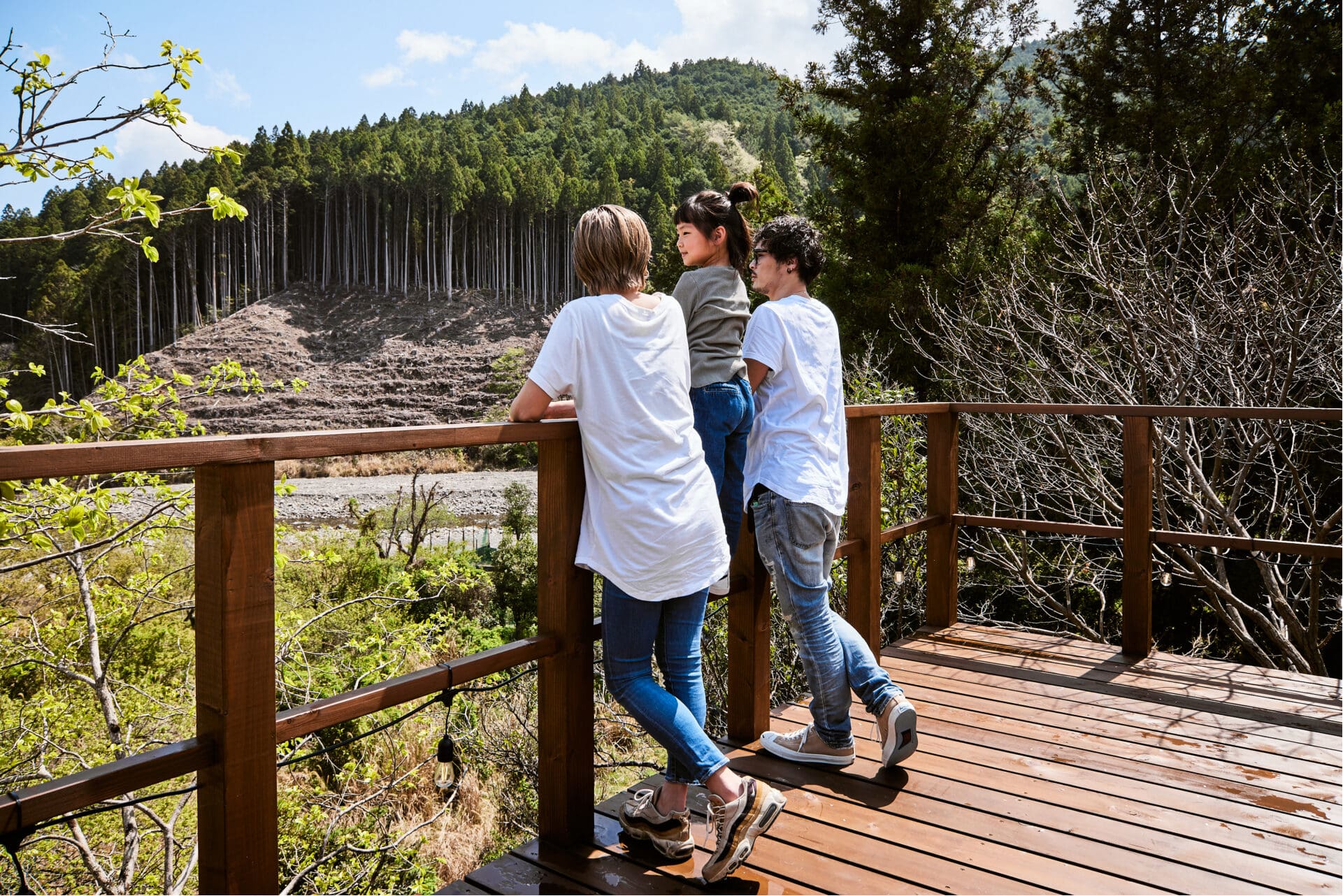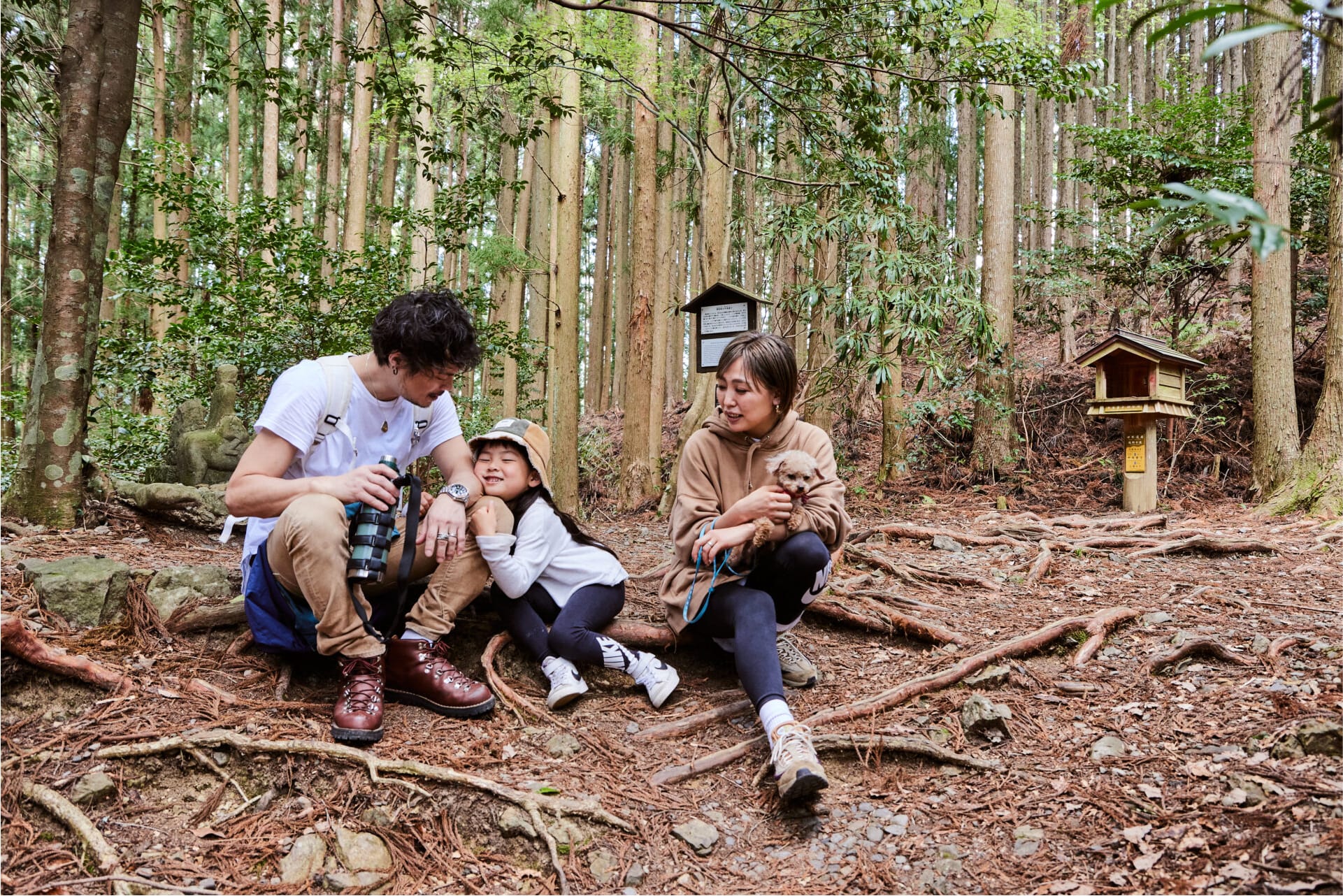 Experience baking pizza in a stone kiln
We have a professional stone kiln. A pizza you bake and the pizza you have at a restaurant gives out a different type of deliciousness.
Prepared Style
Ingredients for Pizza, BBQ, Cheese Fondue, Ajillo, Hot sands, etc. are prepared. Use your favorite ingredients to make you favorite food.
Waka Beef in a lava plate
You can barbeque Kishu Waka Beef in a lava plate. This is not a common dish which you can enjoy anywhere.
All inclusive drink
We have collect all the deliciousness of Wakayama. The drinks inside the refrigerator are all you can drink and can be taken home as well.
Morning self-grounding coffee
CABELO, a local roasting station provides us great coffee. ENjoy a luxurious morning by enjoying coffee in the nature of Kumanokodo.
Retreat through morning yoga.
In your private garden, you can do yoga and molkky. Release your stress at Kumanokodo.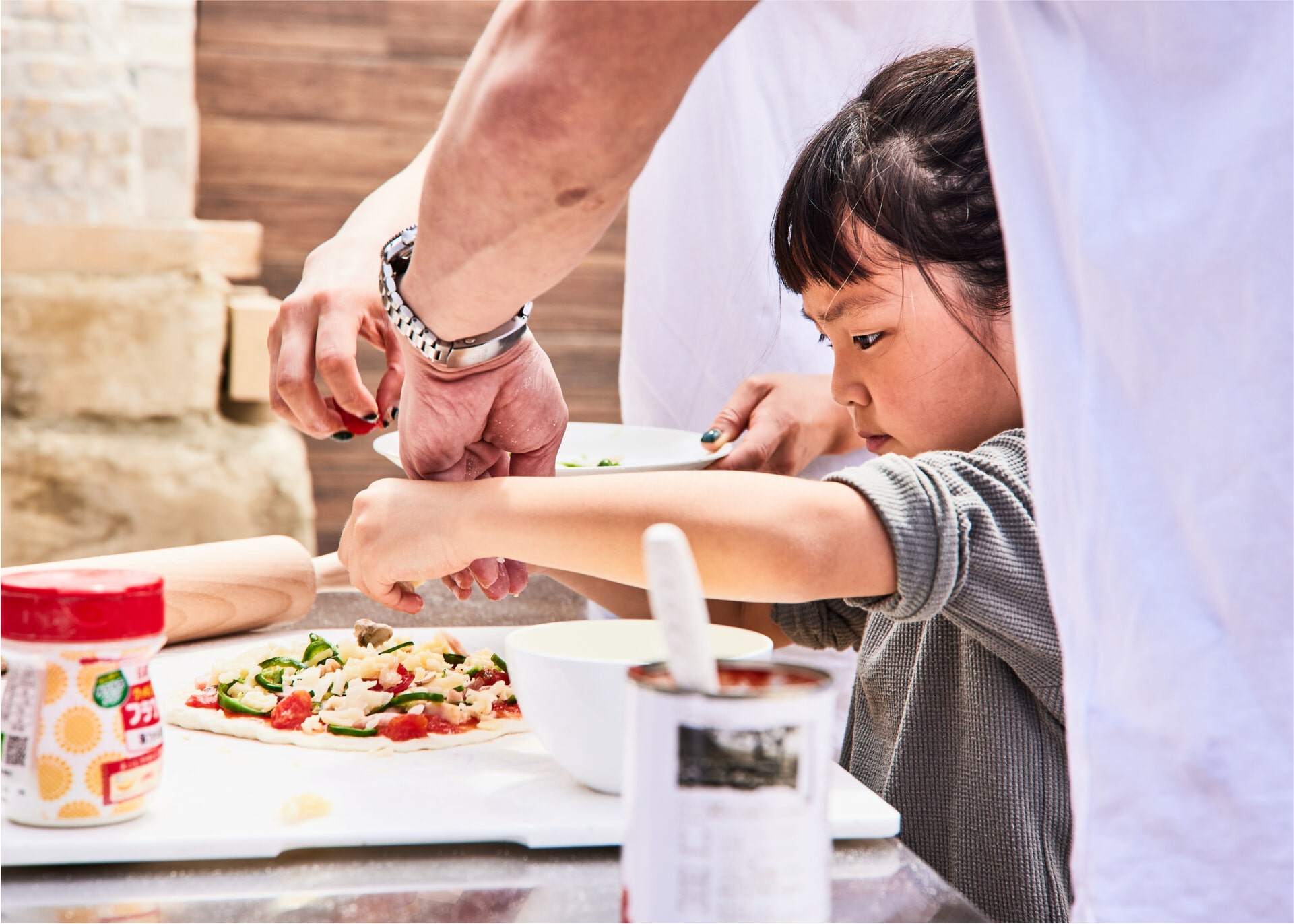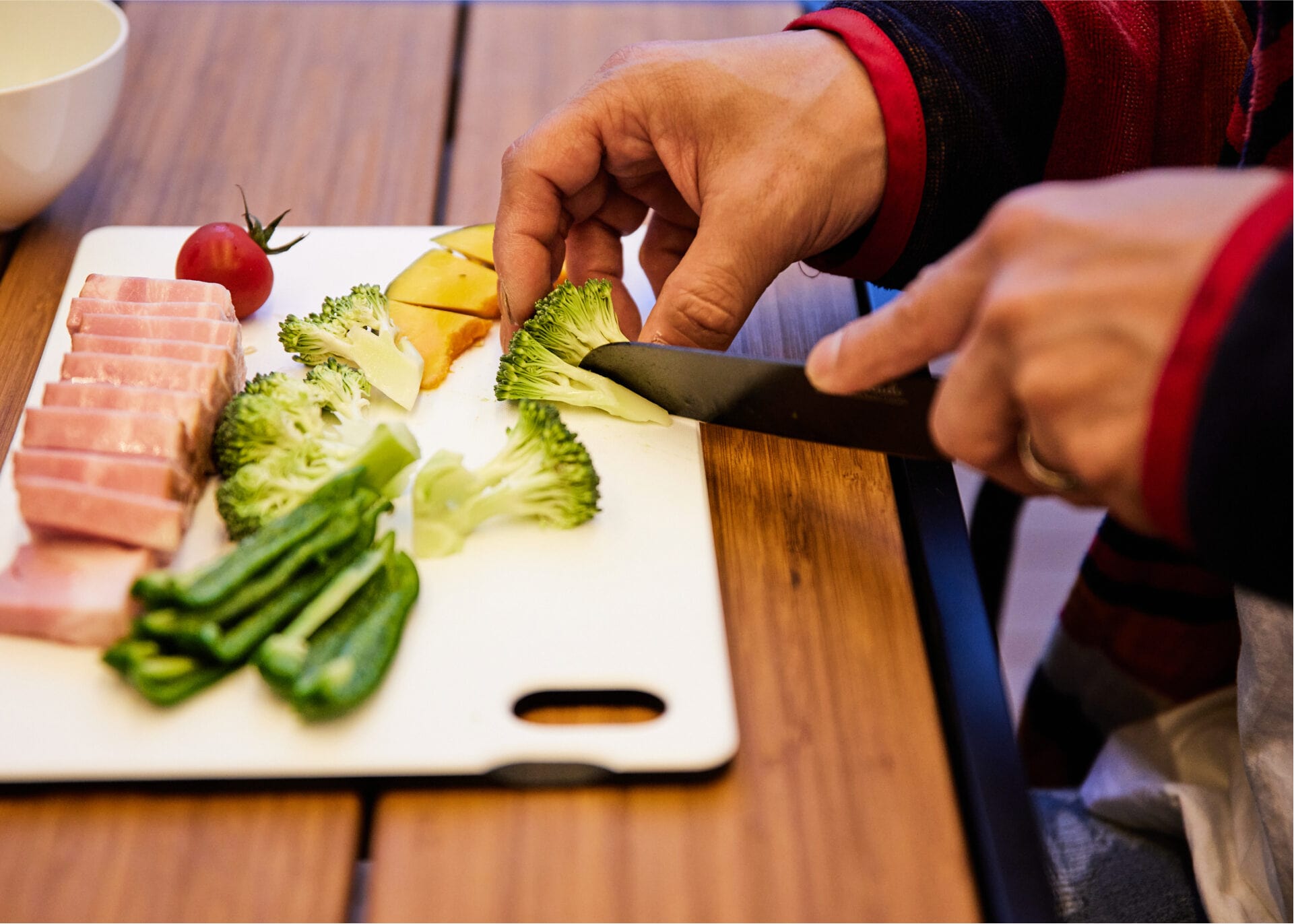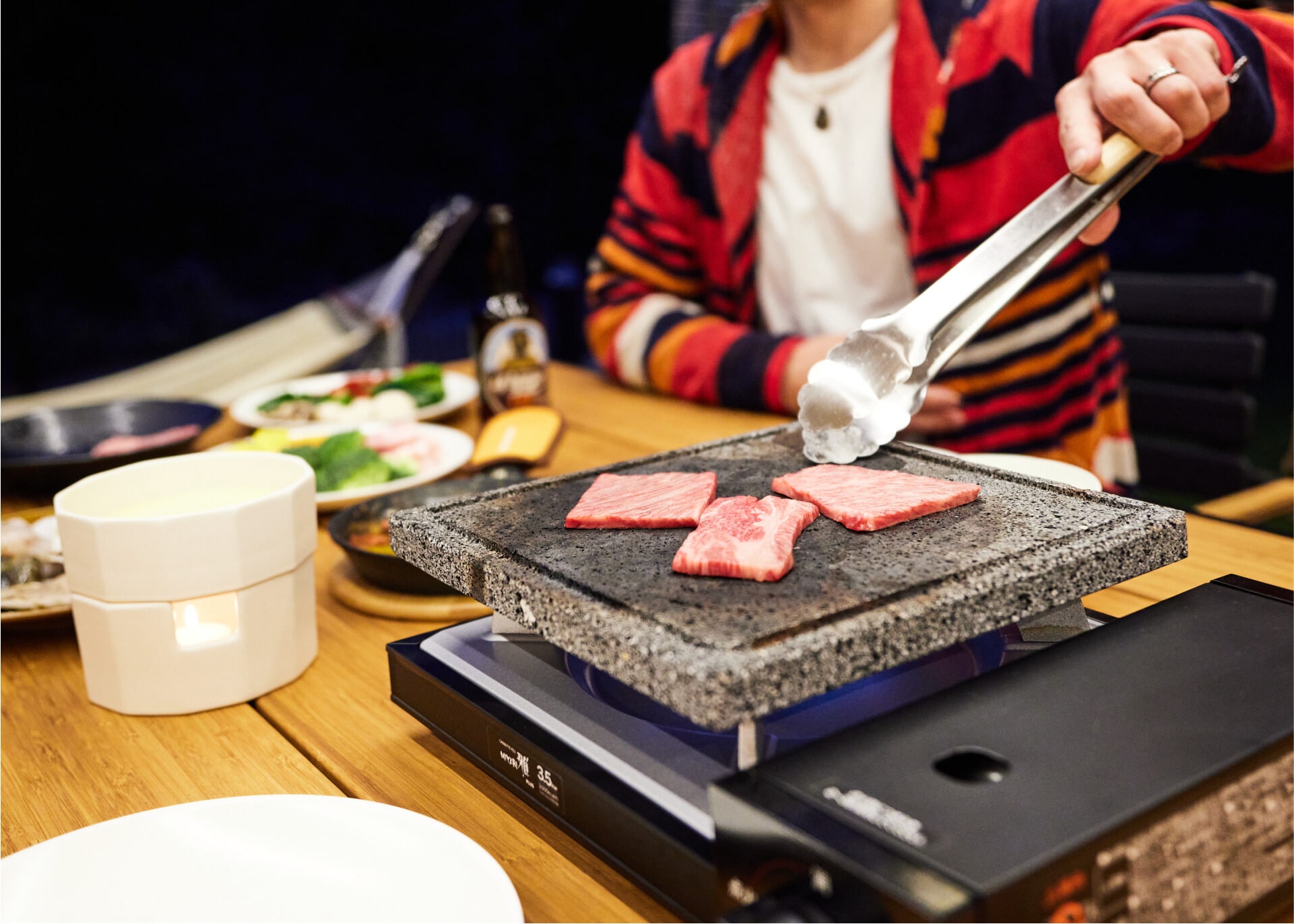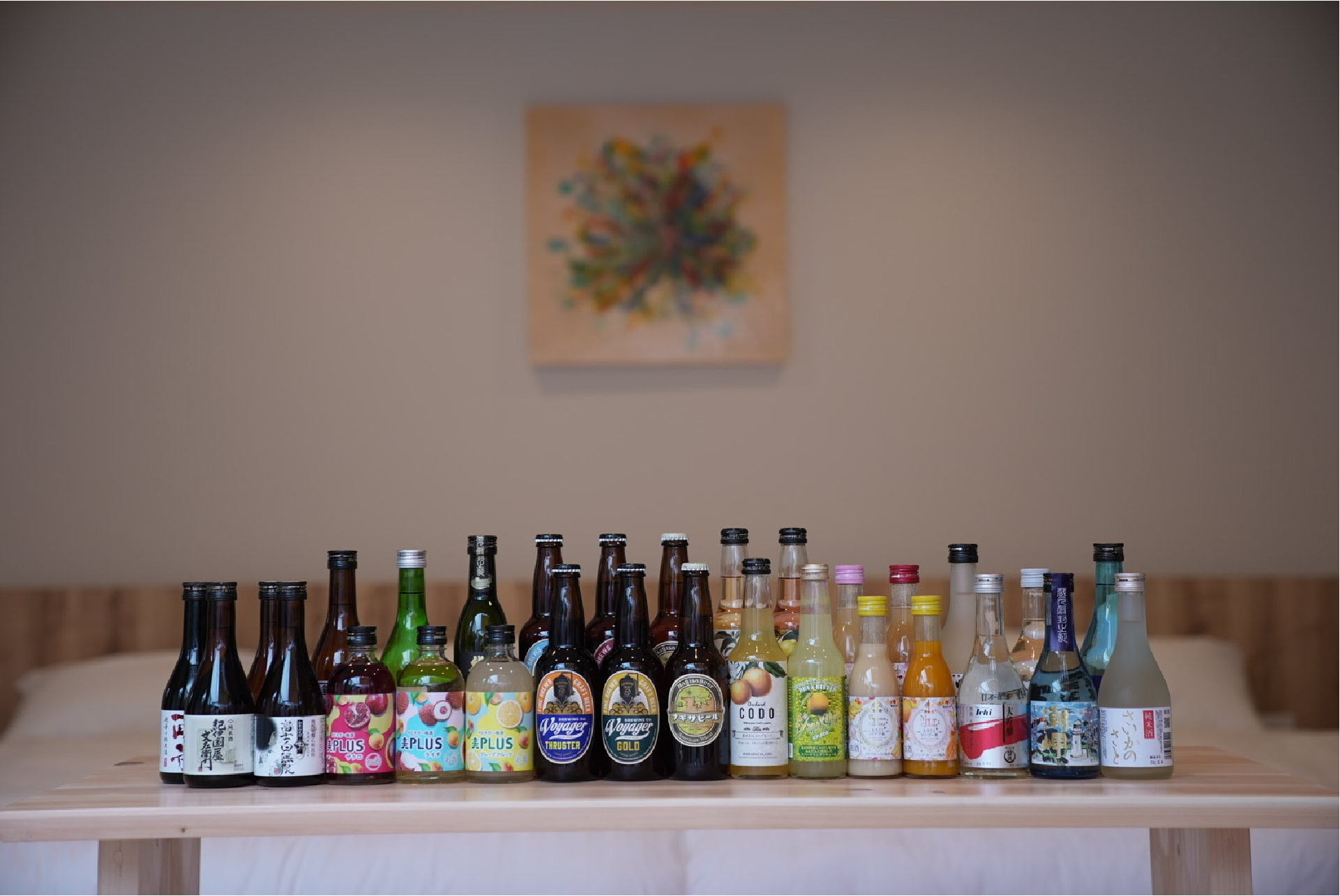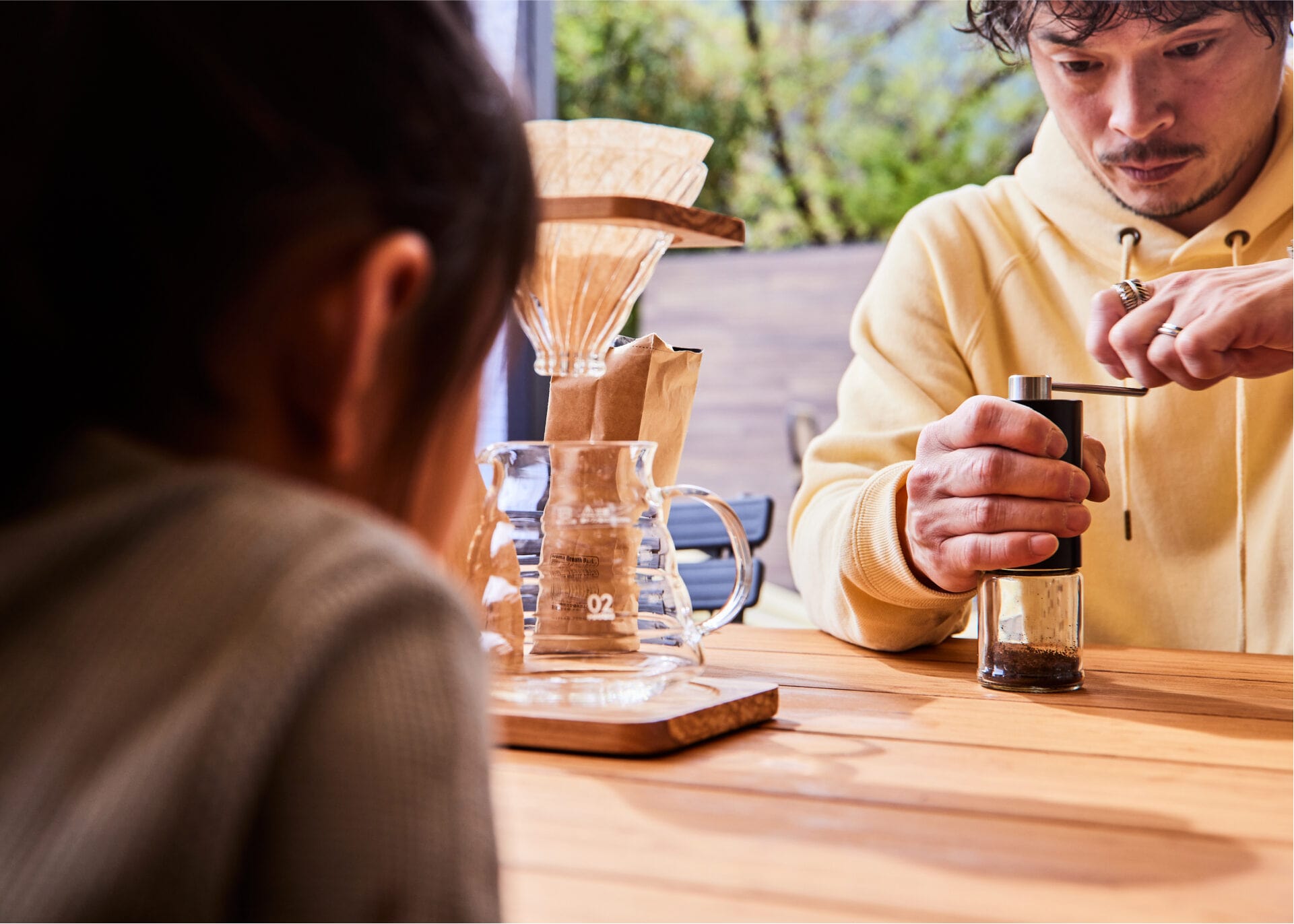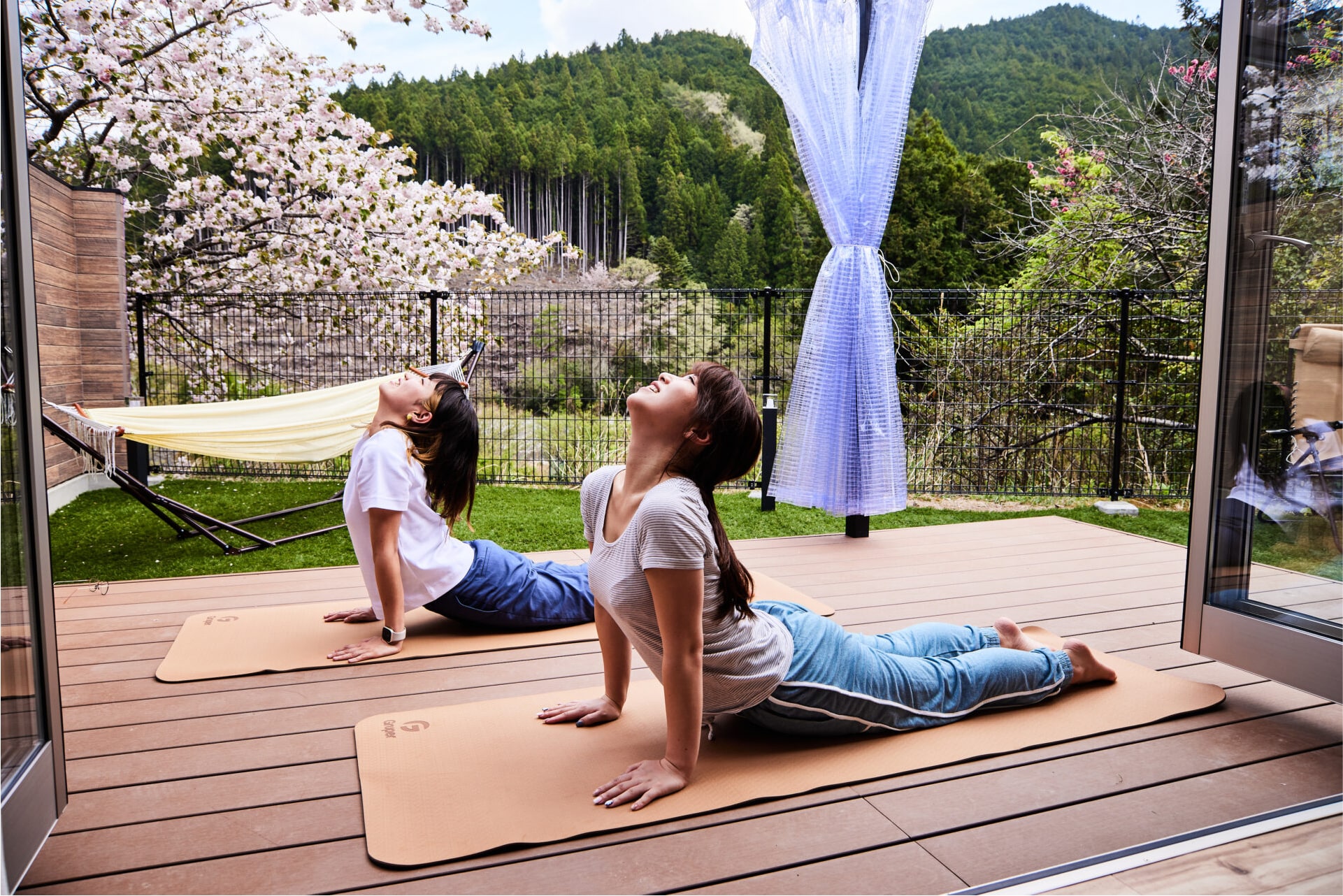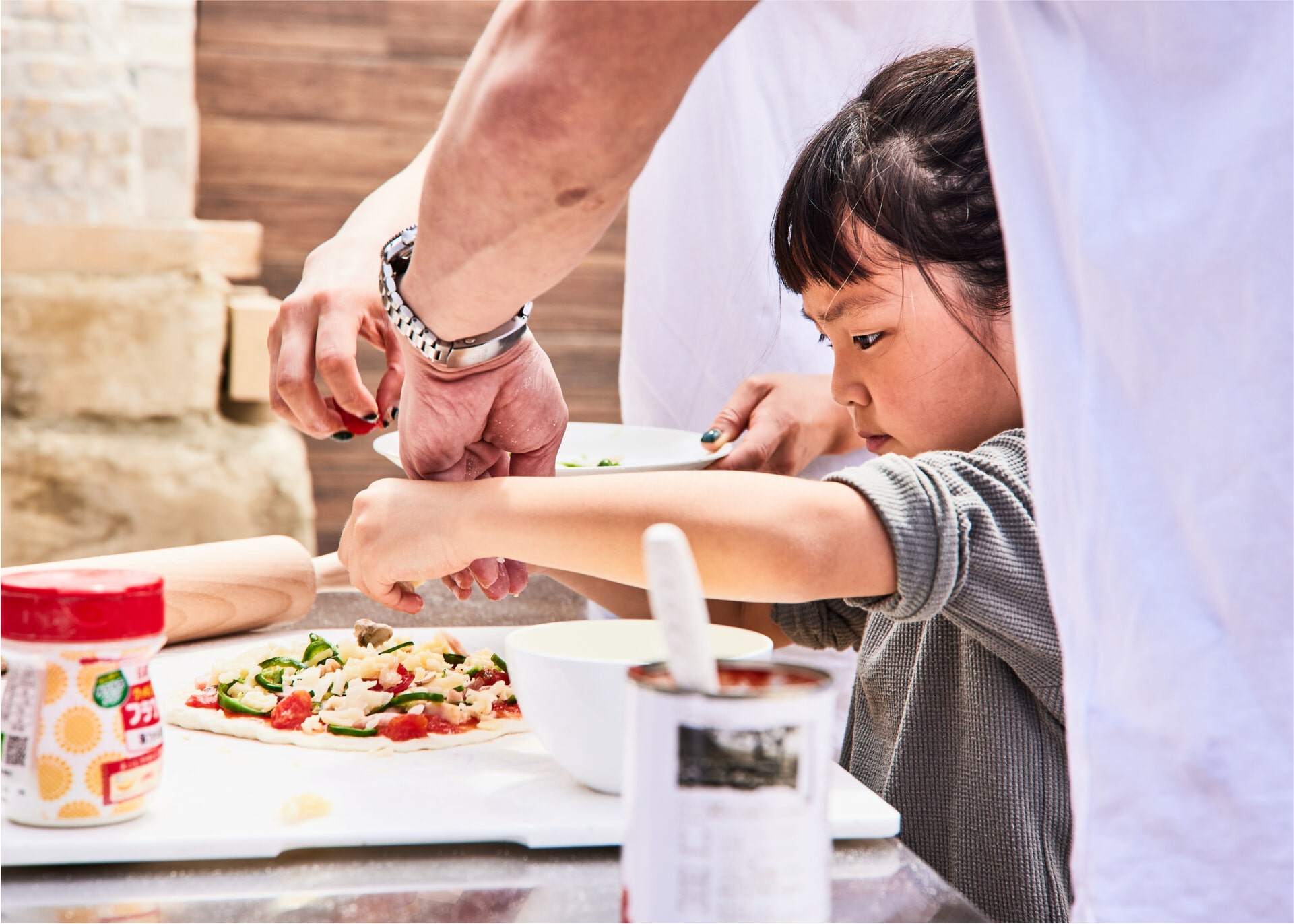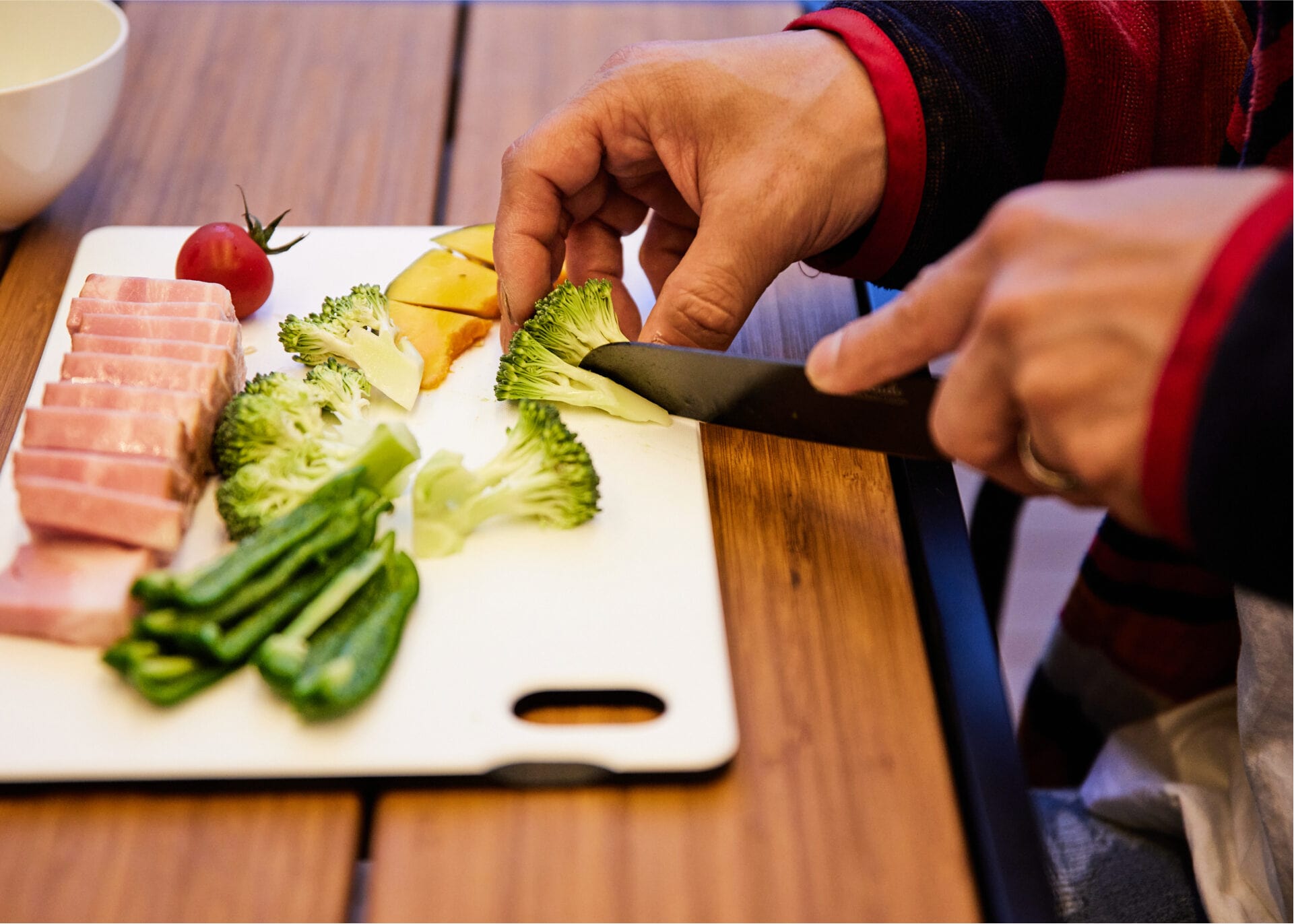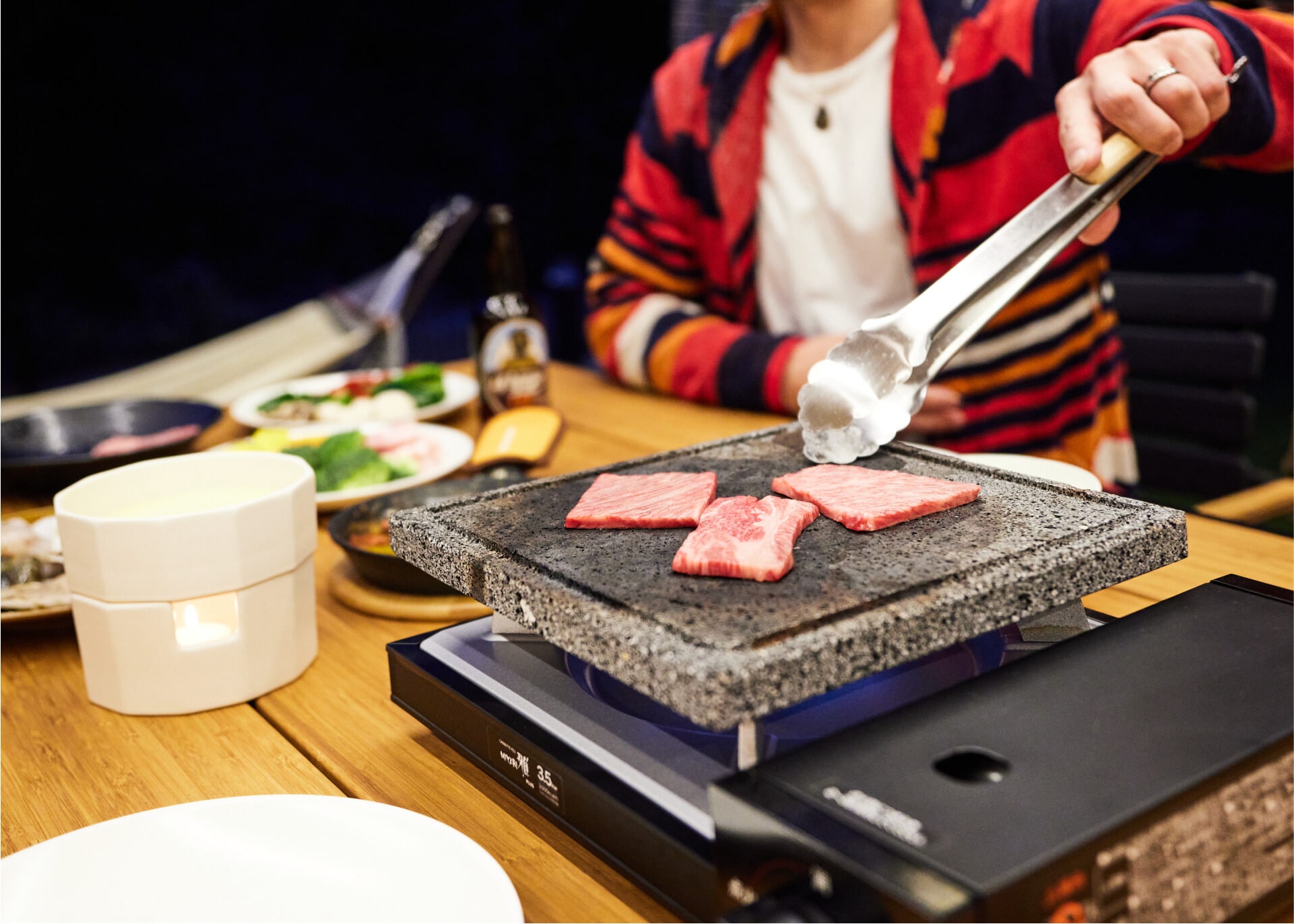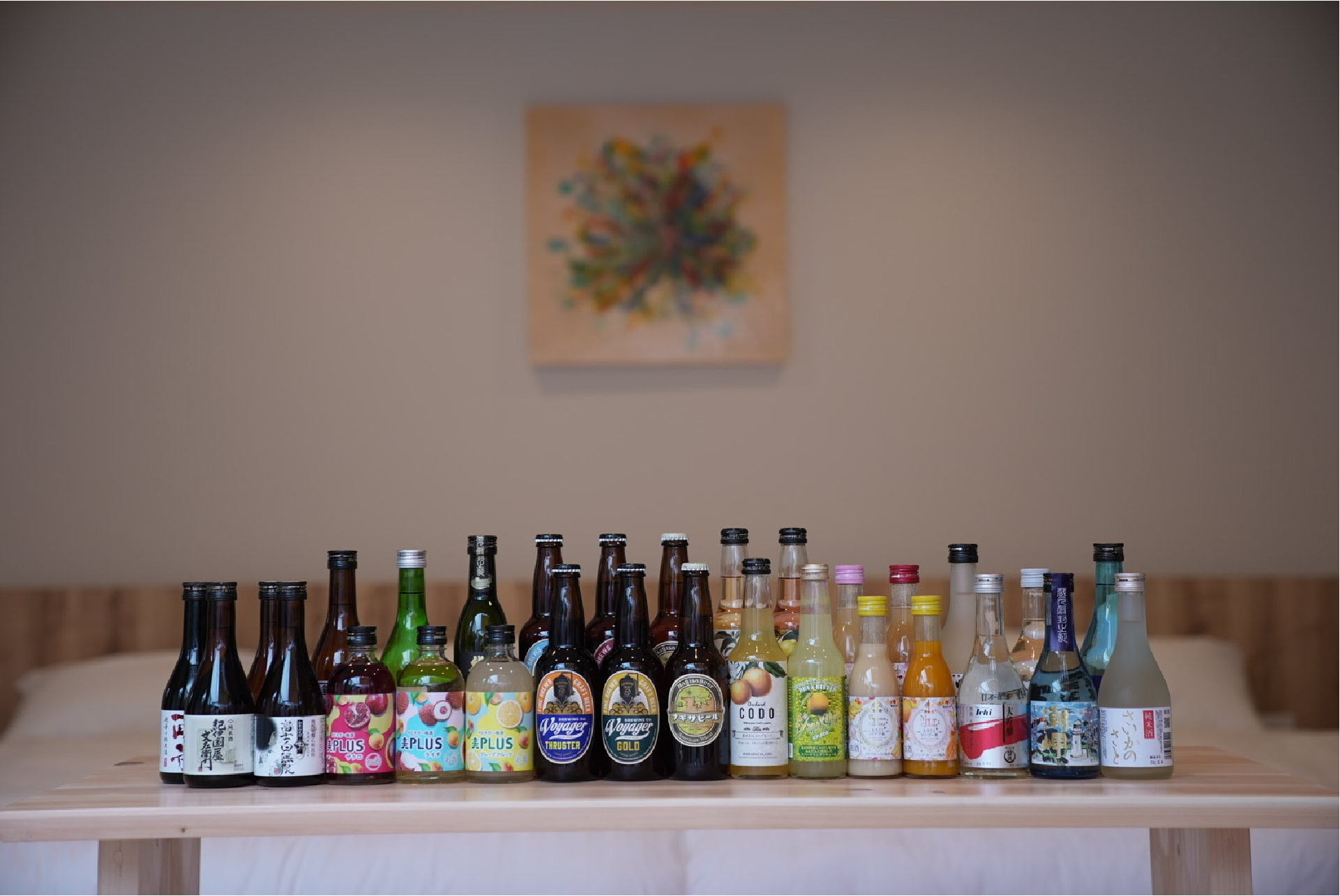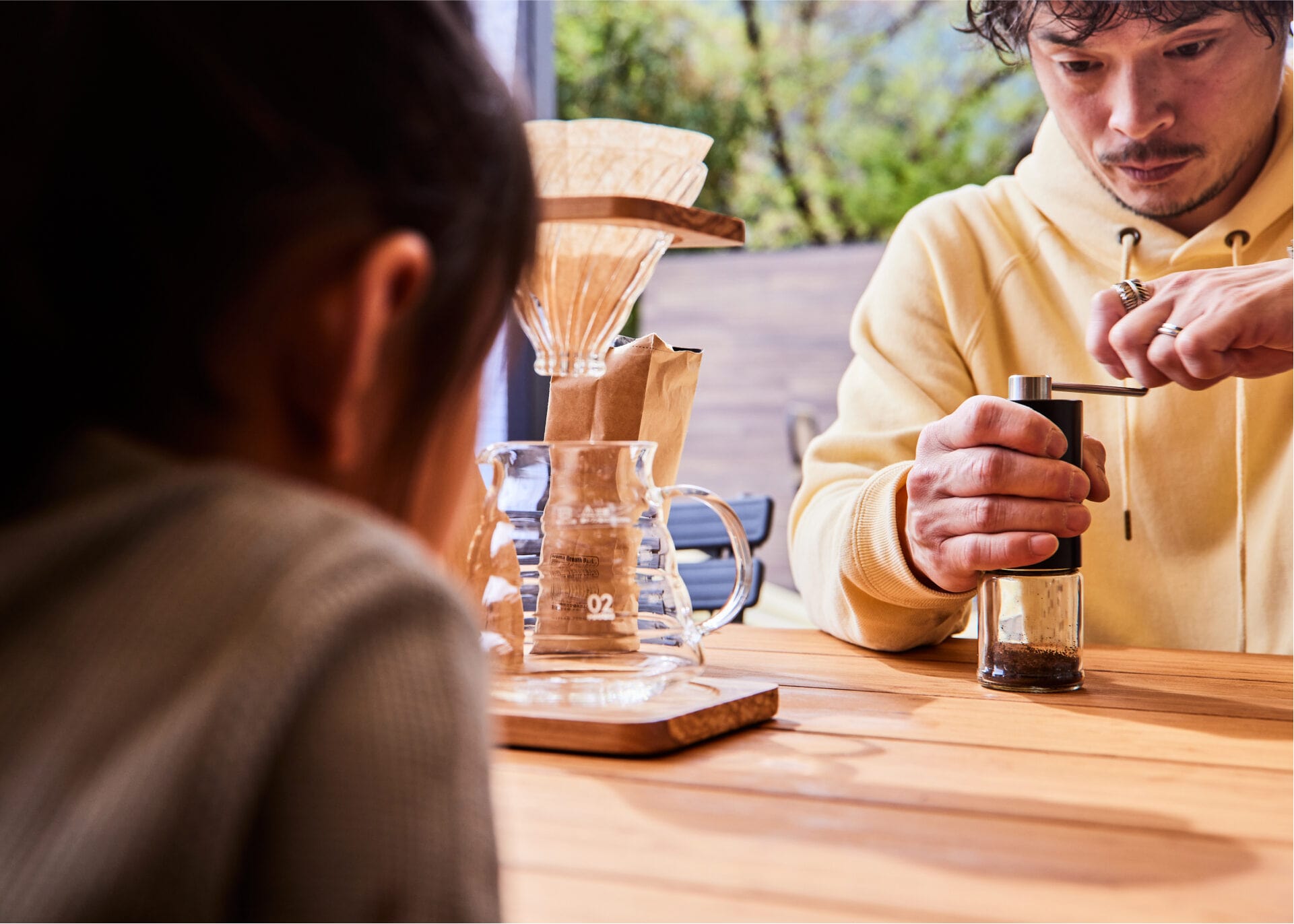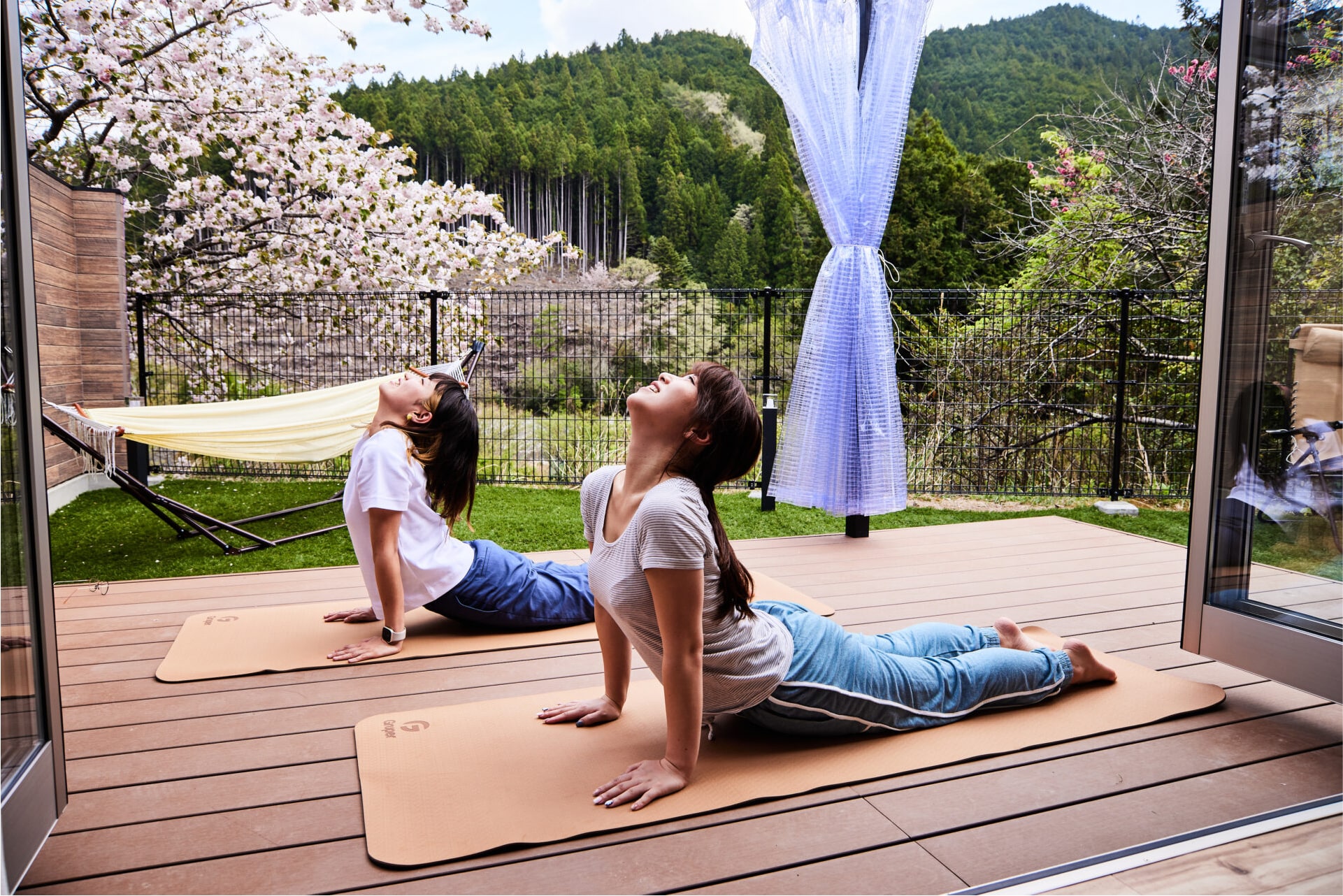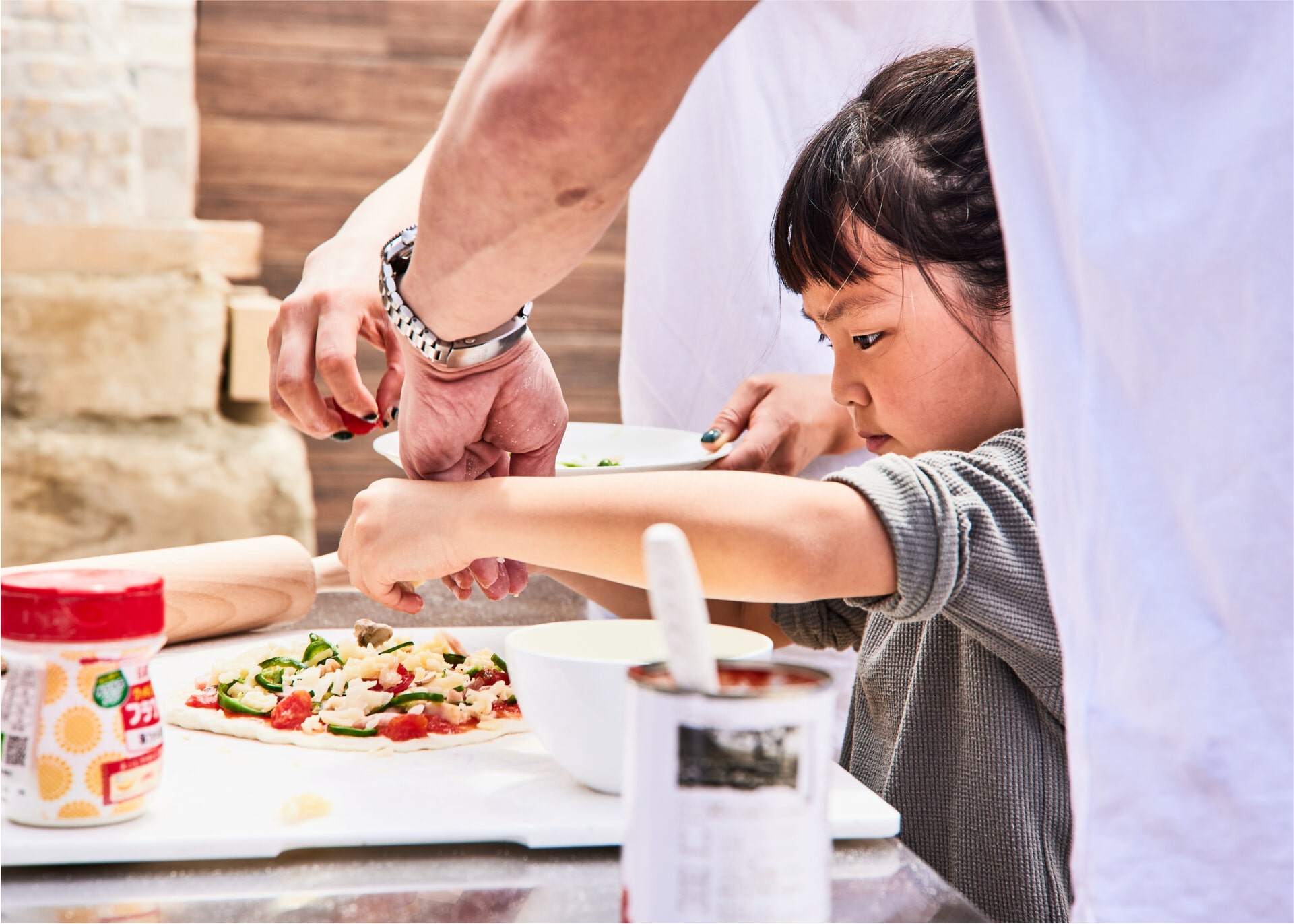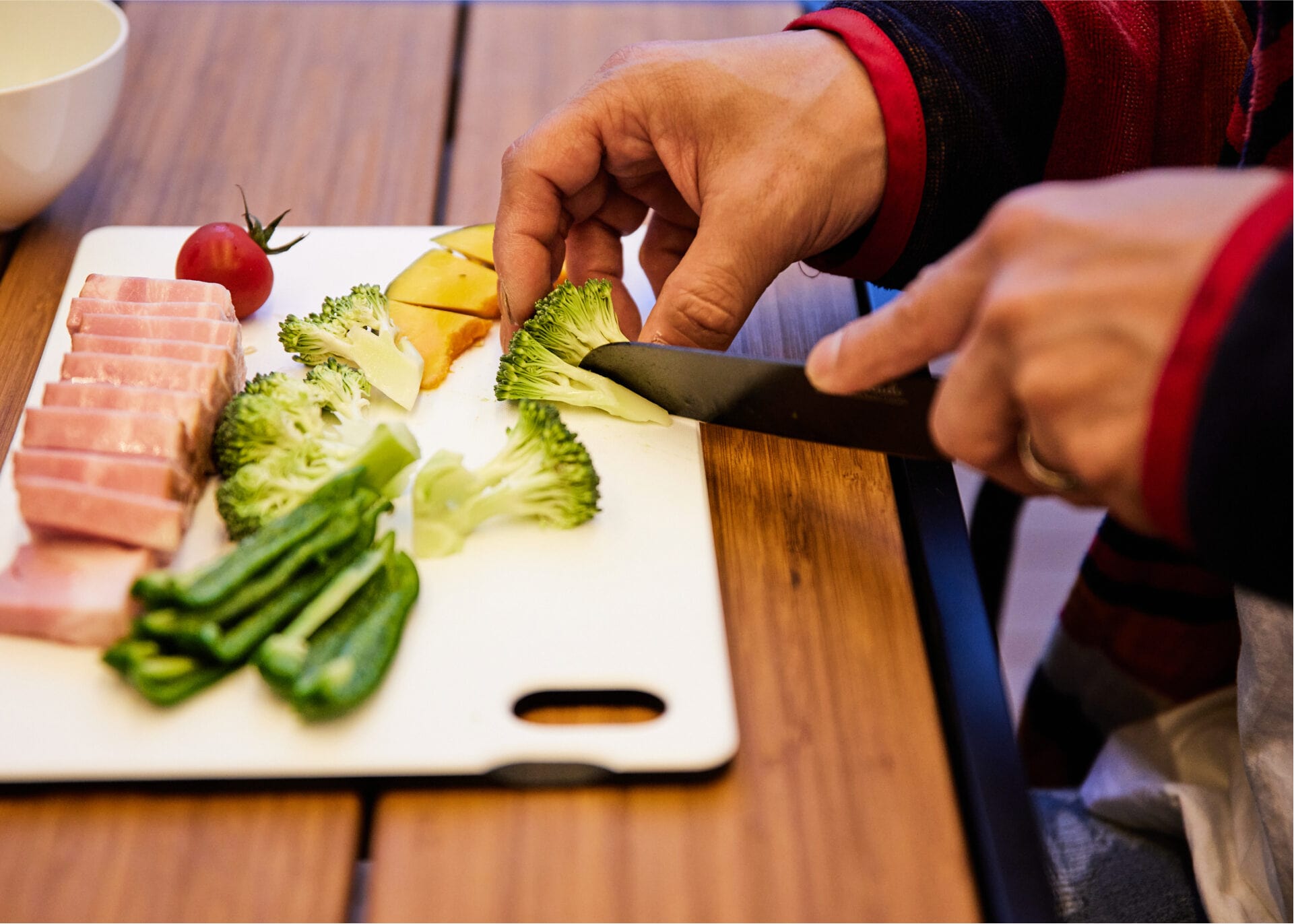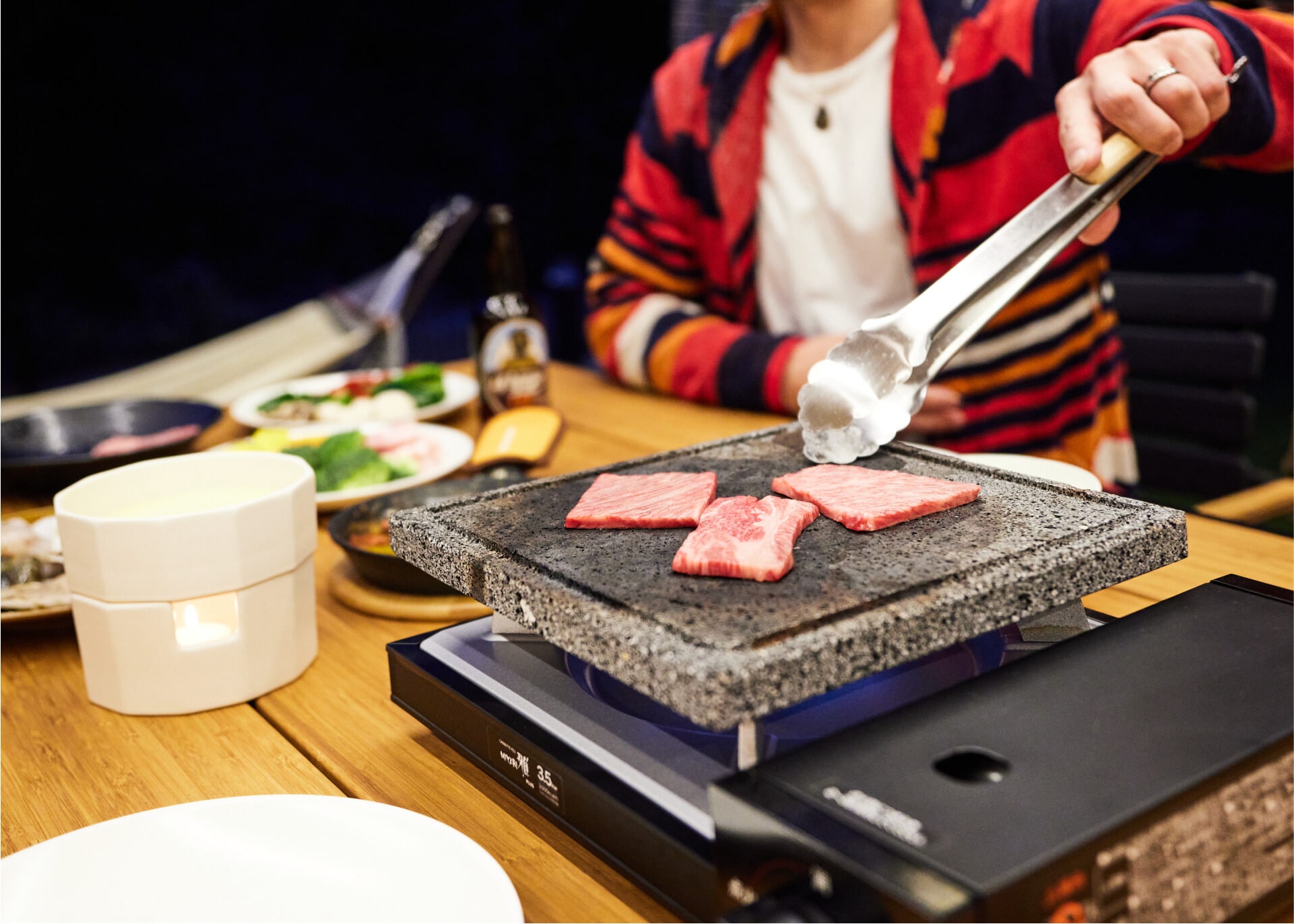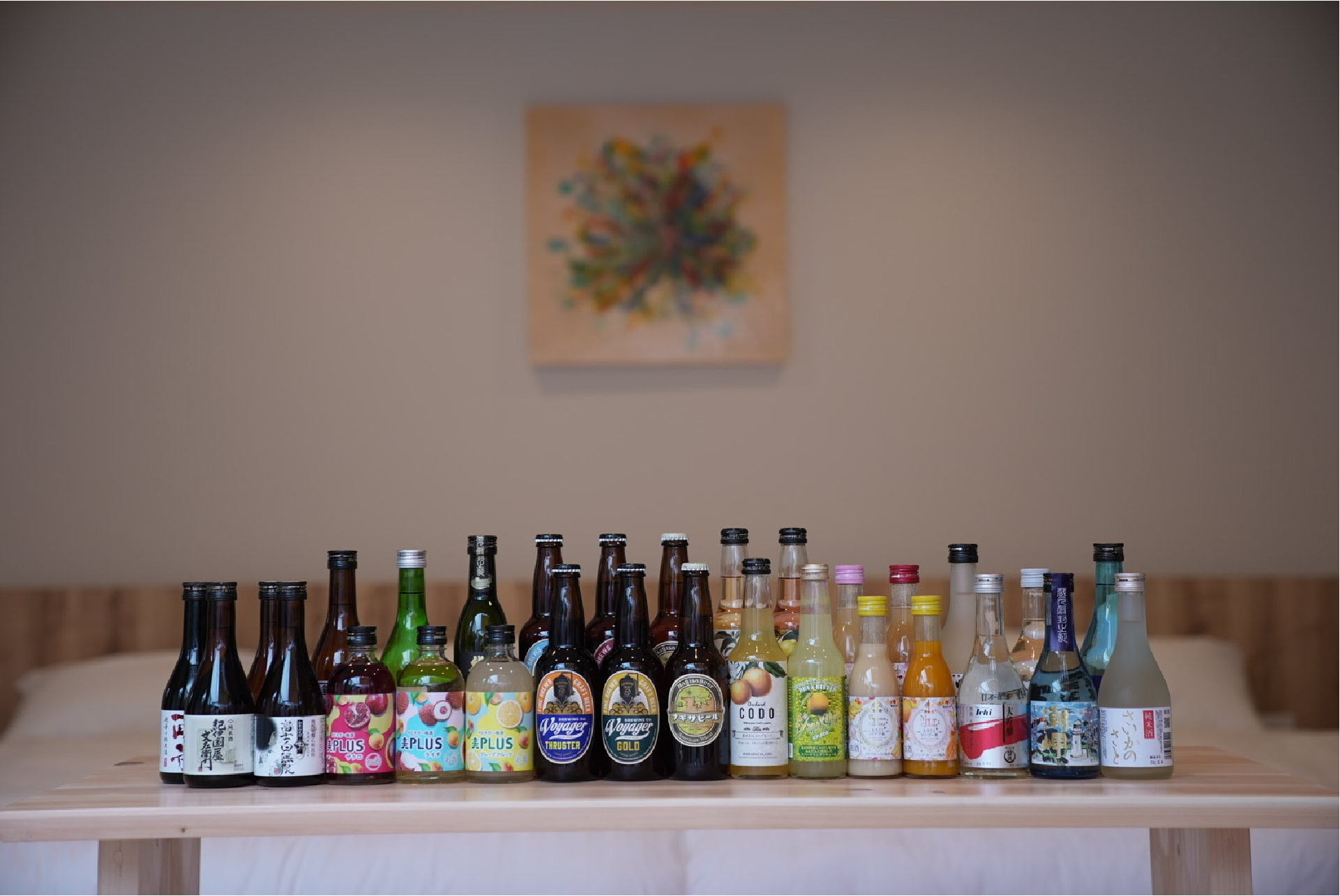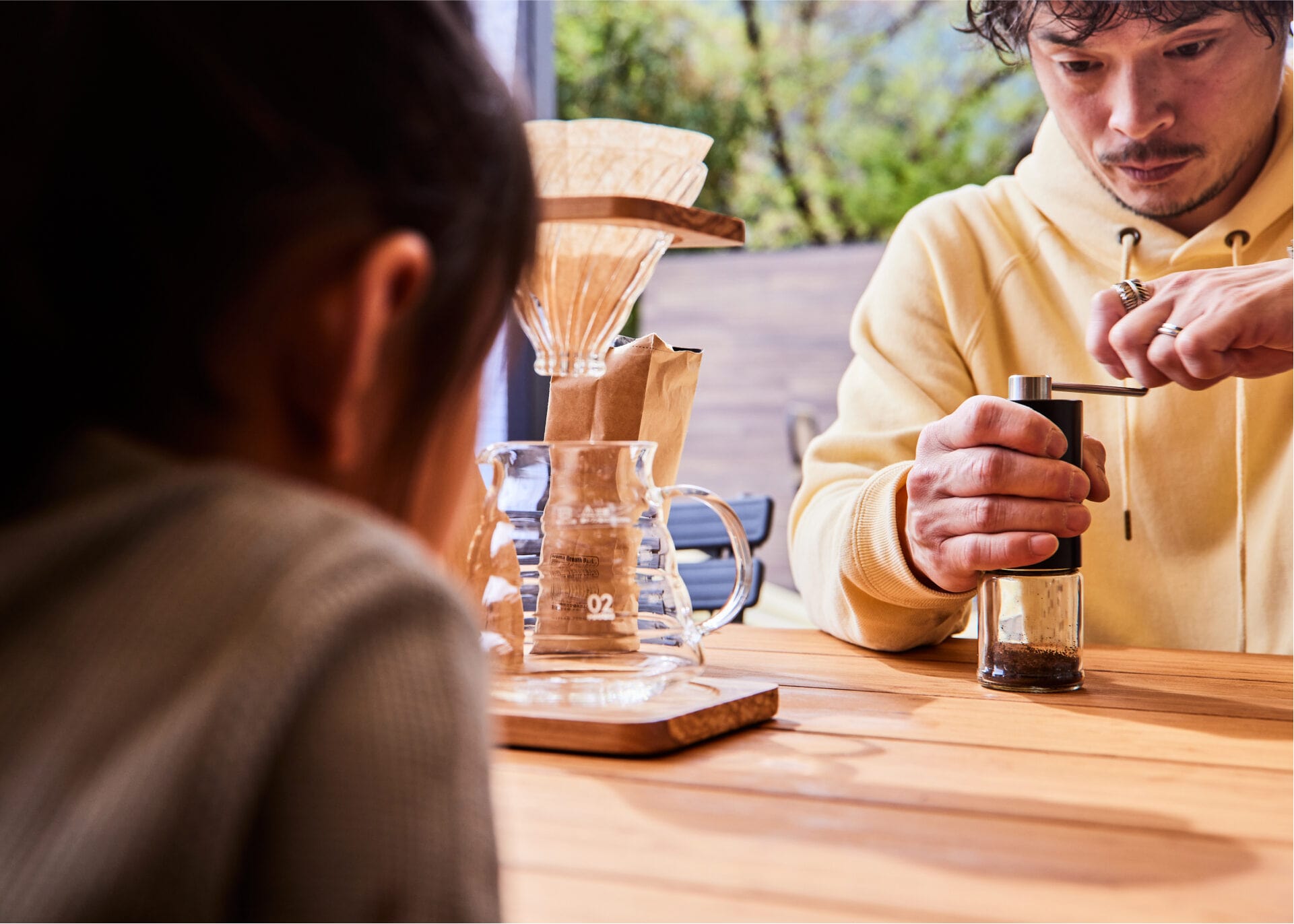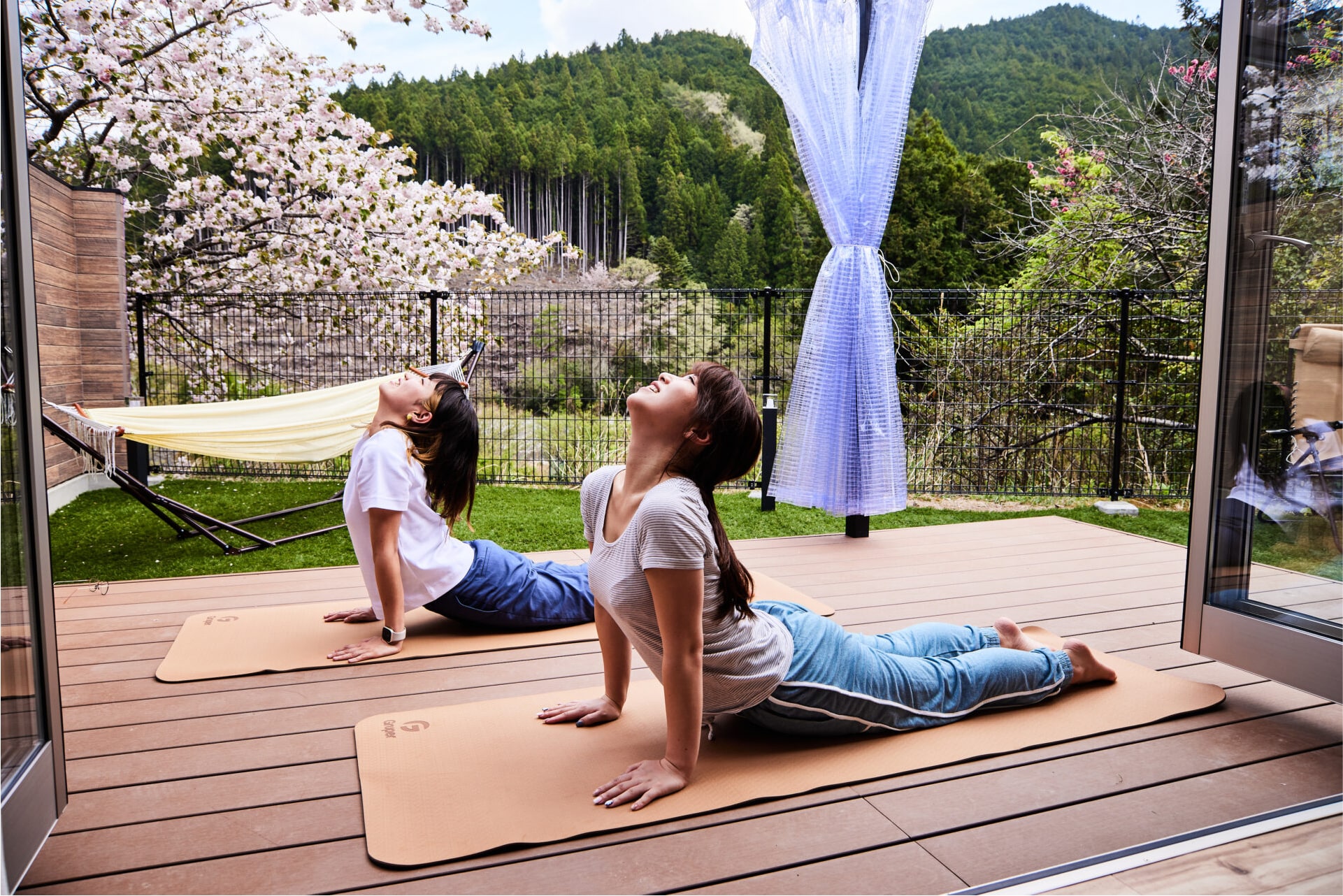 Full range of cooking utensils
We have basic cooking utensils, tableware, and cutlery. Buy a little more ingredients and arrange them to your favorite dishes.
Amenity
Bath towel, face towel, toothbrush are prepared. Other amenities and pajama should be prepared individually.
Hair dryer
Each room has a dryer.
Carbonated Face Wash " RETREAT"
Try making your skin beautiful by using the RETREAT's carbonated face wash. It will be a rich experience you can never experience again.
Carbonated Bath Capsule "BARTH"
Retreat in the bath with fine bubbles like champagne from neutral bicarbonate springs.
Herbal Tea
Give your tired body a chance to relax by having a herbal tea before going to bed. It helps you prepare sleep in a quiet and nice way.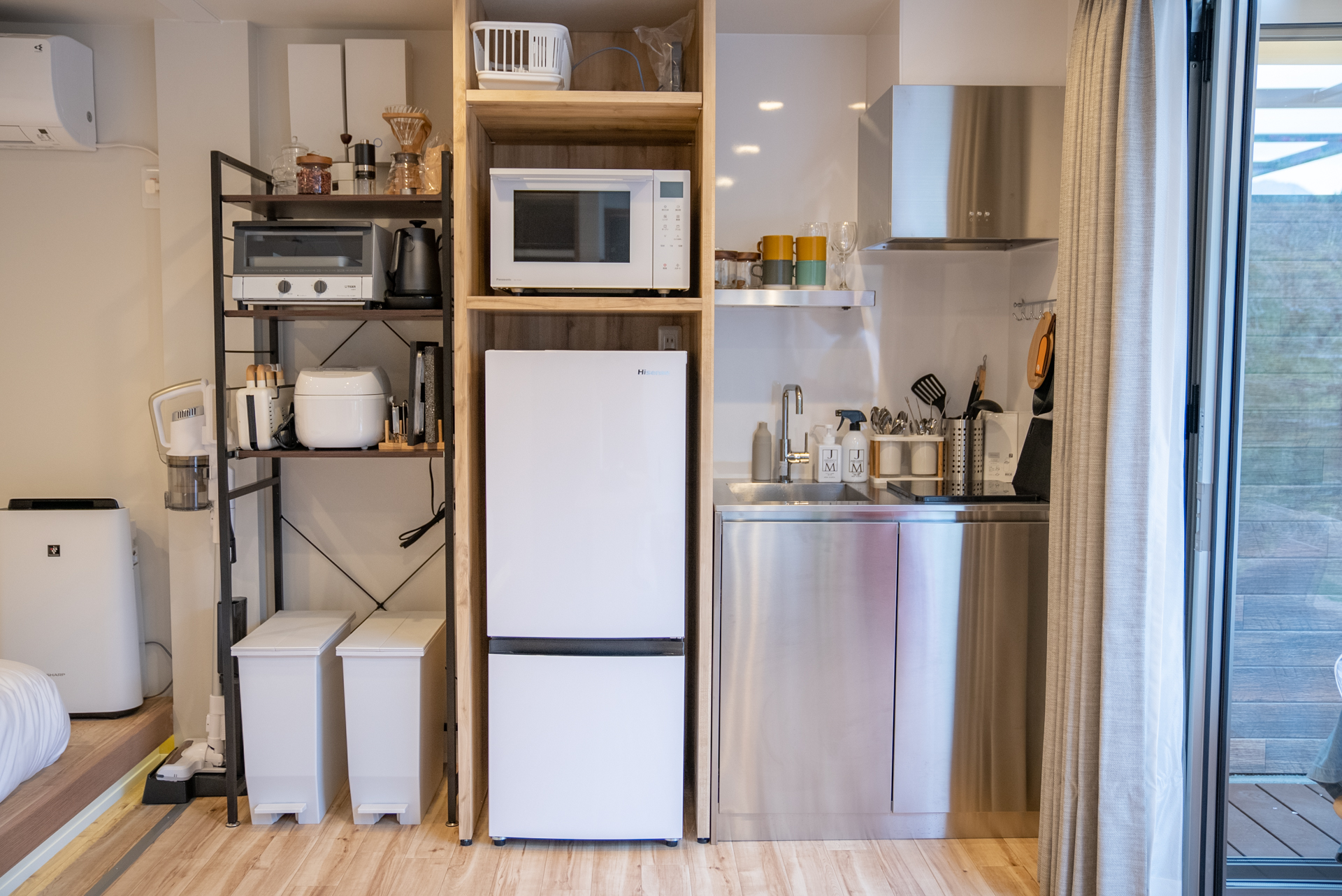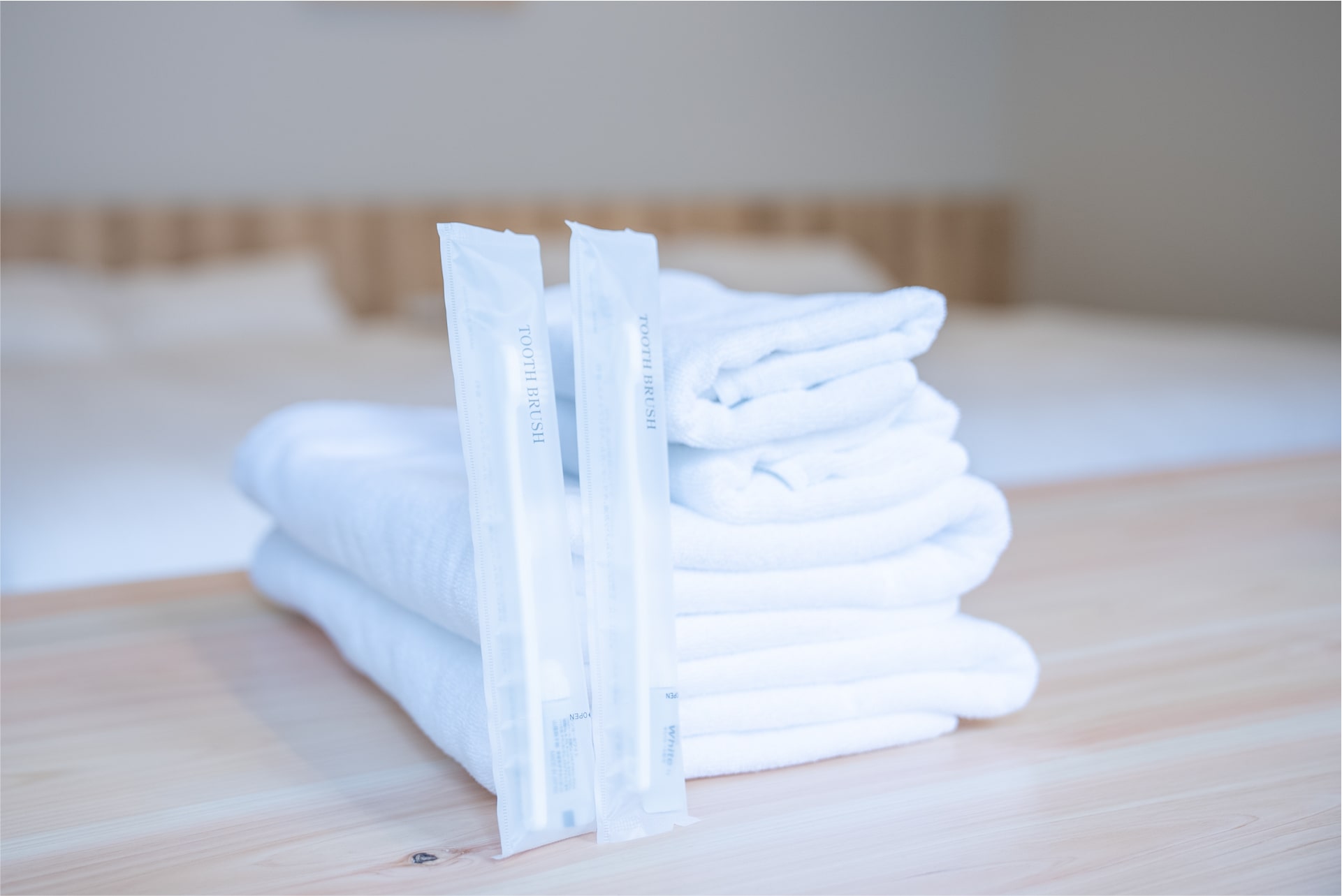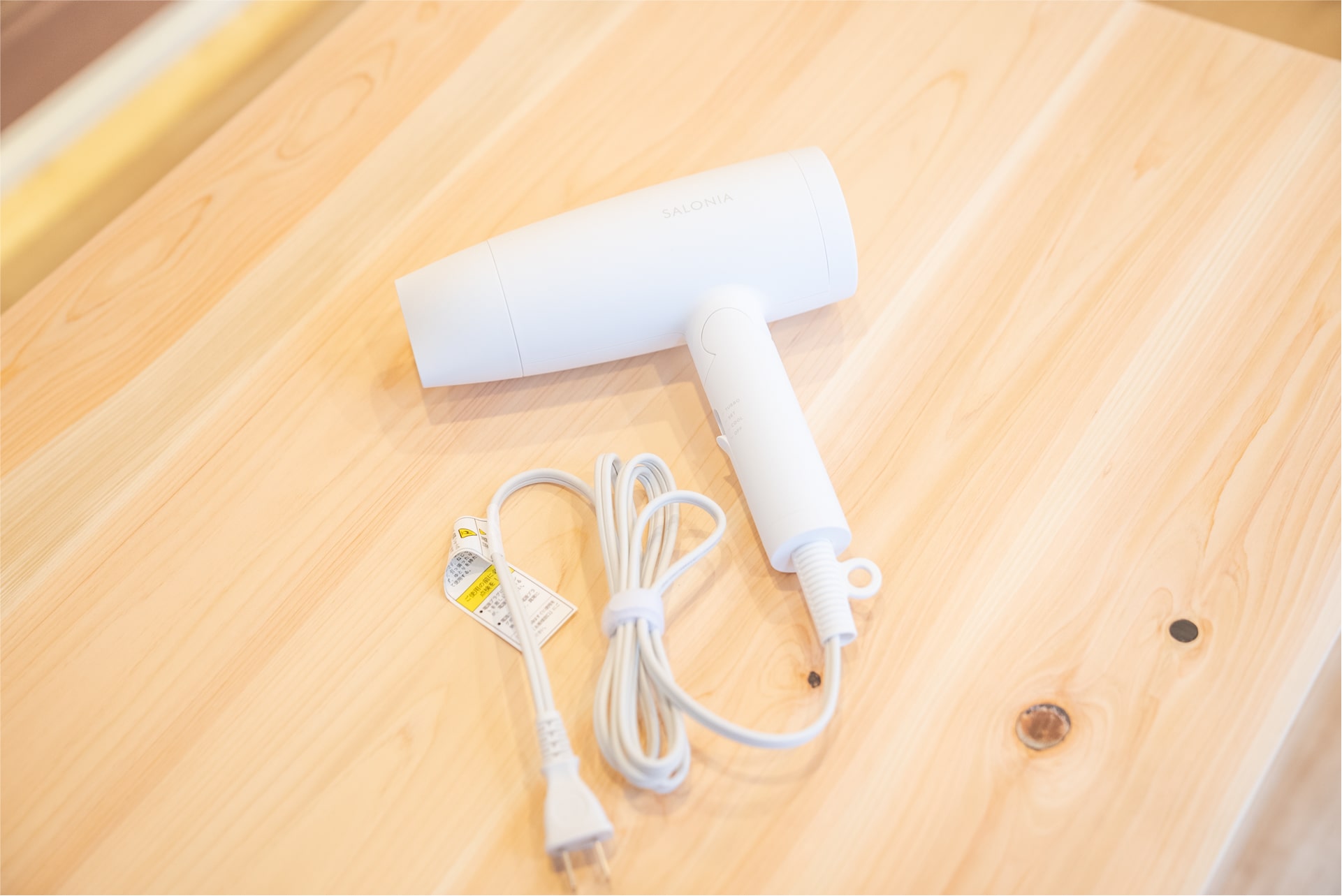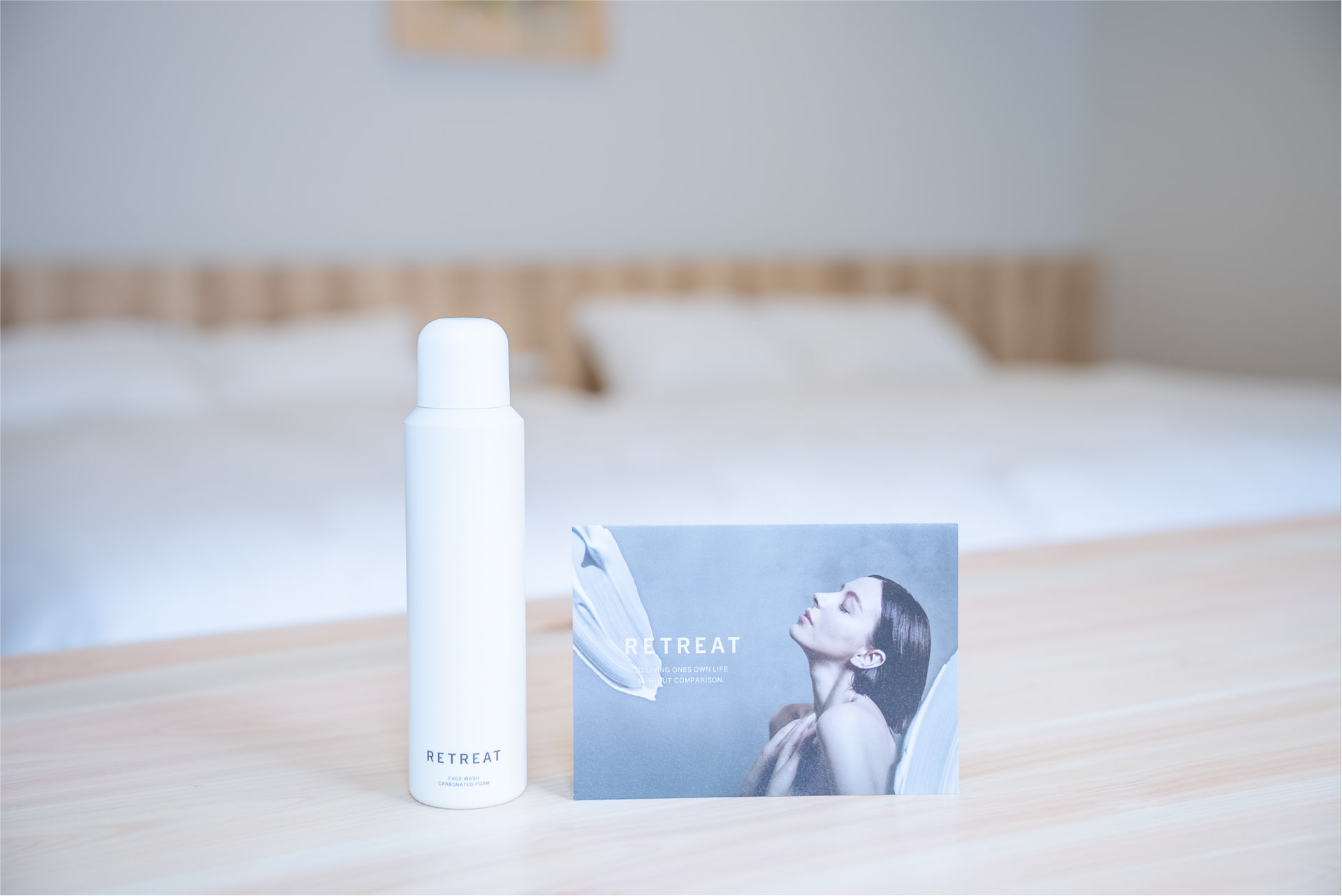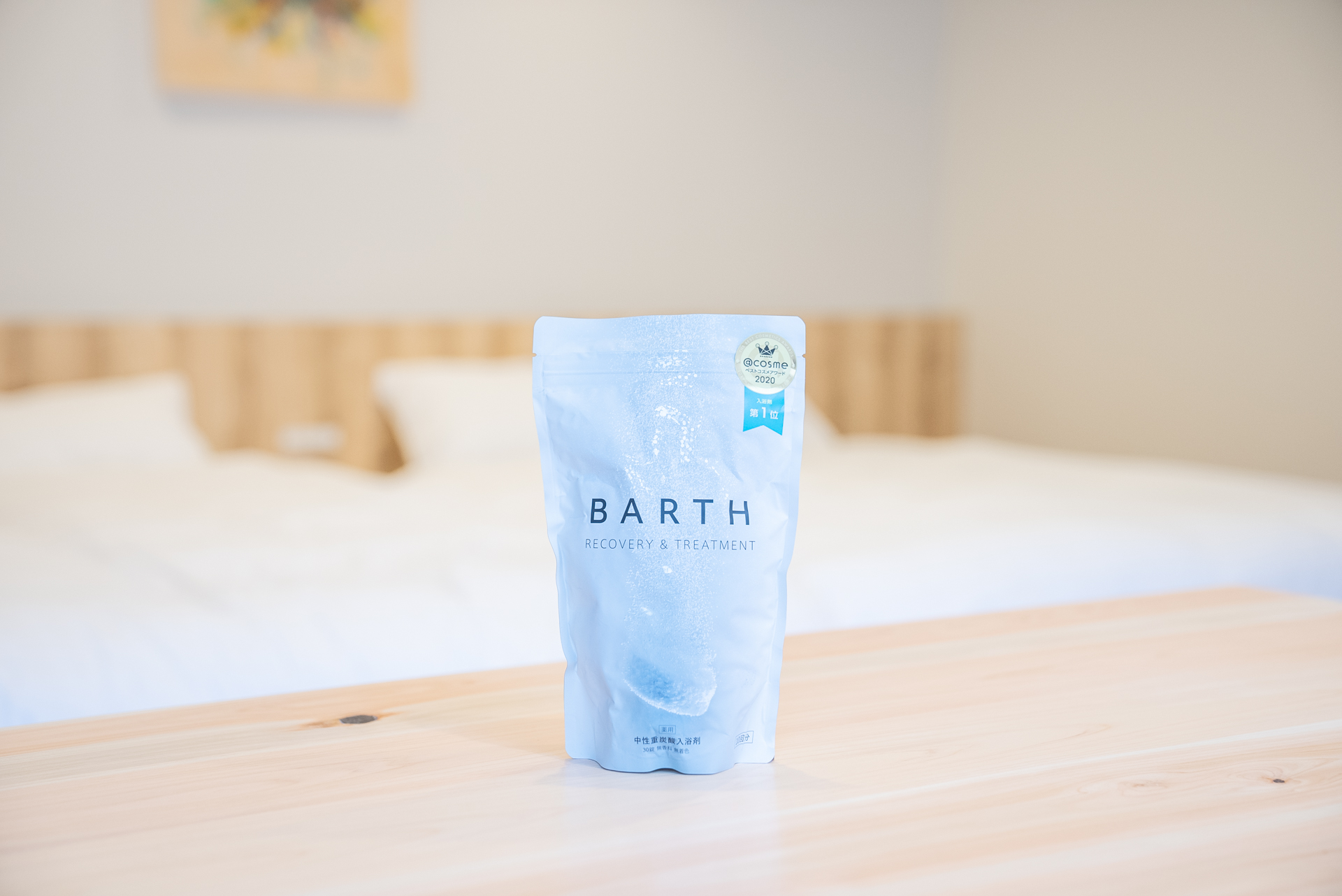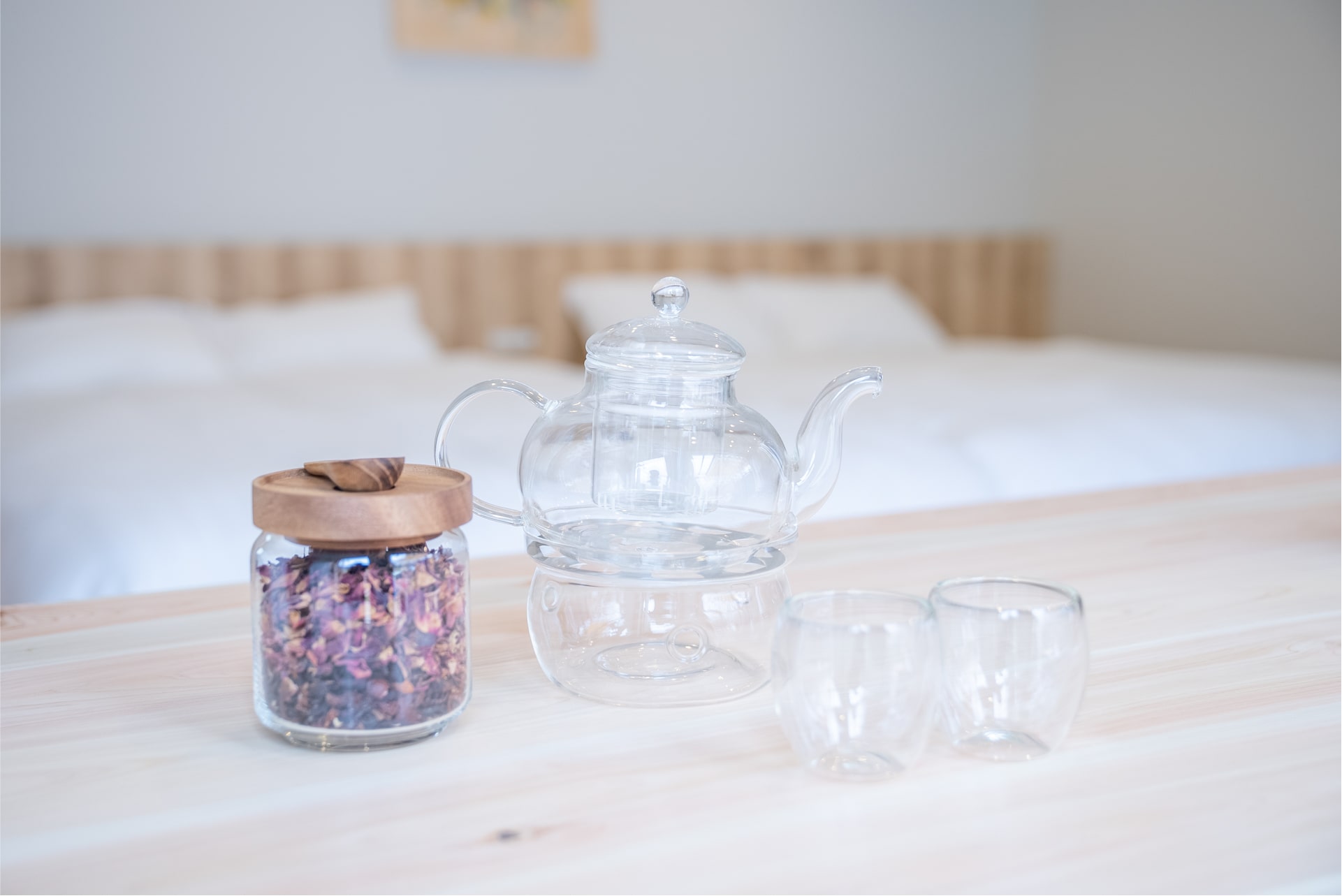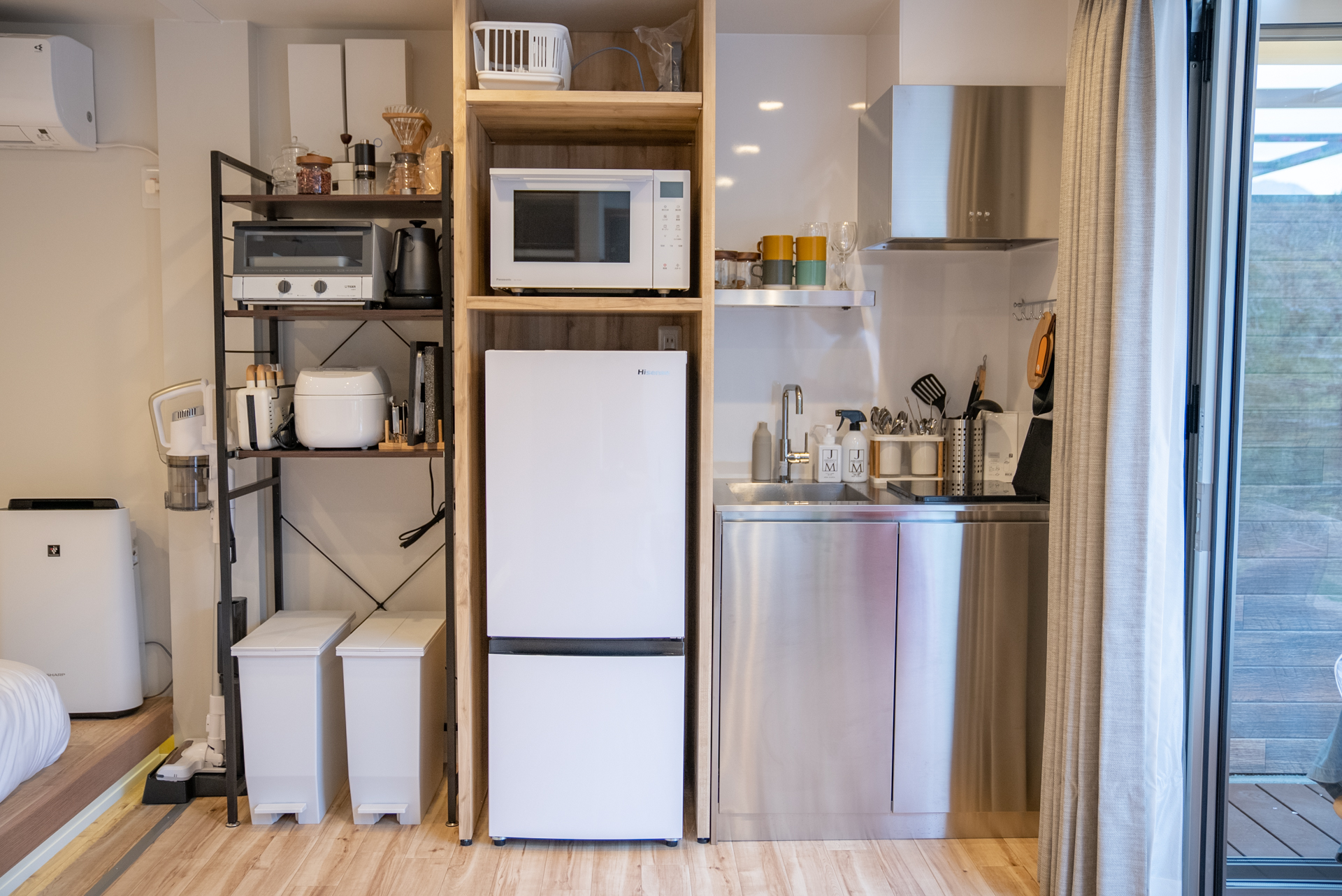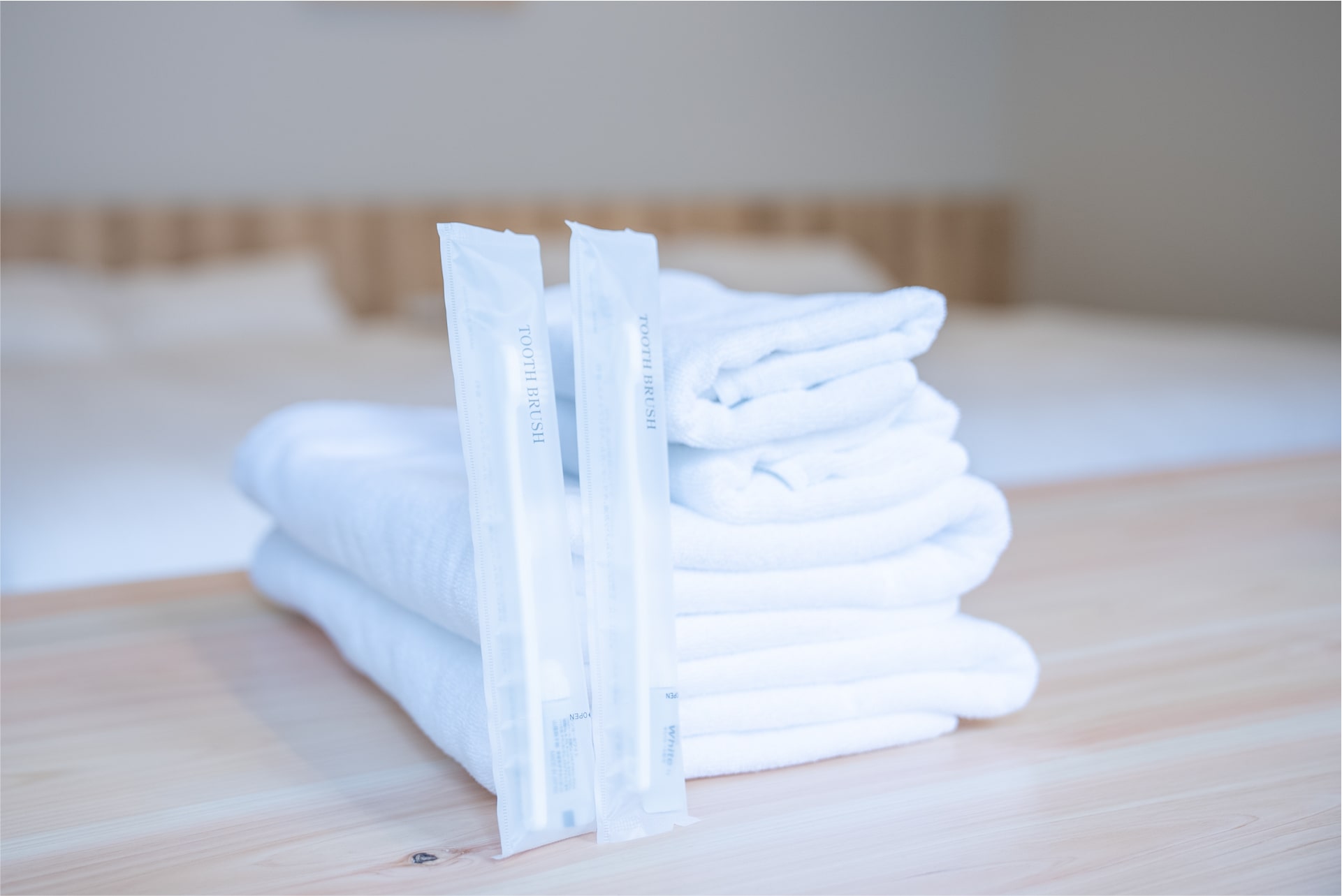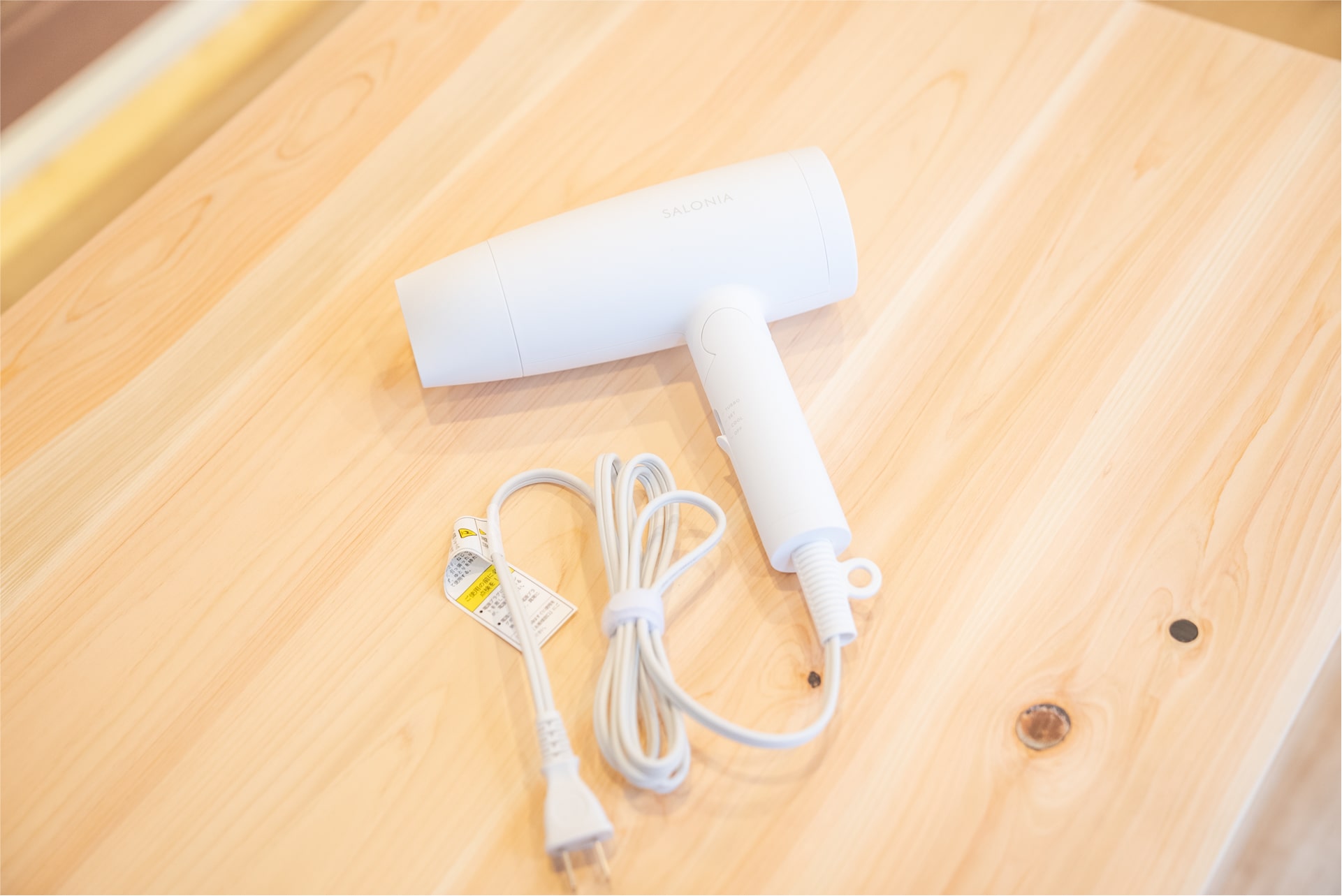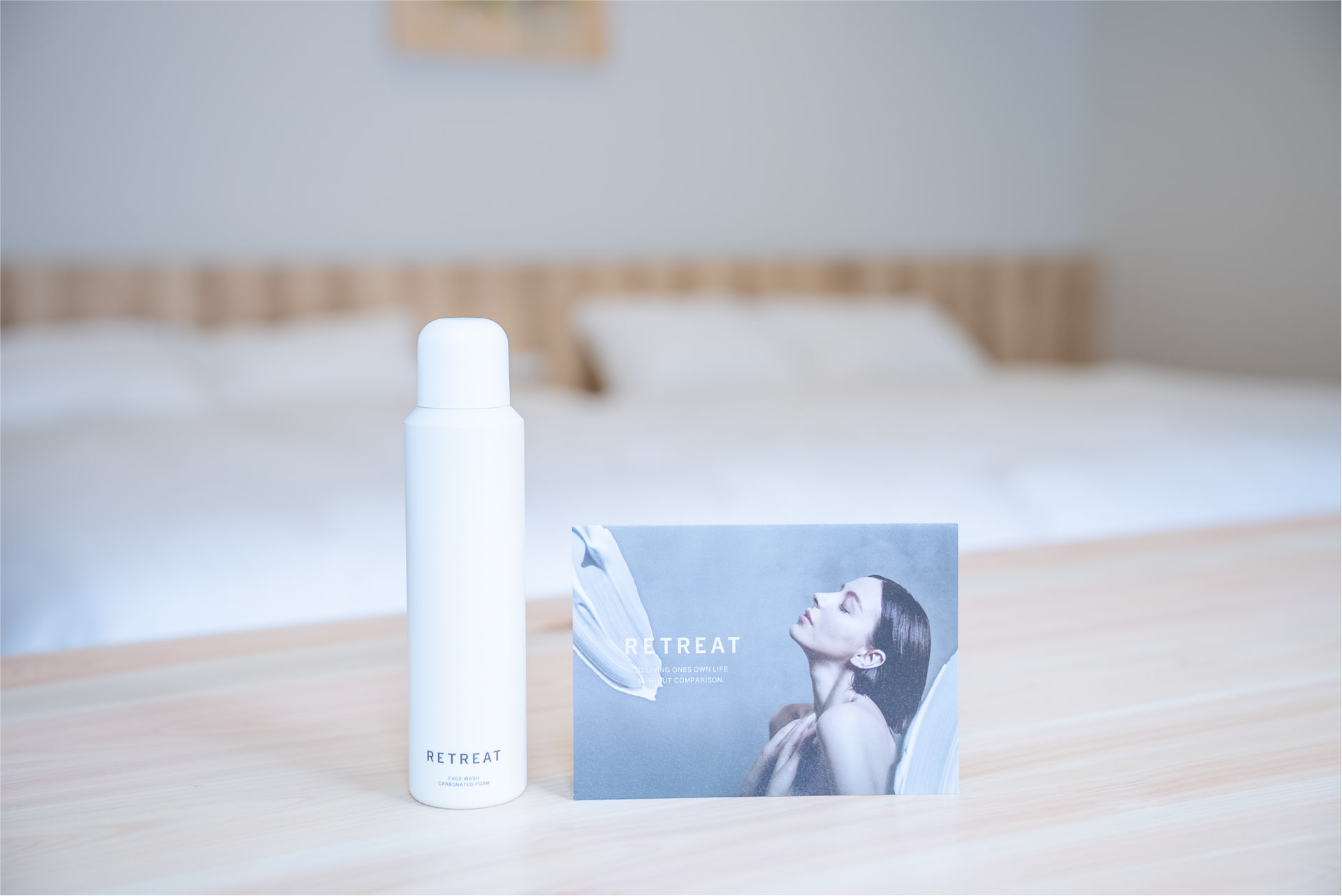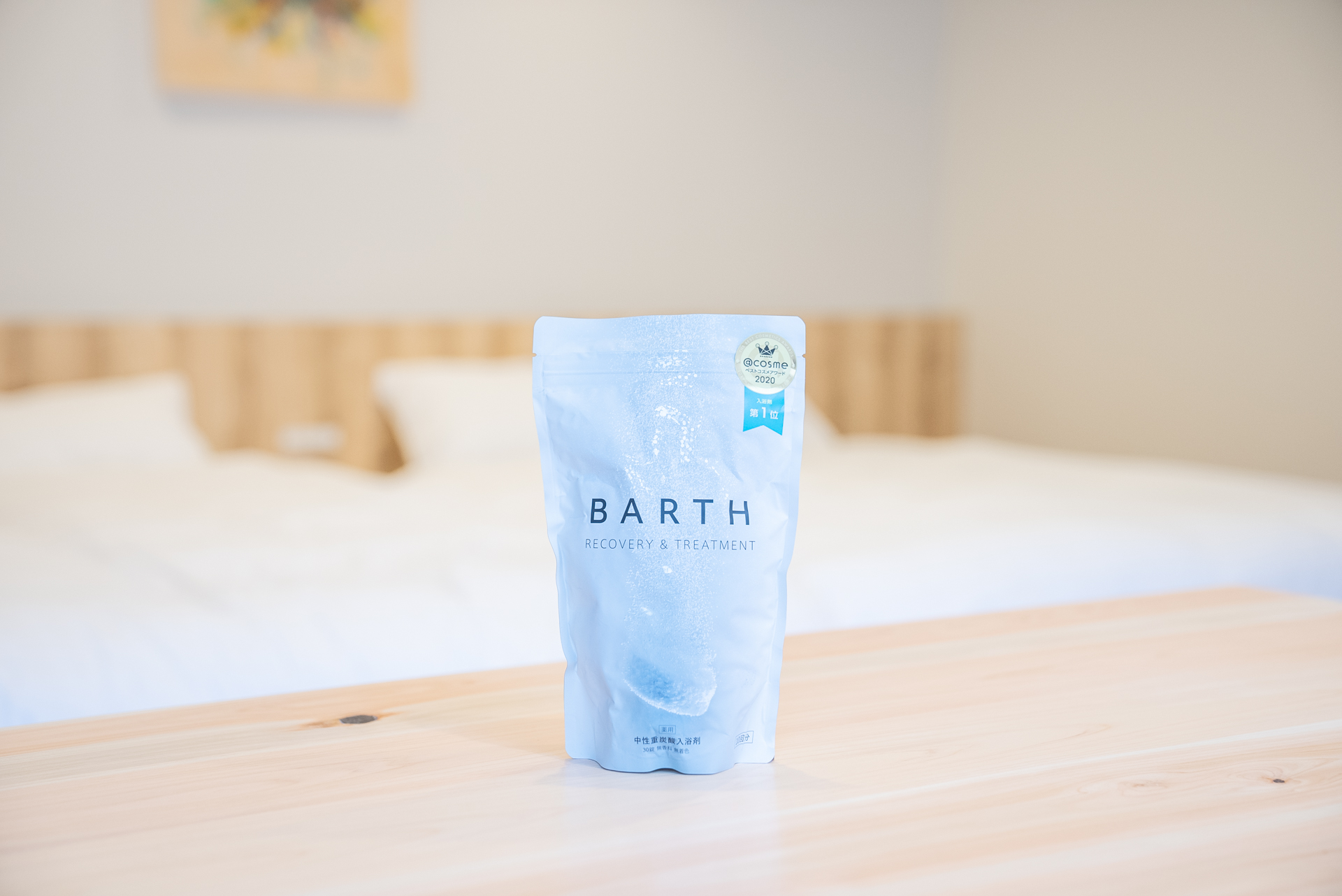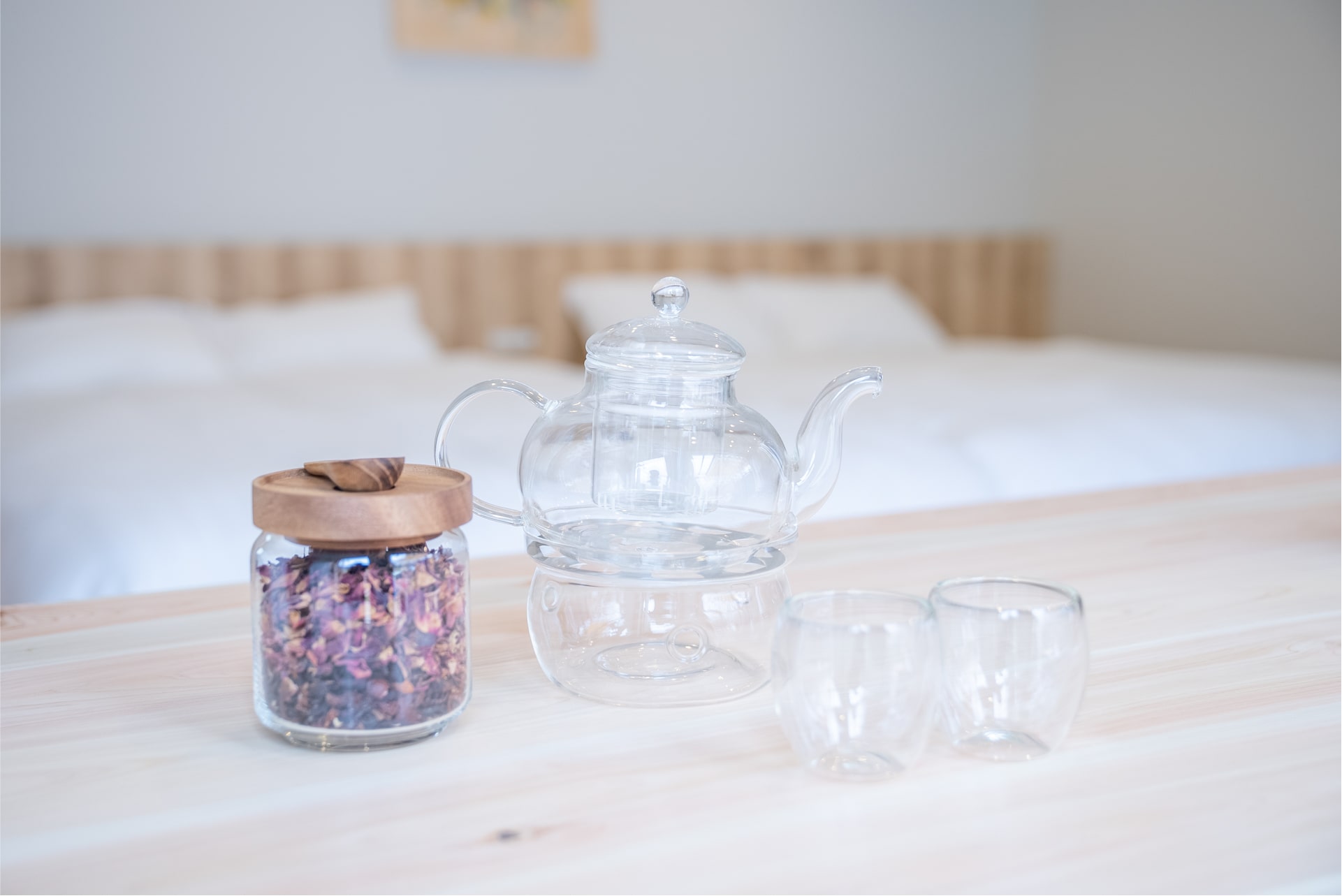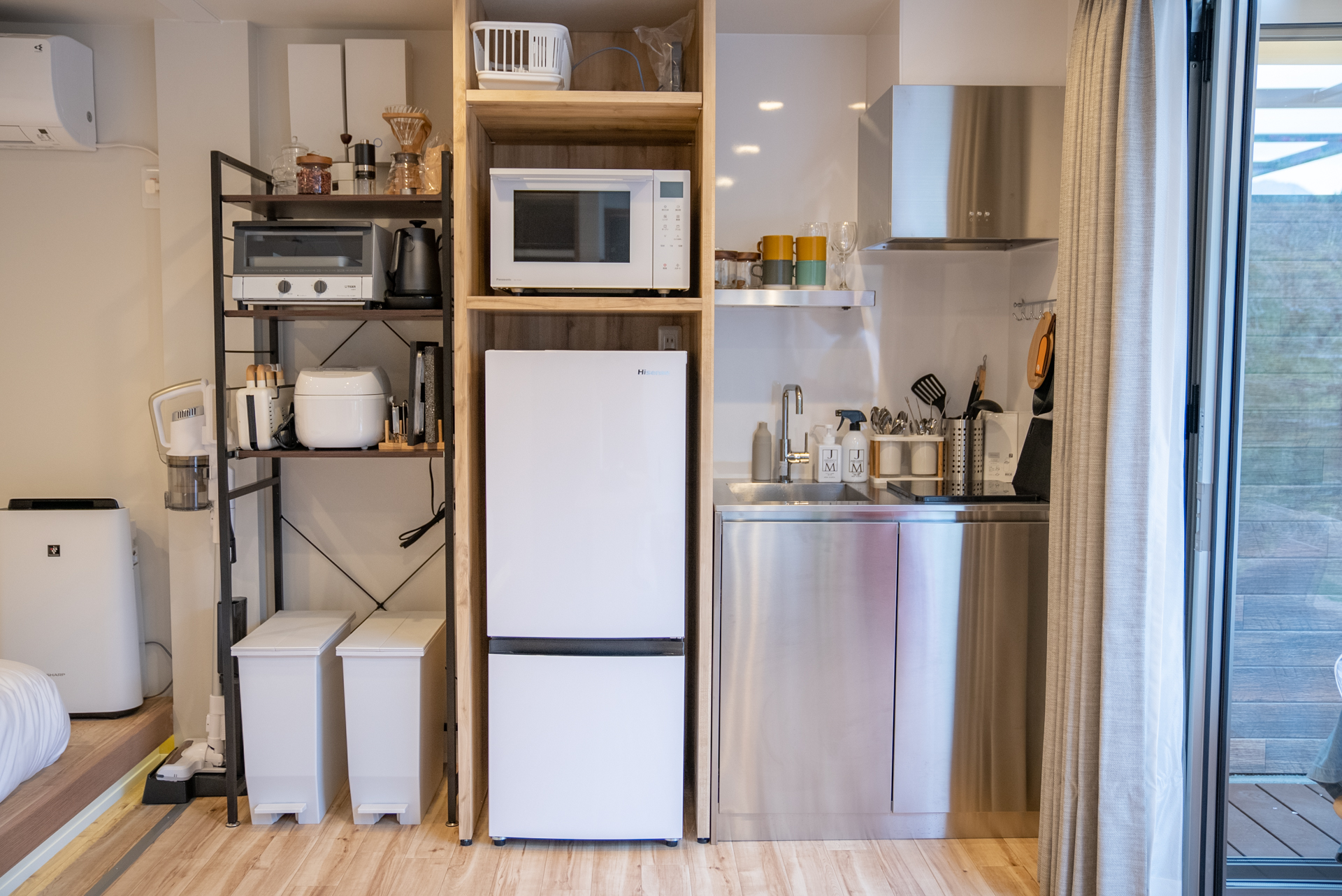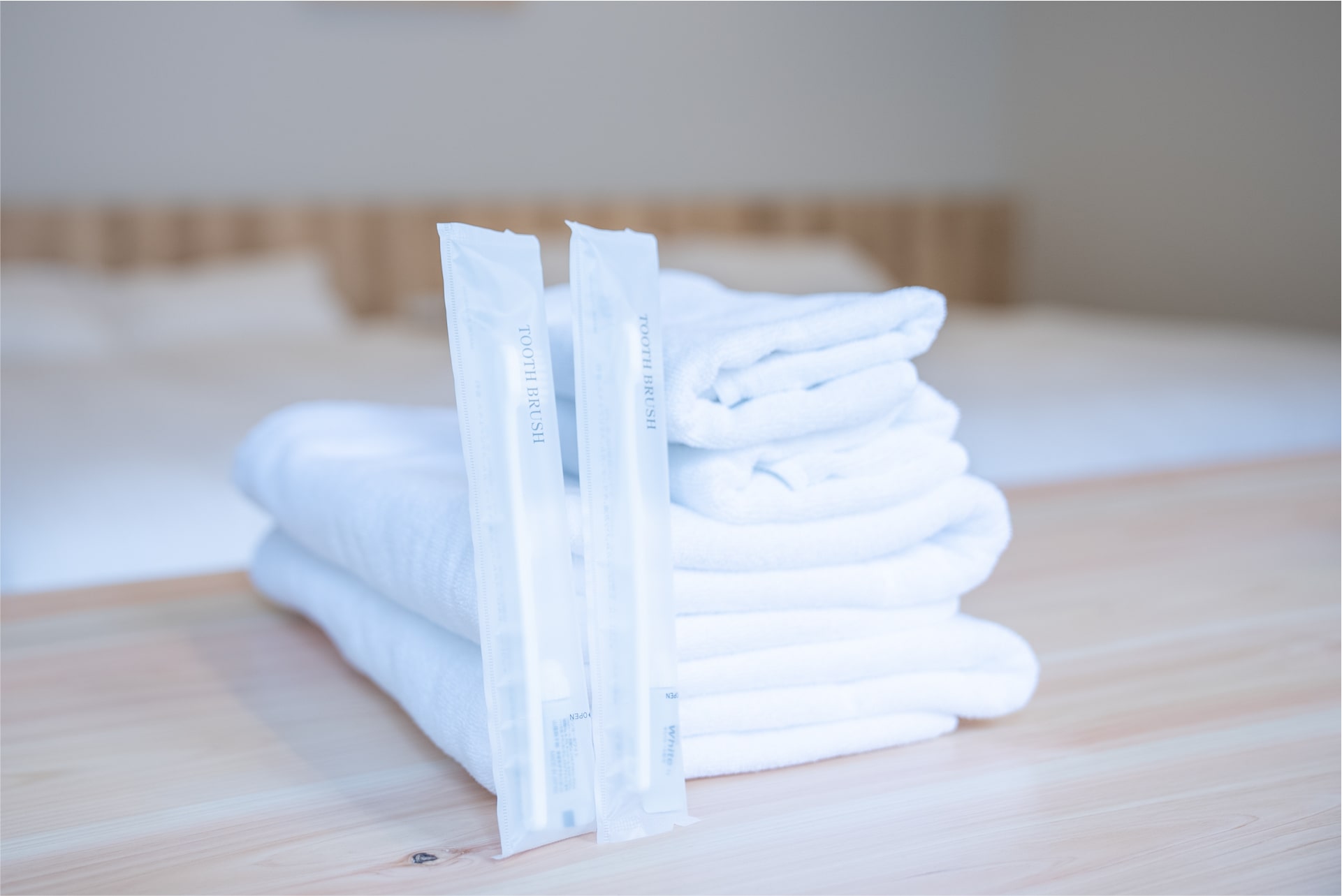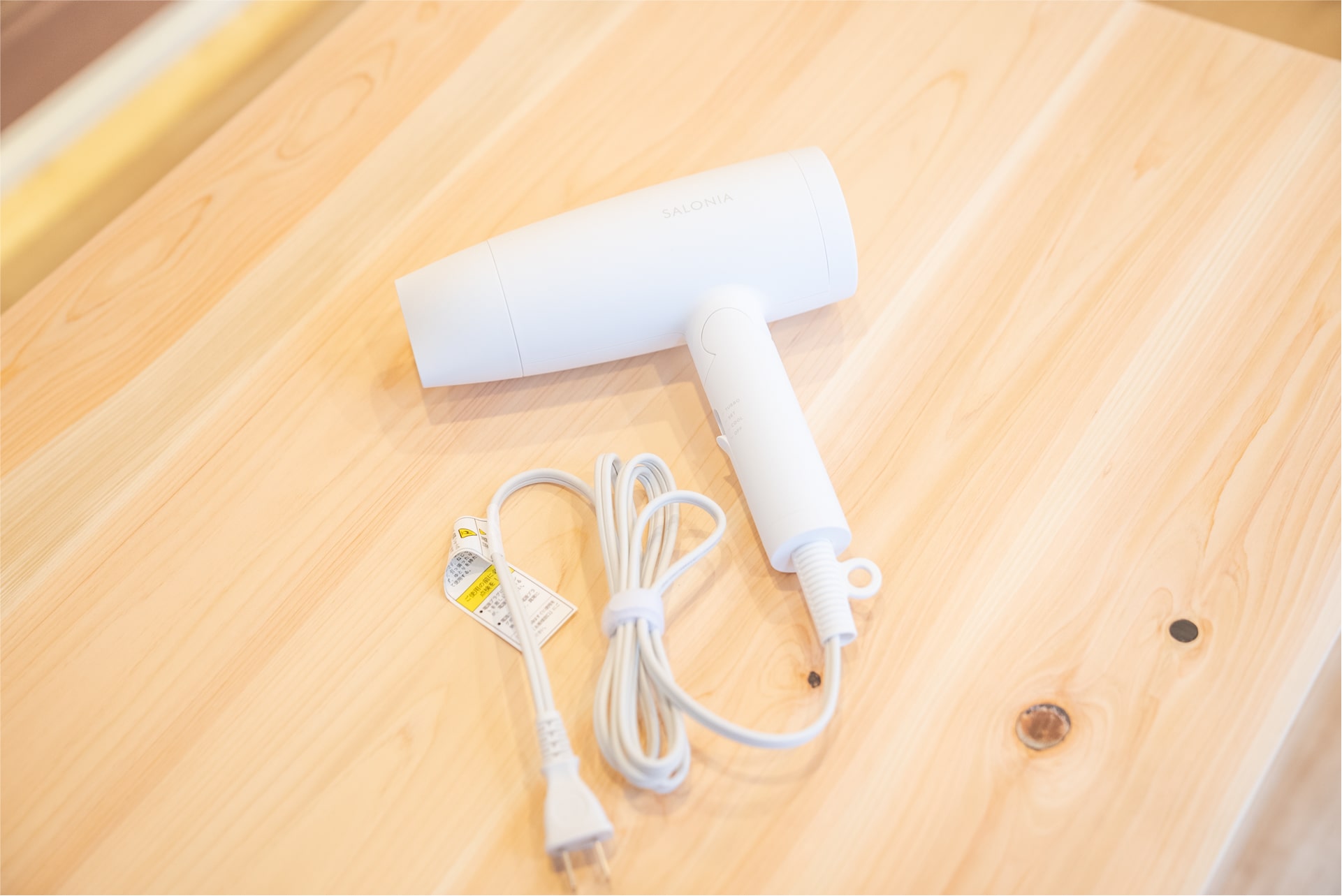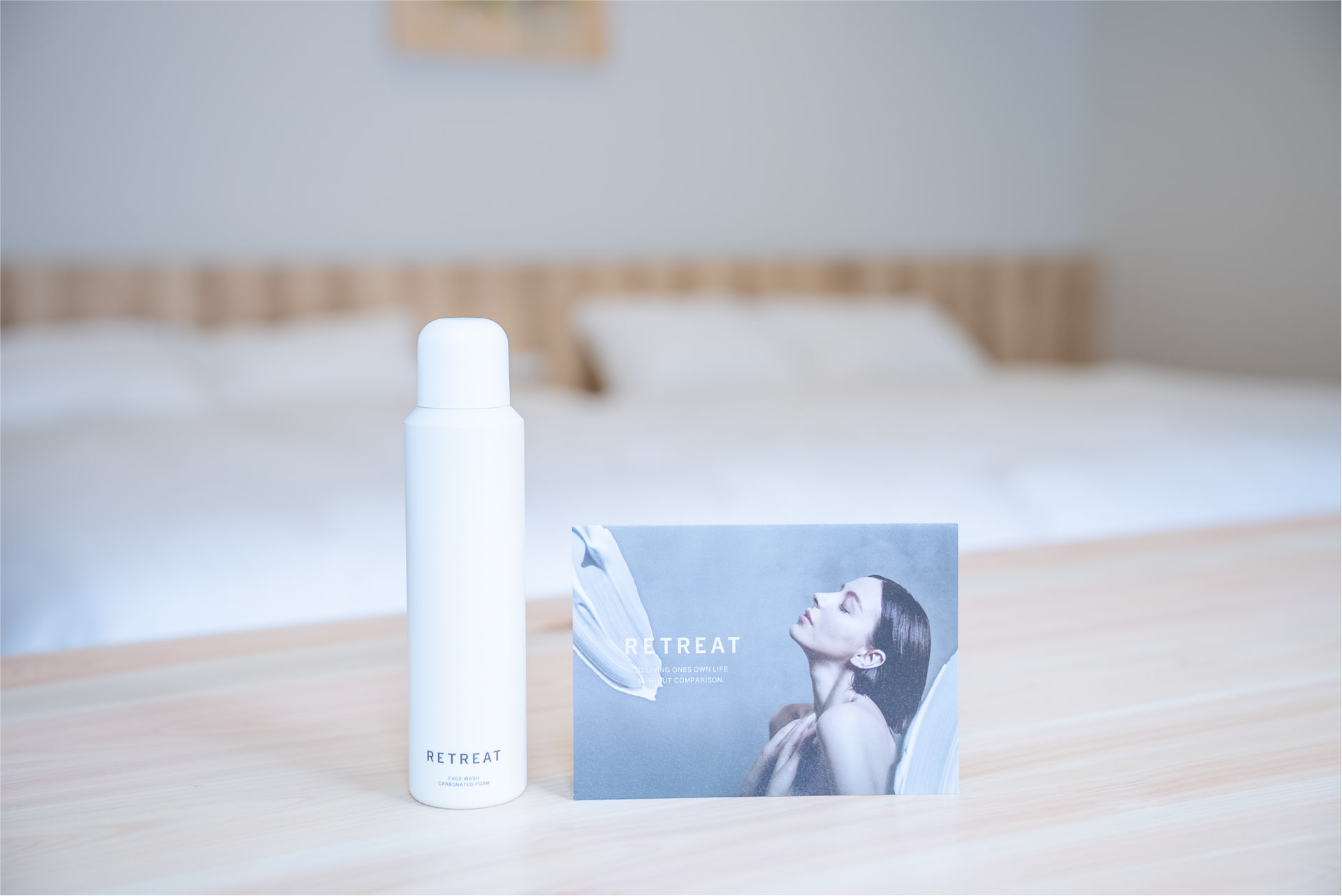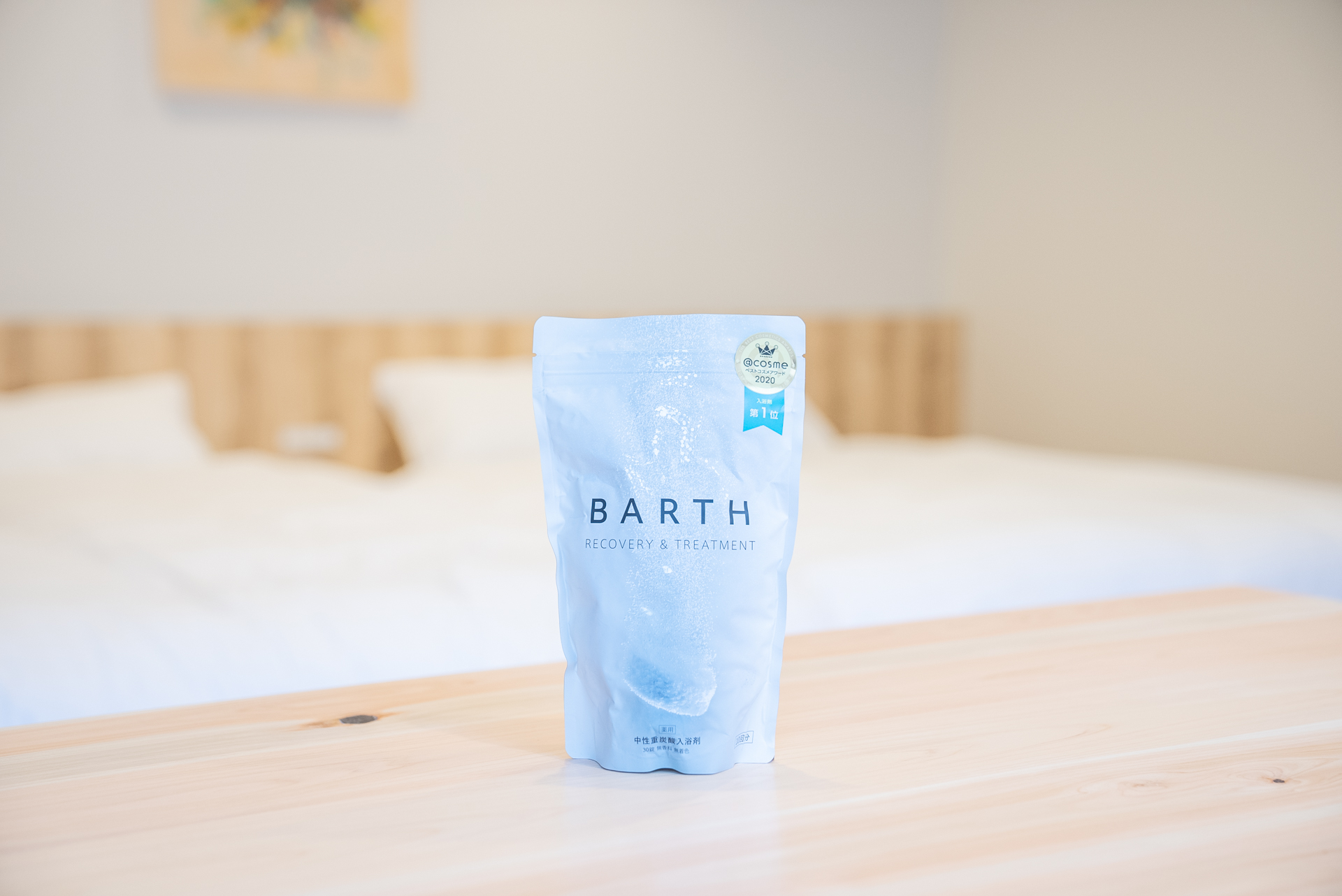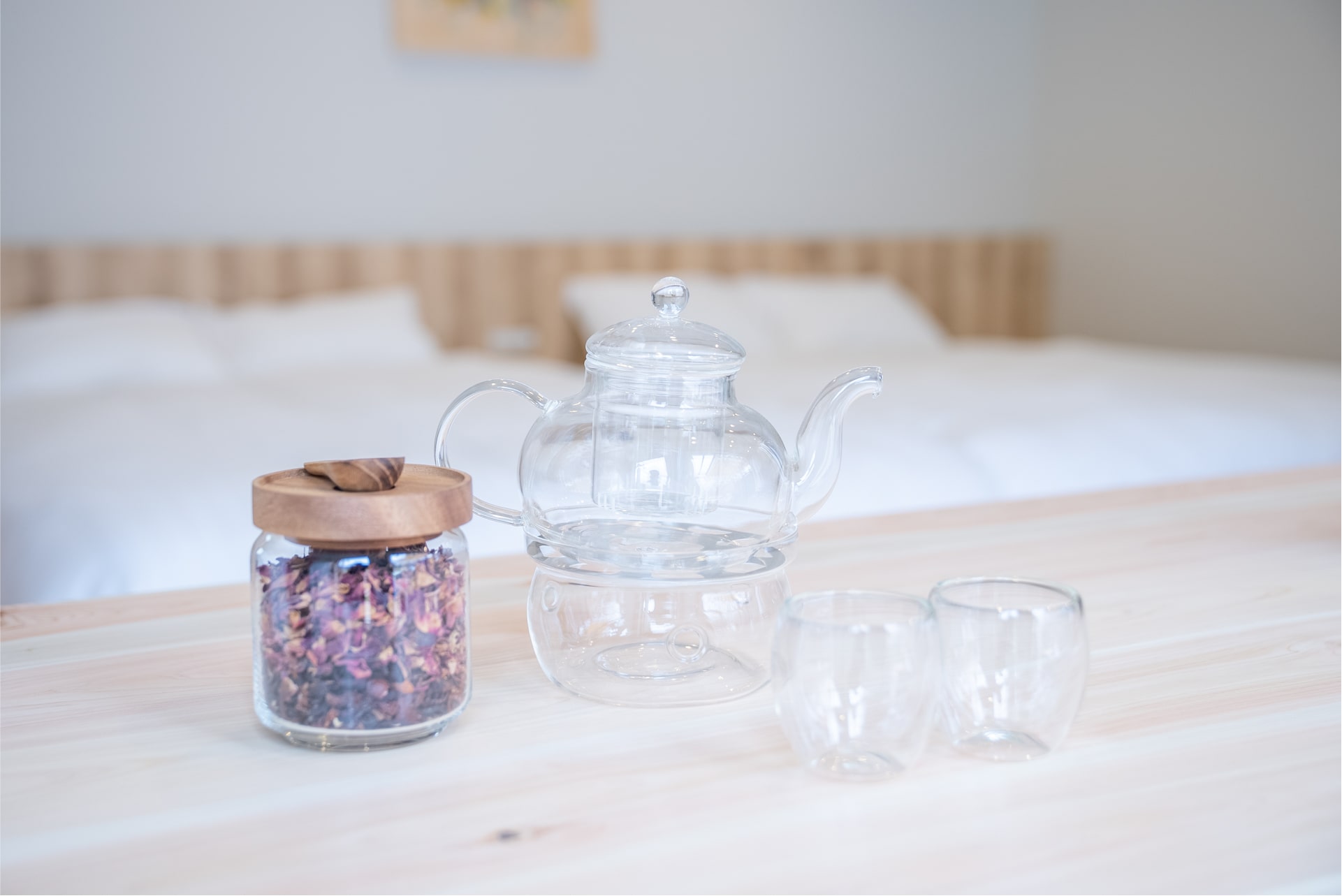 Due to the self-service system, we ask you to check-in by yourself. The actual check-in procedure will be done smoothly if you pre-check-in before arrival.
Enter and unlock through the PIN you have received by email.

Read the QR code on the tablet on your left and enter your information.

Open the Skype app on the tablet on your right and contact the operator.

Enter the PIN the operator has provided you to enter the building.
Details of the facilities
This is the detailed information about the facilities in SEN.RETREAT CHIKATSUYU. All the amenities are prepared.
Prices
Building for 2 people without meals

Building for 4 people with private garden・ rooftop

Building for 6 people with private garden
Facility name
SEN.RETREAT CHIKATSUYU
Address
〒646-1402
1806 Nakahechichō Chikatsuyu, Tanabe, Wakayama
Number
0739-65-0227
Mail address
chikatsuyu@sen-retreat.com
Parking lot
Available (12 vehicles)
Check-in
15:00
Check-out
10:00
Building facilities
・Kitchen
Refrigerator/ toaster/ microwave/ electronic kettle/ hot sand cooker/ lava plate / cheese fondue equipment / Ajillo squillet / coffee maker / IH cooker / rice cooker / various tableware
・Washing machine, drier
Free Laundry detergent/softener
・Bath tub/ Shower
・Wi-FI
Room・Facility
・For 6 people(dogs available)
Room1 en(縁) Room2 ran(欒)

・For 4 people
Room3 yu(優)
Room4 nei(寧)
Room5 akari(灯)

・For 2 people
Room6 omoi(想)
Room7 cocoro(心)

With private garden
Room1,2.3.4
With rooftop
Room5,6,7
Amenity
Tooth brush/hairdryer/yukata/hand soap/shampoo/conditioner/face towel and bath towel
other facilities
Pizza kiln/fire stand/pizza dough preparation seasoning preparation
It is located where supermarkets and convenience stores are not nearby. Please bring the things you need beforehand. Also, please be careful while driving since there may be wild animals appearing time to time.
Parking lot guide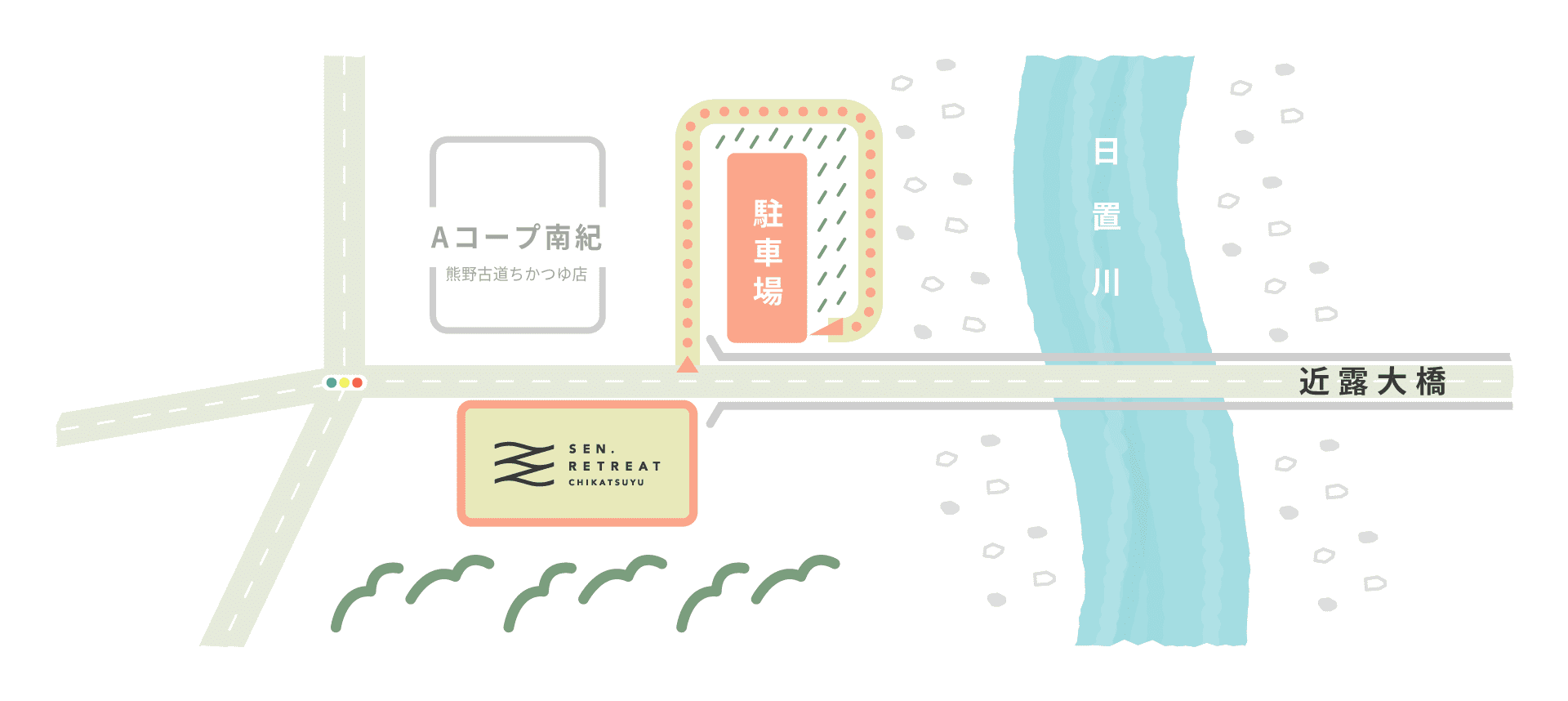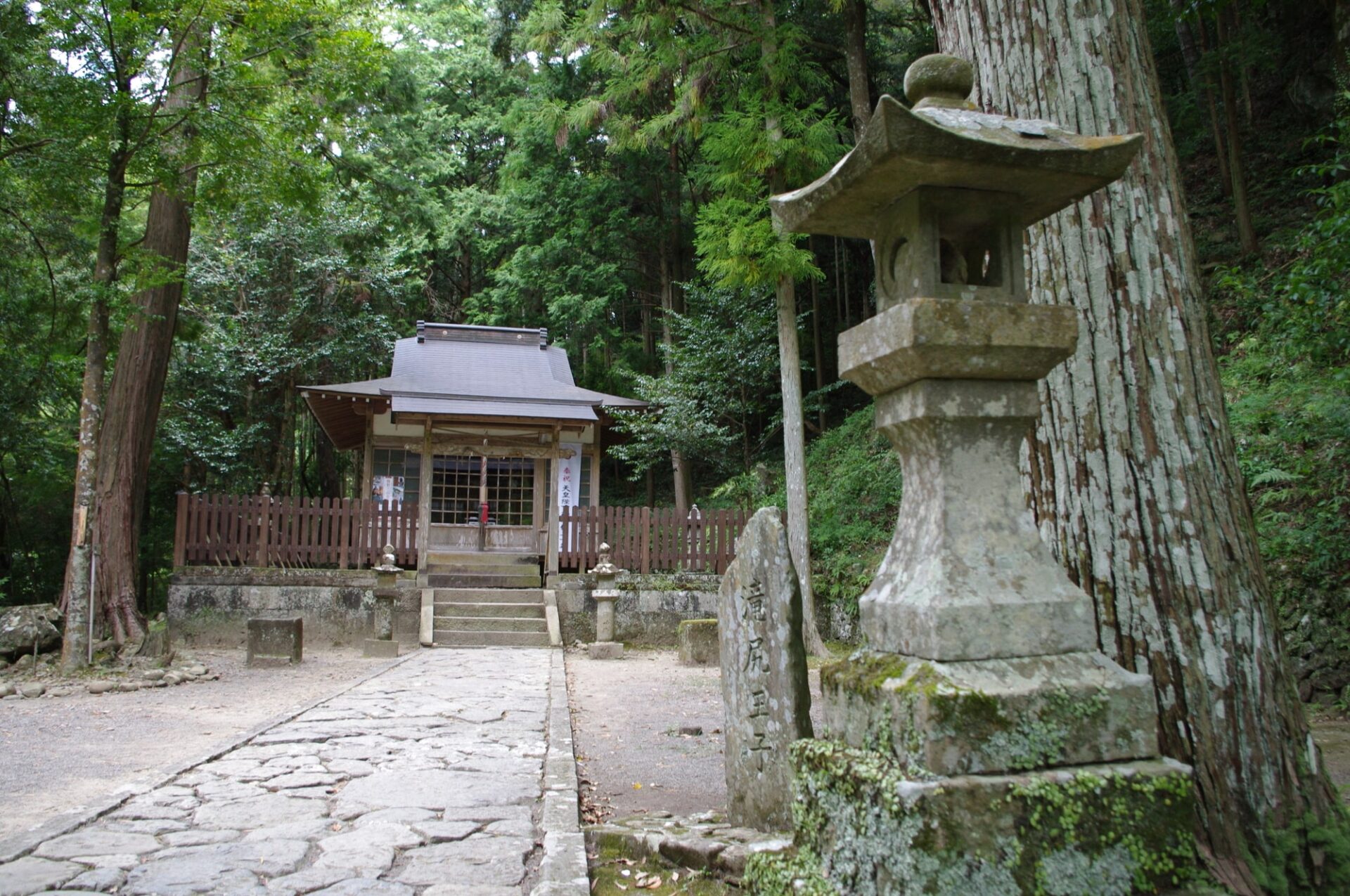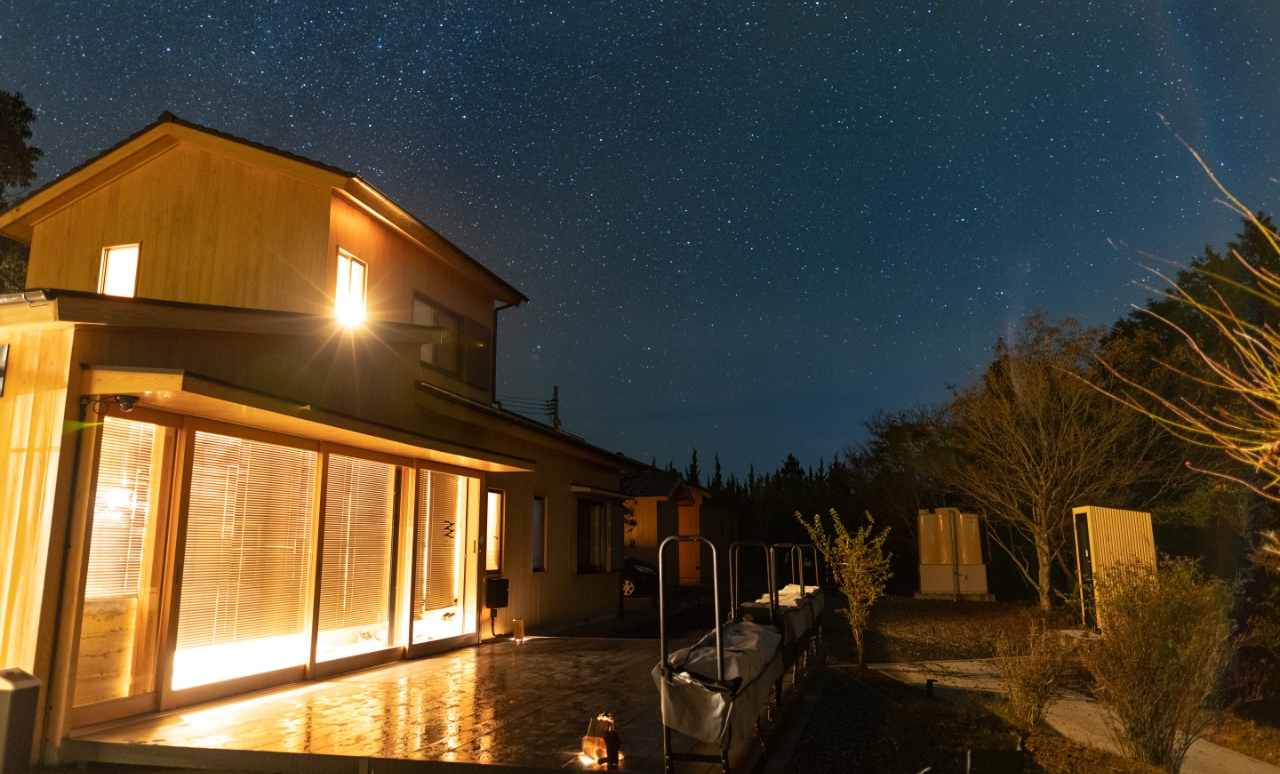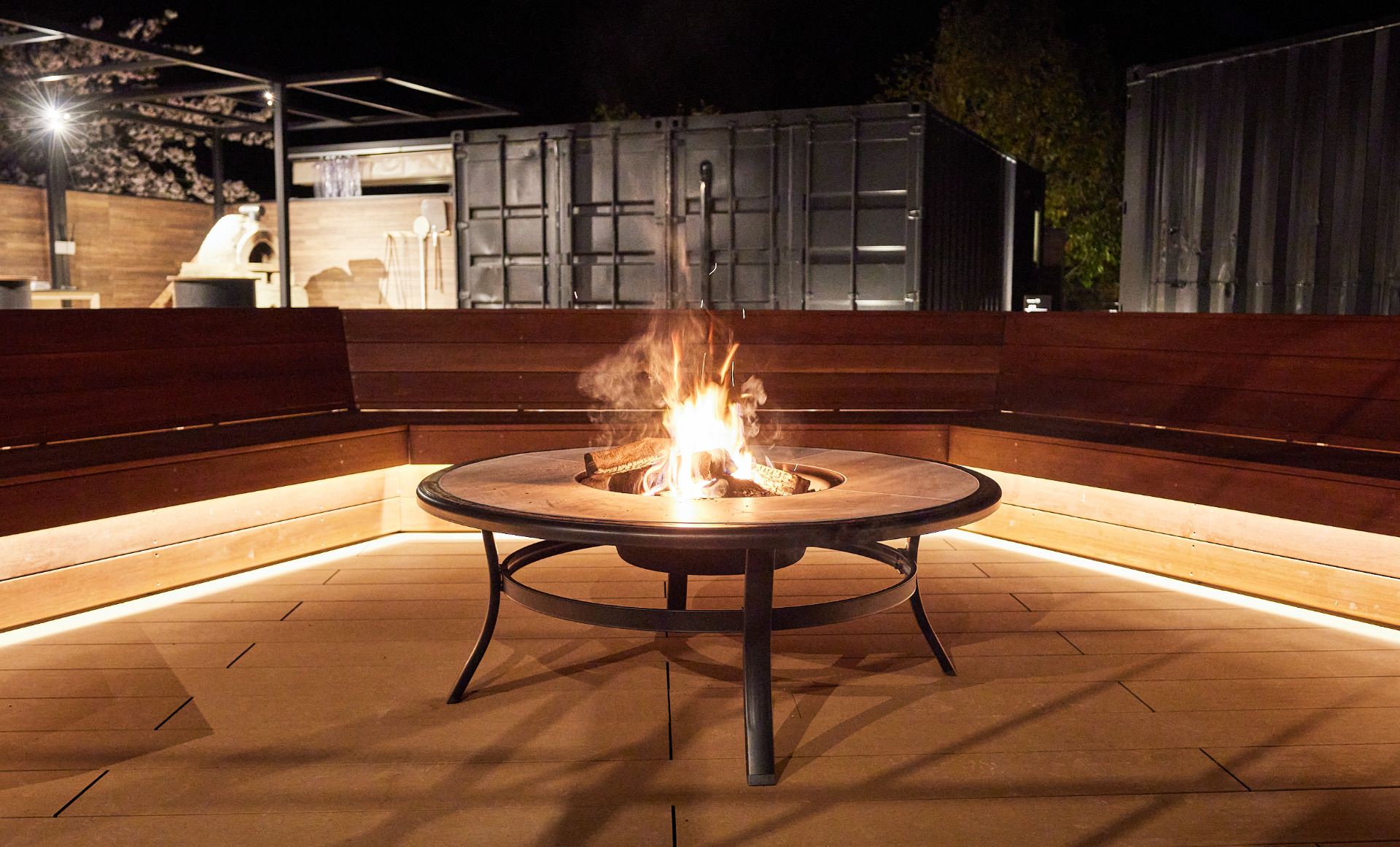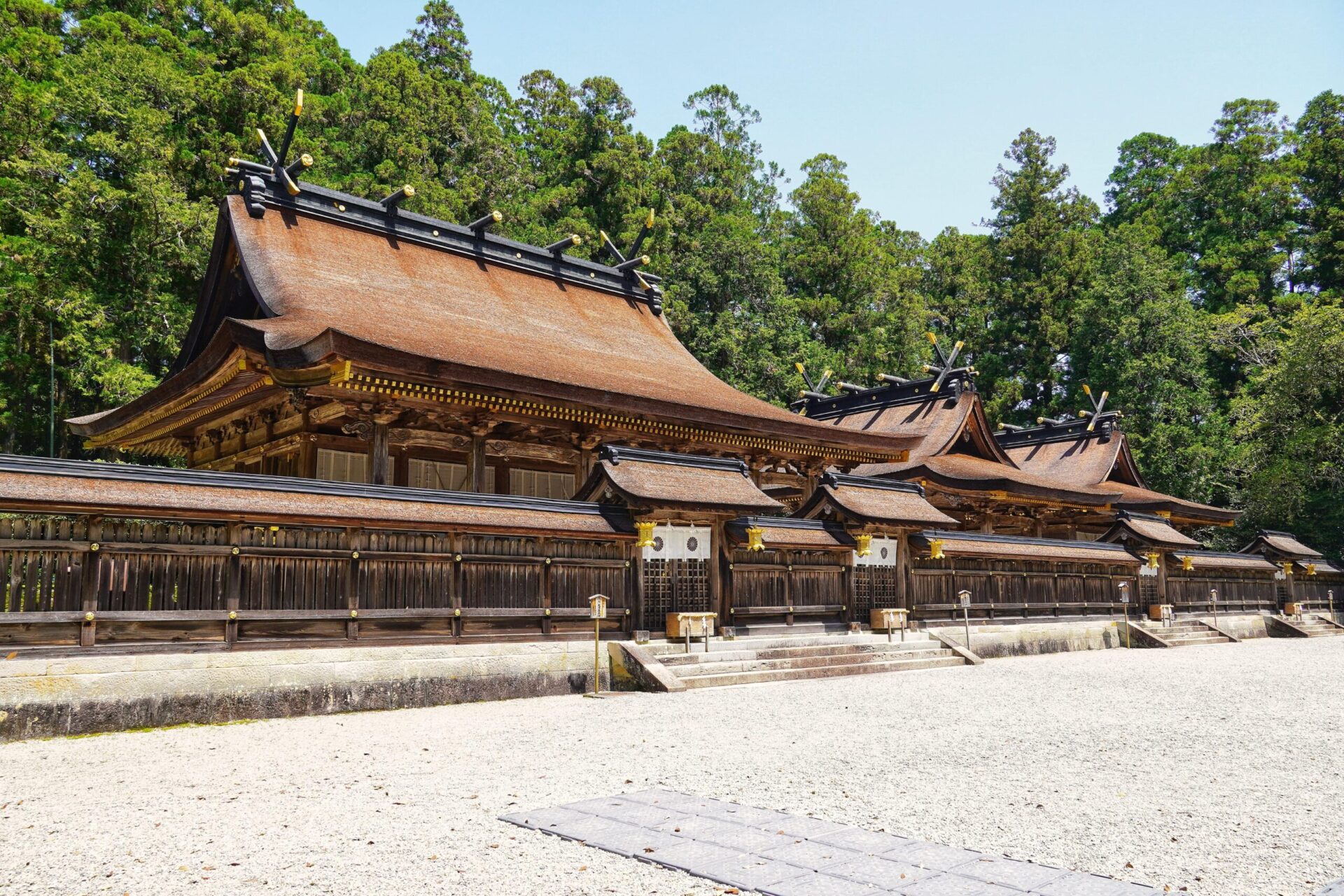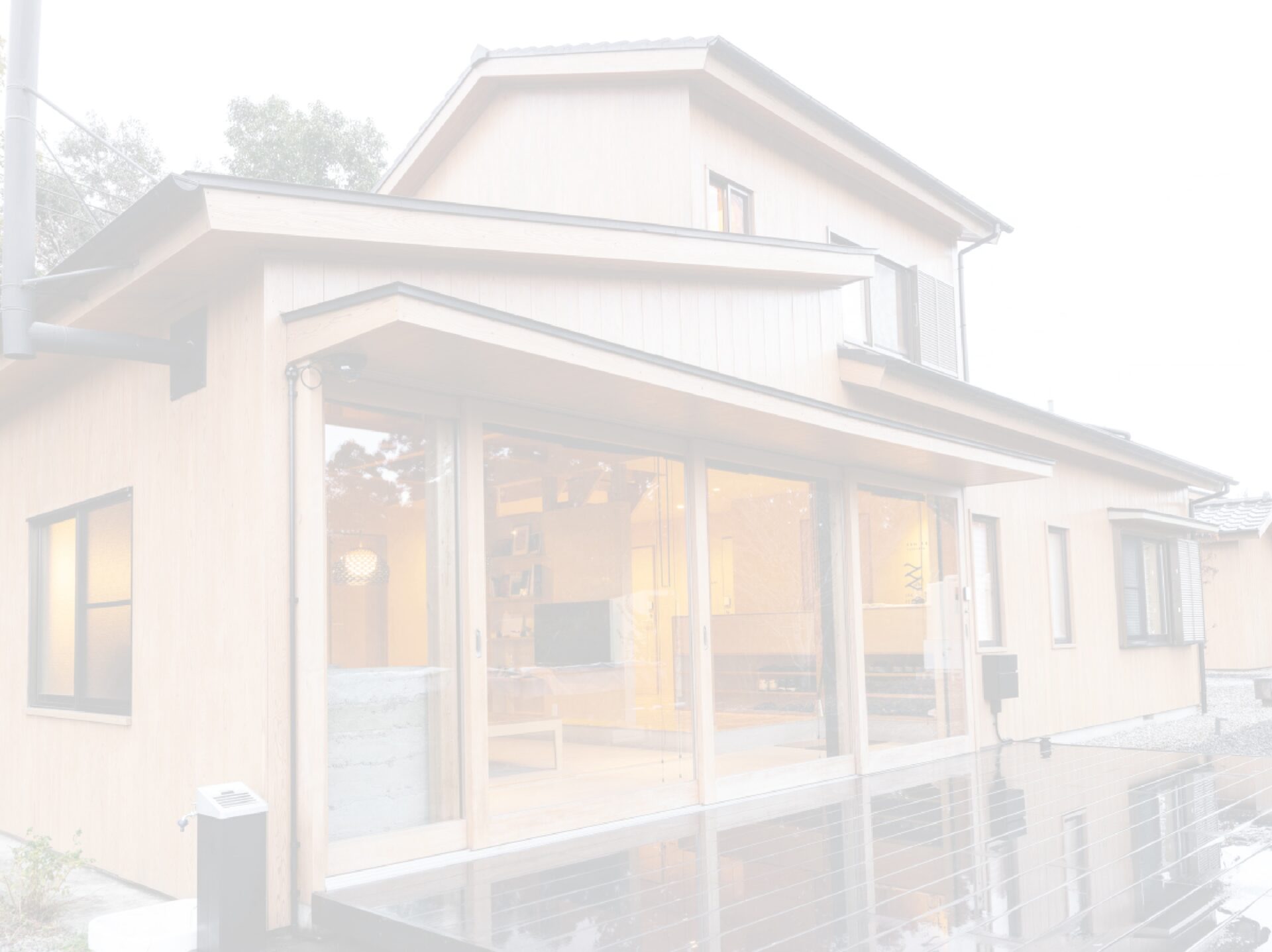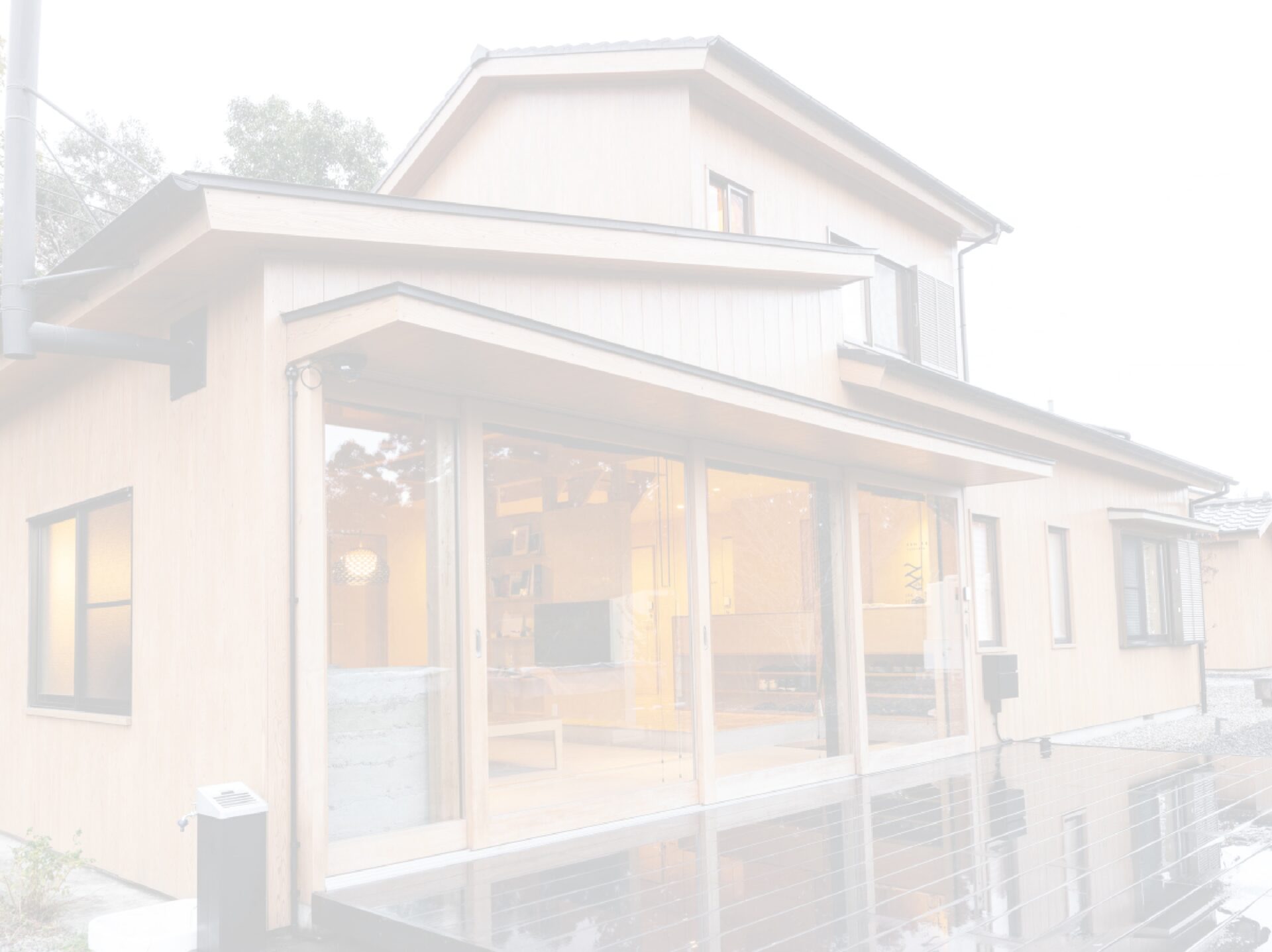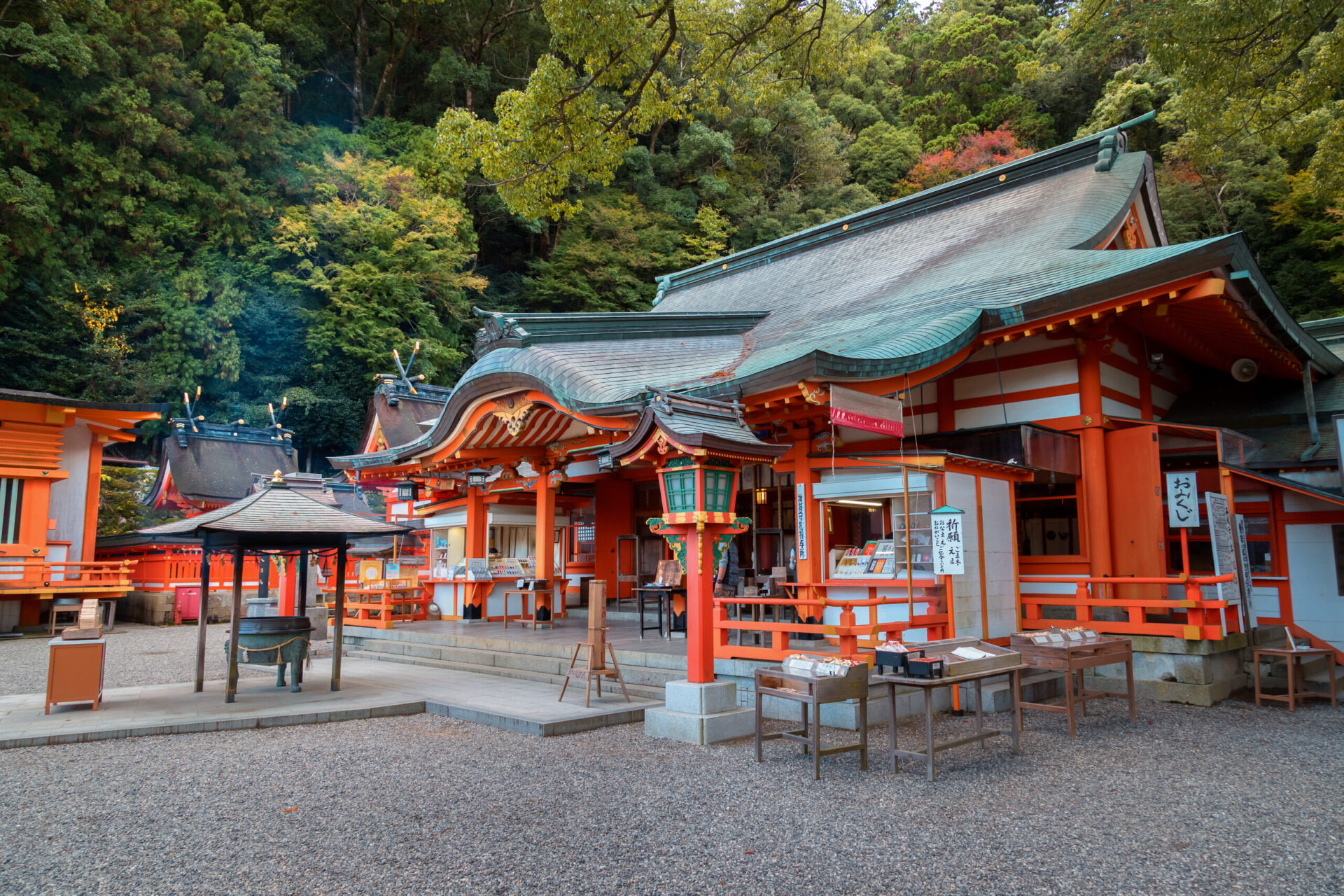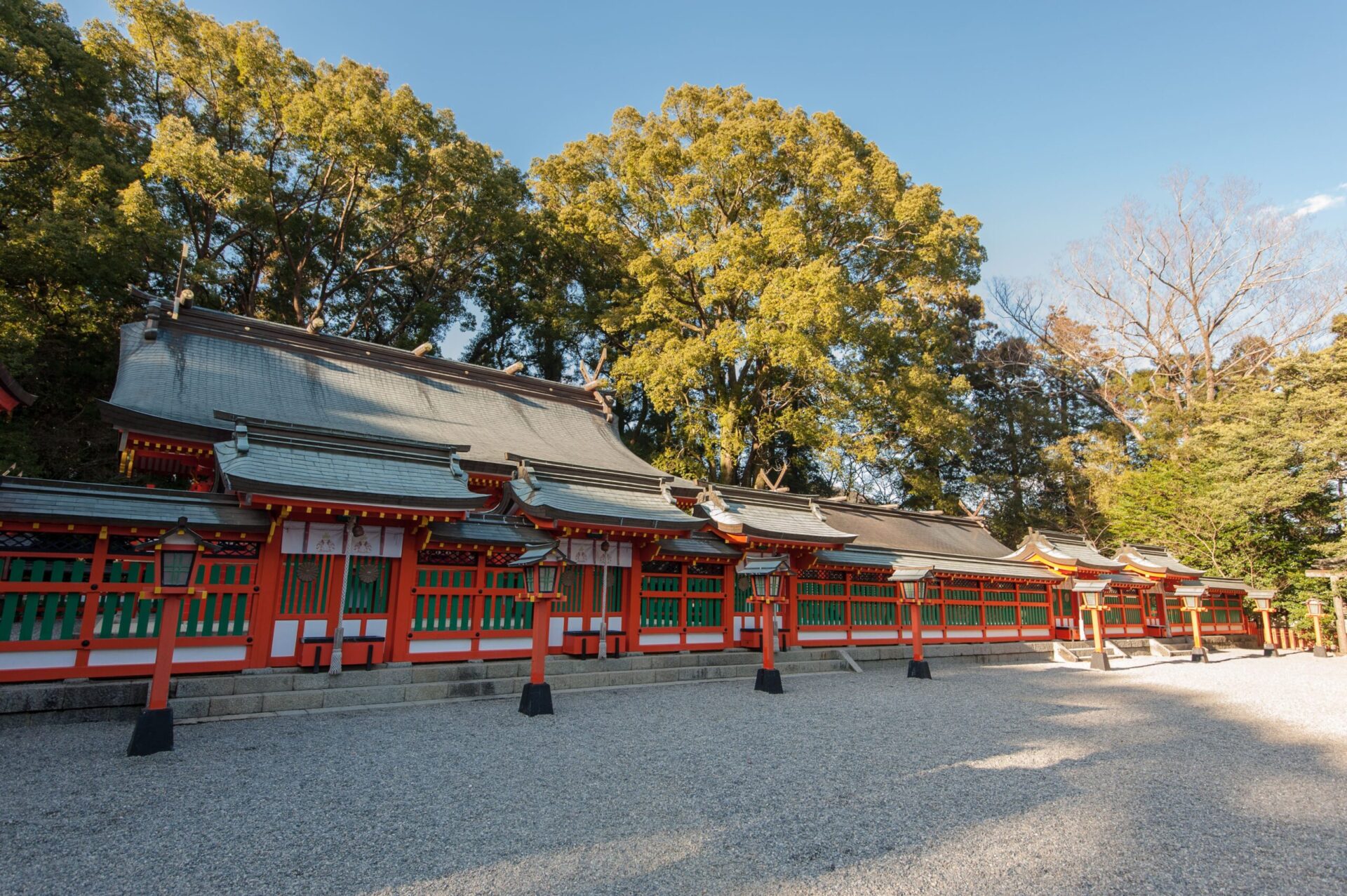 Find other accomodations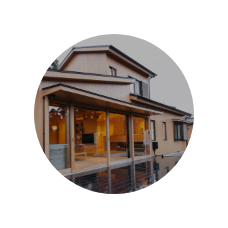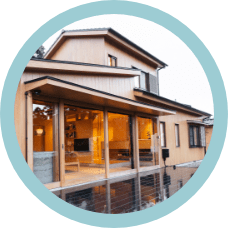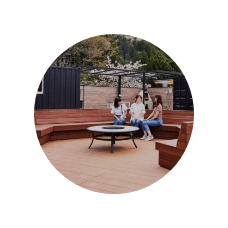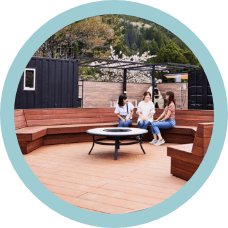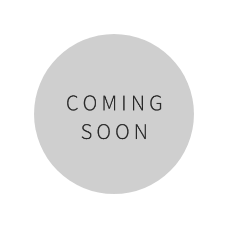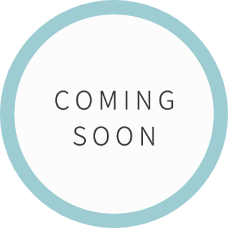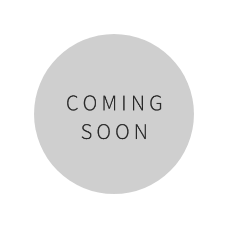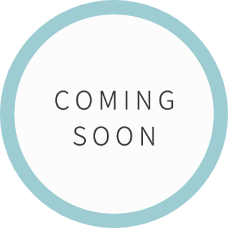 Takijiri-oji
It is one of the "Gotai-oji" that has been venerated as being especially formal among the Kumano Kujuku-ojis. Located at the junction of the Tomita River (Iwata River) and Ishiburi River, it is a place that was emphasized as an entrance to Kumano's Shinto shrine. There are Kumano Furudo-kan and Takishiri Chaya there.
About 2 hours and 30 minutes by walk to TAKAHARA
About 6 hours and 30 minutes by walk to CHIKATSUYU
TAKAHARA
Feel the warmth of the trees, brightness of the stars, and the fire you surround with your people at the forest of nature.
This the very first accommodation of SEN.RETREAT. The trip of Kumanokodo starts from here.
About 4 hours by walk to CHIKATSUYU
About 1 hour and 50 minutes by public bus to Kumano Hongu Taisha
CHIKATSUYU
An accommodation which you can chill and be playful.
There is a private garden to spend time with your pet, and a rooftop terrace for you to gather around with your people.
You can find the softness of yourself through a variety emotions here.
This is SEN.RETREAR's second accommodation.
9 hours by walk to Kumano Hongu Taisha.
Kumano Hongu Taisha
It is the head temple of Kumano Shrine all over the country. Kumano Honogu Taisha is the first place to reach after a journey of difficulty. It is said that there are various benefits such as maritime safety, good luck, and warding off evil.
10 minutes by public bus to WATAZE
WATAZE
coming soon
5 hours by walk to KOGUCHI
KOGUCHI
The sauna and magnificent Akagi River give you a sense of the great nature of Kumanokodo.
Listen to the forest and give your senses a special rest.
With the relaxation the nature has given you, you can feel a retreat that can only be done on Kumano Old Road.
coming soon
About 6 ~ 8 hours by walk to Kumano Nachi Taisha
Kumano Nachi Taisha
Eight gods are enshrined in the main shrine. Shinto shrine, which consist of 6 buildings, are located in an altitude about 500 meters with 463 stone steps, are venerated as the guardian of agriculture, forestry, and fisheries, and as the god of marriage. In the back, there is the "Nachi Waterfall" which is a national scenic spot.
About 8 hours by walk to Kumano Hayatama Taisha
Kumano Hayatama Taisha
The bright red Shinto shrine stand out. Twelve gods are enshrined, and Hayatama god is thought to have deified the movement of water. There is a large tree of the national natural treasure "Nagi tree" and Kumano Shinbo Hall, which has national cultural properties, is also a highlight.